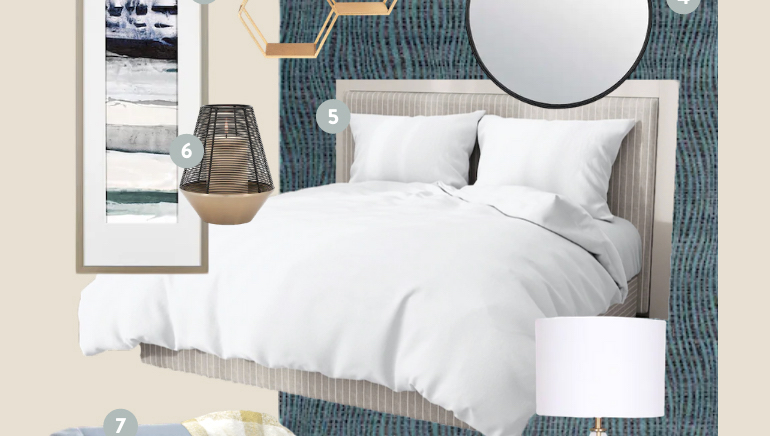 Rooms that are filled with tones of blue are often some of the most relaxing spaces because the colour is both soothing and glamorous. Adding in tones of gold can really make the room pop and is a decor style to consider because of the way the two colours complement each other.
---
Main Decor Elements:
Keeping your bedroom feeling cozy is a priority, and our popular Bamboo Duvet Cover Set Collection will do just that.
Adding an accent chair with a nice pop of colour is both practical and stylish. Our Hattie Accent Chair makes for a great reading corner as well as elevates the room to the next level. For an extra layer of comfort, place our Winter's Gold Throw over the edge of your bed or your reading nook.
---
Bedroom Accessories:
The blue and golden tones are really going to shine through in the accessories and accent decor that you choose. Having larger decorative pieces like our Gillian Wall Shelf helps fill up wall space while showcasing your personality through the knick knacks on display.
Wall art helps bring the room to life, and this colour palette is no exception. Since the colours we are using are shades of blue, a photo of a beach like in our Navy Decision I Painting would be a lovely option.
---
Finishing Touches:
For a finishing touch that ties the room together, choose our Wave Spectrum Rug. The darker blue tones make for a great contrast with the luscious bed, without taking away from the star of the bedroom.
Enjoy decorating your bedroom in this unique colour combo!

---
Shop the Items:
---