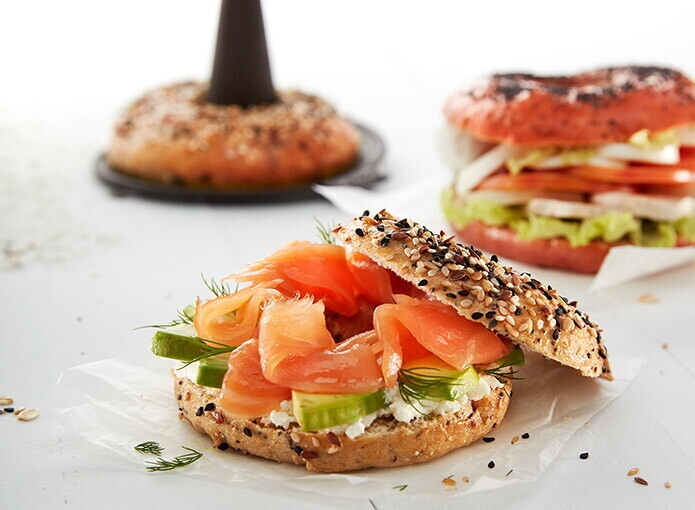 This time of year is perfect for baking, but if you and your family are looking to make something more savoury, why not try out some bagels! Everyone loves a good bagel and what could be better than making them at home. Using our Lékué at-home bagel set, this will be a recipe you will keep coming back to.
---
INGREDIENTS
Makes: 6 bagels
Oil or nonstick spray

2 teaspoons active dry yeast

2 teaspoon granulated sugar

1/2 cup warm water

2 tablespoons granulated sugar (dough)

2 tablespoon butter (room temperature, cubed)

1 2/3 cup bread flour (will need extra when kneading)

1/2 teaspoon salt

1 teaspoon baking soda

Water for boiling

Seasoning- can be anything you like! I prefer Everything bagels, so ingredients for that topping are below:

Dried Minced Onion

Garlic Flakes

White Sesame Seeds

Poppy Seeds

Kosher Salt
---
DIRECTIONS
To start, pre-heat the oven to 395 ºF/ 200ºC

Take ½ cup of the warm water and add in the yeast and ½ teaspoon of sugar. Cover and do not stir. Let the mixture sit for 5 minutes, then stir to combine ingredients until they dissolve.

In a 

mixing bowl

, combine flour, salt, and remaining 2 tablespoons of sugar together. Make a small well or hole in the middle of the mixture and pour the yeast and sugar water in. Add in the butter.

On a floured surface, Mix dough together until it is combined and has an even texture.

Shape the dough into a ball and place in a lightly greased bowl or on a piece of parchment paper. Cover with a kitchen towel or aluminum foil for 40 minutes so the dough can rise/proof.

After the dough has proofed, divide the dough into 6 even balls about (70g/2.5oz) and push them down the cone shape of the bagel mold. Leave to stand for 20 minutes.

Set up a baking sheet with a cooling rack.

In a large pot boil water and baking soda and when the water is boiling slightly submerge each mold for 8-10 seconds.


Place the molds on the baking sheet and when all are finished boiling, remove the cooling rack and place directly on the baking sheet.

Top with everything bagel seasoning or whatever other seasoning flavour you would like!

Enjoy!
---