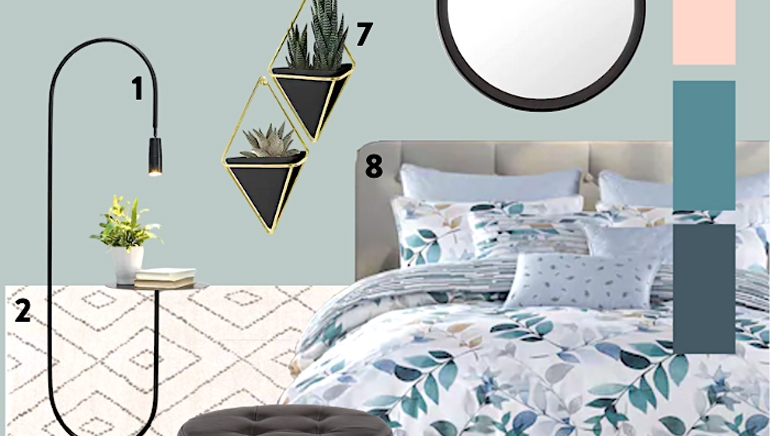 Calling all plant lovers! It is well known that adding plants to a room adds a lively feeling and gives the space so much life.
Live plants aren't the only way to get this vibe in your bedroom. Decorating with a plant theme in mind can bring your bedroom to the next level.
---
Bedding:
Using your bedding as the core of your dream room decor is a great idea. Our

Glasshouse Bedding Collection

is full of cohesive colours that will establish the colour palette for the entire space. The greens, blues, and peach colours make a great style base for the rest of the room.

---

Accents:
Since we've chosen a busier bedspread, we've decided to pair it with a more subtle rug so the bedding can stay the star of the room. The simplicity of our

Regatta Carpet

is a perfect choice to add texture without overwhelming this space.

Lighting is a key part of making a room feel open and airy. Our

Galen Table Lamp

makes for a great addition to your nightstand or dresser to brighten the space and keep it feeling lively.

---

Decor:
Choosing decorative pieces that reflect your love of plants is not too difficult, especially when there are so many exquisite options. Our hanging vases are perfect for holding succulents or smaller plants, while our

Elements Decorated Vase Collection

is best for taller plants.

To fit in with the green colour theme, our

Agate Storage Box Collection

is a practical solution to put on your dresser to conceal jewelry or small items. Add a trendy circle mirror to your wall, such as our

Ysobel Mirror

to open the space even more.
---
Feel free to add more accessories (and plants) to let your personality shine through!
---
---
Shop the Items: