A pop of colour can really change up a room and this month, tangerine is the colour to have! Since summer is just around the corner, we thought we'd give you a few ideas to help make your house feel fresh and fun. Energize your space with tangerine coloured paint, appliances, or even home decor accessories. It mixes well with neutrals or even with other bright colours if you feel brave enough. Green and turquoise are great choices as they are complementary colours. Get inspired with the look below:

image via
---
If you're not willing to paint a room, adding accessories to your decor is fun, easy, and less time consuming. Here are some of our top picks: (all available in store and online)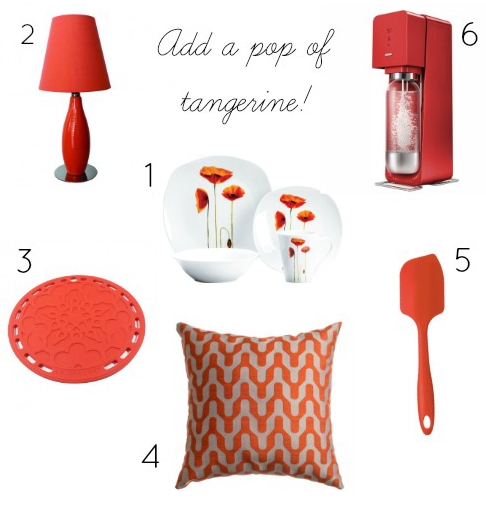 SHOP THE ITEMS:
1. Sonata 16 Piece Dinner Set
Add colour and punch to your table and meals with this gorgeous porcelain dinner set. Bold florals set a scene for fun and festive gatherings.
$69.95 - Available, here.
2. Table Lamp Collection (3 colours available)
Add a touch of colour and brightness to your decor with theis beautiful table lamp. Made in ceramic.
$39.95 ON SALE: $14.95 - Available, here.
3. Le Creuset French Trivet
This stain-resistant and non-abrasive silicone trivet will not only protect counter andtable surfaces but it'll also help prevent mixing bowls from skidding!
$17.95 - Available, here.
4. Vonn Cushion Collection (3 colours available)
Dare with these bright colors and unique pattern. These cushions will brighten up any room of your house.
$24.95 - Available here.
5. Trudeau Silicone Spatula
Heat resistant to 482°F-250°C. Dishwasher safe.
$9.95 - Available, here.
6. SodaStream Metal Soda Maker Starter Kit
An elegantly-designed soda maker that combines beauty, functionality and efficiency.
$149.99 - Available here.
---
---