"At-Home With…"
is a new interview series from Linen Chest where we dive deeper into the lives and homes of some of our favourite people. We'll learn about their unique styles, influences and lifestyle elements that have led them to success. Enjoy today's home visit and if you'd like to be featured- reach out to us on instagram!

---
Name
Claude-Alicia - @consciencecoupable
Where do you live?
Montreal
Tell us a little bit about yourself and what you do for a living
I am a fashion and lifestyle blogger with what feels like many contradicting interests.
---
STYLE
1) How would you describe your style when it comes to your home?
Before moving into our current home we lived in a condo with a very modern feel. More of an industrial open bare space with lots of Philip Stark influences. So when it came time to put down roots I really wanted to create a space with a lot more warmth, and more timeless contemporary pieces that we wouldn't grow tired of. When designing interiors I've always taken a lot of inspiration from our travels and some favourite places we've visited over the years. Especially hotels which we wished we never had to leave. Most from seaside cities and towns, so there's a lot of callbacks and references to water and the ocean around the house. From the Beverly Hills Hotel to The Delano or the Edition in Waikiki, there were so many places we collected not only inspiration but artifacts from over the years, so it was so wonderful to finally find a place where they could all sort of be laid to rest together if that makes sense. I sometimes refer to our home as our little Hard Rock Cafe, because its peppered with fashion memorabilia and sentimental mementos. I should probably get those little golden plaques made for each of them. My husband Peter also makes killer chicken wings so it's not too much of a stretch.
2) If your home had a colour palette, which colours would be in it.
I've always had an affinity for white. Even when I was little, no pink rooms for me. In our current home I had fun playing with different textures and tones whilst staying in line with my love of a neutral colour palette. Some rooms feel more serene with cooler grey/blue hues while others feel a lot richer and more luscious with warm beiges and coppery tones.
3) Which item at home do you believe is worth splurging on?
Things that will make you smile even after waking past them for the 100th time that week. May it be a piece of wall art, a sculpture, a plant, vintage artifact or coffee table book, whatever will bring you joy for the longest period I think is always the best bang for you buck.
4) Do you prefer changing up your decor seasonally or keeping things year round?
Not really with the seasons no, but we're always adding cool new pieces we've collected while traveling or just found online. It's always getting just a little bit better and feeling more like home.
5) Favourite decorating tip?
I would say to trust your style and vision. Don't let trends or other people's opinions sway from what you love and will make your house feel like a home. Also comfort first. Those Philip Stark chairs were a lot nicer to look at than to sit on.
6) How has your style changed over the last few years?
I just think it's always growing and becoming more and more mine. With age comes the confidence to stand behind your own personal taste.
---
---
PERSONAL:
1) Where's your happy place in your home right now and why?
The big fluffy white couch I am currently sitting on while writing this.
2) Top 5 Linen Chest items you can't live without?
Let's see…bamboo sheets, our new statement china/black cutlery combo , anything from Jonathan Adler, and my UGG slippers and throws.
3) How do you balance your aesthetic and your husband's? 
I think we have pretty similar style…and by that I mean he likes what I like because he knows it will make me happy. All jokes aside we both cherish quality, anything comfortable, soft and fluffy, and are both wildly sentimental. I try to keep his spaces a little more masculine but overall I think our styles overlap pretty naturally.
4) You work a lot from home. How do you balance relaxing and being productive?
It's always been a bit of a struggle especially now being homebound. I try to stick to business hours honestly. It's what I find works best. That being said there are no rules so my "home office" isn't always our home office. It ranges from kitchen, to living room couch, to my bed. The last one might be my favourite. 
5) What do you wish more people would understand about being a professional blogger?
That it is work. I feel so tremendously lucky to be able to make my own hours and travel as much as we do that I wouldn't dare complain. That being said it is definitely a hustle. I like to think of most of us as just a bunch of passionate freelancers trying to spread a little joy and try to be acknowledged as the creative creatures we are.
6) If you could have any celebrity (dead or alive) over for dinner, who would it be?
Walt Disney…easy.
---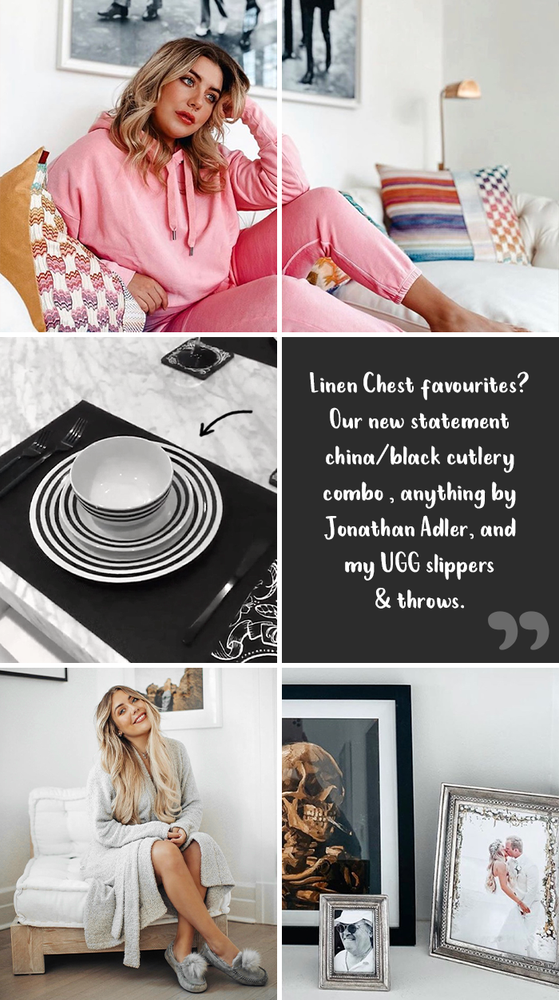 ---
SPEED ROUND:
1) Friday nights or Sunday mornings?
Sunday Mornings
2) Slippers or stilettos?
Slippers to wear, stilettos to gawk at.
3) Coffee order?
Caffeine makes me want to jump off high places so I always abstain.
4) Shopping online or in store?
Mostly online these days. I just like hunting for the best piece for the best price and the internet is the best tool to do that.
5) Back, side, or stomach sleeper?
Sort of a side/stomach hybrid position
6) Instagram or Youtube?
Both for very different reasons. Instagram because I get to share a big part of myself and connect over a common passion with so many amazing people from all over the world, YouTube because it exercises my extrovert muscles and reminds me to push myself out of my comfort zone.