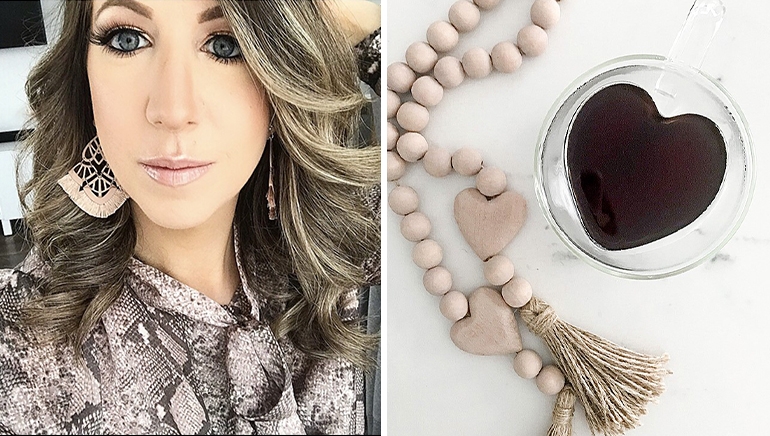 "At-Home With…" is a new interview series from Linen Chest where we dive deeper into the lives and homes of some of our favourite people. We'll learn about their unique styles, influences and lifestyle elements that have led them to success. Enjoy today's home visit and if you'd like to be featured- reach out to us on instagram!

---
Name: Vanessa Asimacopoulos - @powderroomprincess
Where do you live? Laval, Quebec
Tell us a little bit about yourself and what you do for a living: I'm a CPA, CA by profession and work in the field full time. I have always had a creative side, so about 10 years ago I took courses to become a makeup artist and still do occasional freelance work on the side. I also use Instagram to share all of my home decor, beauty, lifestyle & fashion finds.
---
STYLE
1) How would you describe your style when it comes to your home?
I think my home has a very modern feel, but I have made sure to choose timeless, classic pieces when it comes to my larger furniture. Even if there's a trend that I'm really into, I know that in a year or two I may no longer feel the same way, so I do my best to choose pieces that I know I will love for years to come. I definitely like that clean, white look as I feel it makes the room appear bigger & brighter. Most of my furniture is white, light grey or marbled. I am what many would consider a true "girly girl", so I have a lot of blush pink & gold accents. I love adding cute prints & inspiring quotes throughout my home to express myself during each season. It also reminds me to look for the good in every situation and to be grateful for what I have.
2) If your home had a colour palette, which colours would be in it?
Definitely a lighter neutral palette with blush pink, silver & gold accents.
3) Do you prefer changing up your decor seasonally or keeping things year round?
Changing up my decor, definitely! I love to decorate for the different seasons, especially for fall (pumpkin spice everything, please) and winter (I love Christmas). I am constantly moving stuff around to change up the look of my space. I would say my home is like my canvas and I am constantly itching to create new pieces of art!
4) Favourite decorating tip?
Don't be afraid to think outside of the box and decorate with items that aren't necessarily categorized as 'home decor'. It's through trial and error that you will figure out what looks good. For example, although I love to buy new decor, I have limited space, so before buying something, I like to 'shop around my home'. I recently switched up the decor on my bar cart by styling it with one of my reusable burlap wine bags and love how it turned out!
5) Which item at home do you believe is worth splurging on?
A "bigger" item (like a piece of furniture) that you know you will keep for a long while, get a lot of use out of and not grow tired of. If you stick to timeless, classic pieces when it comes to the larger items like a couch or a dining room table, you'll be free to switch up your decor as you please without totally breaking the bank. I love switching up my throw pillows, vases, prints & photos to give my home a refresh whenever I feel like I need a change. I also believe in splurging on anything that is meaningful to you, like a piece of artwork that has a certain significance in your life or that brings back wonderful memories. I just think that before you spend the money, make sure that it is something that you will cherish for years to come.
6) How has your style changed over the last few years?
I've always liked everything pink and sparkly, but I think I have moved towards a more neutral style with a feminine touch. I still love my pops of pink but I would say my style has definitely matured over time.
---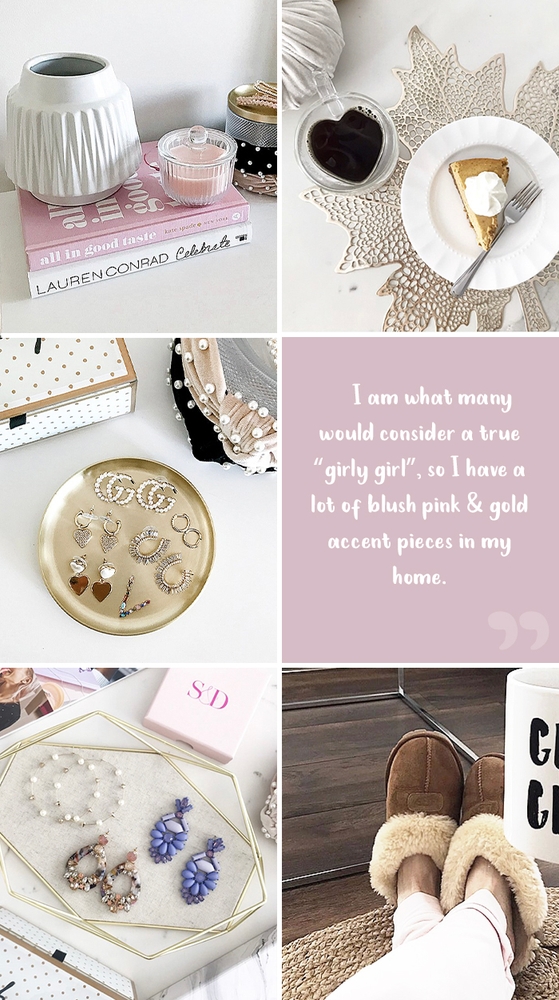 ---
PERSONAL:
1) Top 5 Linen Chest items you can't live without?
Tess 2-tier Trolley, Set of Heart-Shaped Cups, Gleener Ultimate Fuzz-Remover (this thing is a magic tool, seriously), Nespresso Aeroccino 3 Black Milk Frother, and the Prisma Jewelry Tray by Umbra.
2) Must-haves on a bar cart?
I like to decorate my bar cart with items that are practical (that I will actually use when serving drinks) but that are still cute and can double a decor. I think things like pretty glasses, coasters, & straws are must-haves! I also like to have some sort of fun drinking-related quote as well as either flowers/greenery to give it a little pop of colour.
3) Favourite meal to make?
Lately my favorite has been sweet potato and black bean tacos! They are easy to make and so so good. Top them with salsa, guacamole and feta cheese and you're good to go!
4) What's your favourite room in your home and why?
My living room because it's where I spend my time when I'm trying to relax & wind-down from the day (and where all of my best Netflix binging happens).
5) Do you have a morning or night time routine?
I am trying very hard to work on this! I don't really have a set morning routine but I have been experimenting with a new nighttime routine which consists of turning off all electronics one hour before bed (like I said- working on it). I spend that hour before I go to sleep either reading, journaling or colouring. I also diffuse lavender throughout the night & listen to a sleep story using the Calm app as I get ready to fall asleep.
6) If you could have any celebrity over for dinner, who would it be and why?
I think it would have to be Jennifer Aniston. I have watched her since her Friends days, and I love everything about her. She is a beautiful, smart, kind and strong woman and I think many of us can learn from her. She always carries herself with grace, and has an awesome sense of humour! Overall just a nice human being that I would enjoy getting to know.
---
---
SPEED ROUND
1) Coffee or tea?
Coffee! ALWAYS.
2) Friday nights or Sunday mornings?
Sunday mornings. I feel like the week is always so hectic, so I like taking the time to relax first thing on Sunday before I get myself ready for a new week.
3) Signature drink?
I love a good margarita and I can never say no to rosé.
4) Shopping online or in store?
It depends what I'm looking for. I love the convenience of shopping online, and I also find that often, there is a lot more choice. At the same time, when it comes to certain items (like furniture, for example), I really like to see it in person, touch the fabrics and get a feel for the comfort level before making a purchase.
5) Do you make your bed every morning?
Yes! I made it a point to start doing this a few months ago and it is the best feeling ever.
6) Back, side, or stomach sleeper?
Side
---