Whether you are a seasoned decorator or are just starting out, get inspired with these decor hacks I have learned over the years to create a space that is both stylish and functional. I truly believe it's the smallest details that can have the greatest impact. Here are some popular 2023 home decor trends that are both easy to incorporate and won't go out of style anytime soon.
---
1. Ambient Lighting
More than ever, my clients are looking for new ways to make the most of their homes. One of my personal favourites is the use of mood lighting; it helps to define spaces by adding character. The light that emits from ceiling fixtures and other forms of main lighting tends to be harsh. Instead, I normally opt for table or floor lamps that create a beautiful ambiance throughout the home. Whether it is setting the mood for your romantic date night, strategically placed in your preferred reading spot, or even on the corner of your kitchen island, adding the right lighting element can make all the difference to complete the look and feel of the room.
My goal is to create relaxation nooks in key areas of the house, making it easier to unwind after a long day.
---
2. At-Home Bars
It's a trend that comes in many forms, from a luxurious countertop bar in the basement to a serving tray in the corner of the dining room. Prediction: the home bar trend is going to take off in 2023! Bar cabinets are one of my most requested furniture pieces for upcoming living and dining room design projects.  
Dedicating a corner of your home to an at-home bar makes hosting family and friends that much more enjoyable – for both the host and the guests. Stock your very own happy hour station with specialized glasses and mixing tools to craft your favourite cocktails!
Pro Tip: I suggest displaying some of your most beautiful glassware on a tray, adding a small bowl filled with lemons and limes, keeping your accessories handy and, as your backdrop, layer your most-used bottles according to height. And now, let's toast to this timeless home décor trend!
---
3. Elevated Office Space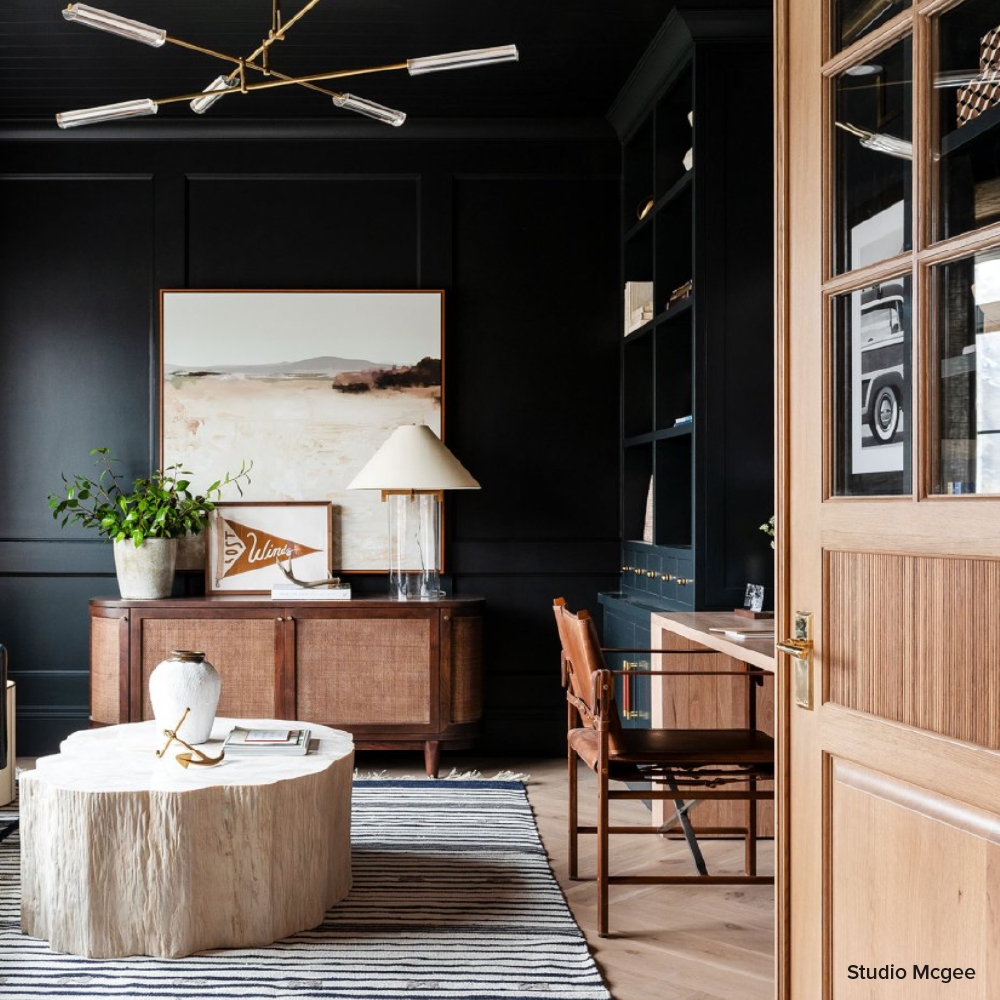 Trend alert! Many are refining the look of their office space, both in residential and commercial spaces. These environments are highly personalized – and why not, right? We spend so much time working that our office space should be a place we truly enjoy, adorned with the things we love.
When I work on these rooms, my goal is to make them not only functional but comfortable. From choosing furniture design to the placement of it to creating a more lounge-like area to sit in for the more lengthy calls or meetings, revamping this space can positively impact your productivity. If space permits, you can even include a single armchair with an ottoman in the corner for added comfort.
Surround yourself with greenery, inspirational artwork and warm, woodsy tones to make your work environment more inviting. For those who work from home, now is the time to make your home office as beautiful as the rest of your home.
---
4. Oversized Art
In 2023, we will dive deeper into the depths of size and proportions. There is nothing like a sizable painting to attract attention! I love to dress a large, empty wall or a wall behind a buffet with a single piece of art that makes a statement flanked with two wall sconces – they're the perfect finishing touch. The result is striking and gives the room a design edge that will remain on-trend for years. Consider opting for an oversized picture if you have a wall to decorate. You won't regret it!
---
 5. Bring the Outside In
Last, but definitely not least: this trend is an up-and-comer and will be very present this year. My clients are asking to incorporate more real vegetation into their décor, and potted trees are storming the interior design world. We're seeing a strong interest in replacing humble houseplants with small indoor trees. It's time for green thumbs to shine! Let's not forget that living with and caring for indoor vegetation comes with many benefits, such as increased air purification and stress reduction.
So, are you ready to bring the outdoors in? This is one of the more affordable ways to create a beautiful focal point in your home.
---
My Favourite Linen Chest Home Decor Picks
Now that you have all the tips, here is how to make them a reality. You'll be surprised how much of a difference these small additions can make to each space! Discover some of my favourite picks from Linen Chest to help you achieve these timeless home decor trends in your home.