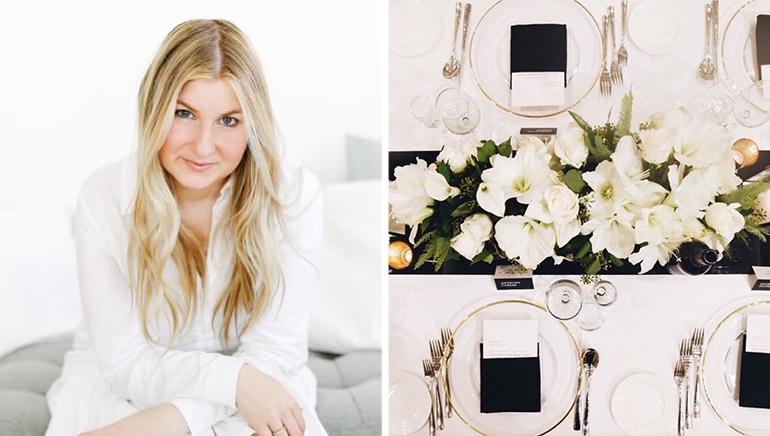 "At-Home With…" is a new interview series from Linen Chest where we dive deeper into the lives and homes of some of our favourite people. We'll learn about their unique styles, influences and lifestyle elements that have led them to success. Enjoy today's home visit and if you'd like to be featured- reach out to us on instagram!

---
Name
Melissa Baum - @melissabaum
Where do you live?
Toronto
Tell us a little bit about yourself and what you do for a living:
My name is Melissa, I am married with a 1 year old daughter named Sloane and a cockapoo puppy named Stella. I am an event planner specializing in luxury social events namely weddings, mitzvahs, birthdays, engagements etc. I love any opportunity to be creative whether it is coordinating a party theme, cooking a new recipe or decorating my home.. the ability to plan and execute is a thrill for me!
---
STYLE
1) How would you describe your style when it comes to your home?
My home is contemporary with airing on the traditional side. I love everything light, bright & feminine and that has transcended into my home decor. Anything too modern isn't for me.
2) If your home had a colour palette, which colours would be in it?
Does white count?! I tend to always love everything in lighter shades so my neutrals would be white, ivory & taupes. Accents I love are purples, pinks, greens.

3) Which item at home do you believe is worth splurging on?
Without hesitation, the couch! When I first bought a couch for our living room, I bought on impulse based on price and the size was all wrong for the space and the colour didn't go with our design plan. I called and cried and begged for a refund on what was a final sale item. We then listened to our designer and properly measured the space, looked at fabrics and ordered a custom sofa. Worth every penny!
4) What are your biggest tips for achieving quality design and decor on a budget?
Much like in fashion, mixing high and low will help achieve an overall luxurious look. Invest in items that get everyday wear and tear - couch, mattress, comfy white sheets etc. Those are the foundation. When it comes to accessorizing with pillows, throws, coffee table etc - I think you can look for high style at a lower price point. Most can't tell that a $250 throw pillow actually cost that but a poorly made, uncomfortable couch or bed will not go unnoticed.
5) Your baby girl is adorable! How has your style evolved since having her?
If anything it has convinced me that I know my style and love for all things feminine. I think many that know us would say I dress my daughter in clothing I would wear and in colours that emphasize my love for white and bright. I don't think she owns much dark coloured clothing! And designing her room was seeing a fantasy come to life. A space where I could be unapologetically girly and pink and my husband wouldn't mind a bit!
6) The weddings you design are absolutely stunning! What's the biggest decor trend right now?
A couple trends we have seen our clients loving is firstly elegant minimalism. Less is more. Clients are asking for daintier florals as opposed to dense and compact, candles arranged sleek and clean as opposed to clustered. While my home decor is contemporary x traditional, my wedding design definitely leans more modern. The second trend is floor plans that focus on the party. The bar more than ever is being placed first and foremost on the floor plan. Back in the day, we would have started with the head table. The dance floor beside the bar needs to be large and we are often adding lounge furniture around the perimeter to encourage guests away from their tables. We also make sure all the dessert, cake & late night goodies are in this area.
---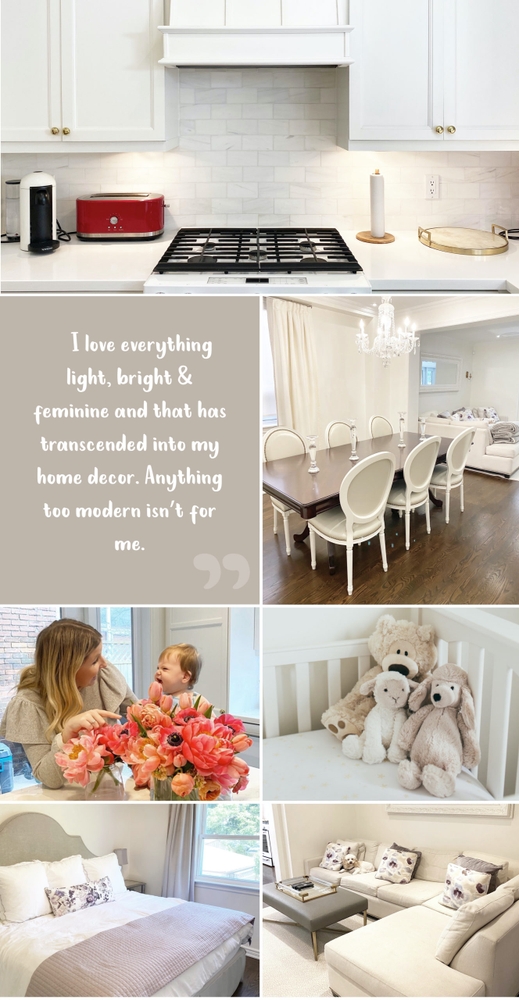 ---
PERSONAL:
1) What's your favourite room in your home and why?
Sloane's nursery. Even before she was born, I would just sit in her rocker and relax. The room is so serene and calm and despite babies being messy, this room is always clean. I gave her the larger of the 2 kids bedrooms in our house which makes the room so spacious and inviting. It always combines my love of all things feminine, pink & ivory.
2) Top 5 Linen Chest items every bride should have on their gift registry?
Serveware - If you love to entertain & cook, you can never have enough serving platters and dishes. I particularly love the Sophie Conran collection. You can cook and serve with this collection and the design is neutral enough to suit any design aesthetic.
Kitchenaid Mixer - this item is a classic registry pick and there is a reason why. This is something you'd likely not splurge on yourself but once you have it, cooking and baking is that much easier and more fun. I didn't love to cook when I got married but since kids, the passion has grown and having the Kitchenaid has been a life saver.
Towels - Often newlyweds moving into their first place don't have a great set of towels. As an item you use everyday, quality and quantity are important. A beautiful set of white, fresh towels feels luxurious and the World's Softest Towel collection from Linen Chest comes in at a great price. Pro tip: skip the bath towel size and go for the bath sheet. The more surface area to dry yourself off with, the better!
Le Creuset Round Casserole Dish - in my opinion, this is another kitchen staple and an item you may not splurge on for yourself. It not only is an amazing ally for cooking but it looks pretty too. When we registered for this, we chose the signature red colour. We did the same for our Kitchenaid mixer and other accessories. These items double as decor moments and we often leave our Le Creuset on the stove for a pop of colour in our white kitchen.
Wine Glasses - I have always loved the brand Riedel when it comes to stemware. Amazing quality and classic design make these a must have in any home. Pro tip: register for 16 or 20 glasses. Having just 4 or 8 won't get you far when you start to seriously entertain. In case something gets discontinued, breaks or your family continues to grow, you will be covered!

3) What's your favourite way to unwind at the end of the day?
Pour a glass of red wine, sink into my couch and browse the guide for something to watch on TV. I am not a Netflix girl and love finding an old movie or rerun that is on.

4) Favourite meal to make?
Anything Italian.. pastas, salads, an amazing loaf of bread with fancy olive oil for dipping.
5) What advice would you give to your 22-year old self?
If you have a hobby, passion, interest and are happiest when doing them - find a way to monetize it and make it a business! Even if just a side hustle and your creative outlet. For years I doubted my ability to make money being creative and planning parties. Once I finally put my mind to it, I haven't looked back. Things have also come a long way from when I was 22. Instagram wasn't prevalent like it is today and the ability to market yourself and make your product/hobby/idea desirable is easier now than ever.
6) If you could have any celebrity over for dinner, who would it be and why?
If I just got to sit across from him at the table and stare, it would be Zac Efron. But if I got to invite someone over so we can talk all night and I can pick their brain, it would be celebrity wedding planner Mindy Weiss or Martha Stewart.
---
---
SPEED ROUND
1) Who does the cooking? You or your husband?
Husband
2) 'Hands on' bride or 'hands off' bride
Hands on
3) Peonies or orchids?
Peonies
4) Shopping online or in store?
Online
5) Back, side, or stomach sleeper?
Side
6) Coffee order?
Don't drink it! Water is my go to
---