This festive time of year reminds us how much we love our partners. But, with limited openings and events for evenings out, now is the time to get creative with our date night ideas. Don't worry — we've got all of the best at-home holiday date ideas compiled in this list for you.
---
1) Create a Festive Movie Theatre At-Home
Everyone loves watching a good Christmas movie to get in the holiday spirit and feel the happiness of the season. Pick out a couple of your favourites and create a makeshift home theatre to make it special for a date night with your love.
Since the lights will be dimmed, make the setting magical by hanging some fairy lights around the room. Then, get some ultra-cozy blankets and plush pillows to set all over the couch for optimal comfort while you cuddle. Finish off the theatre-vibe with a popcorn maker and some festive mugs to make hot cocoa in.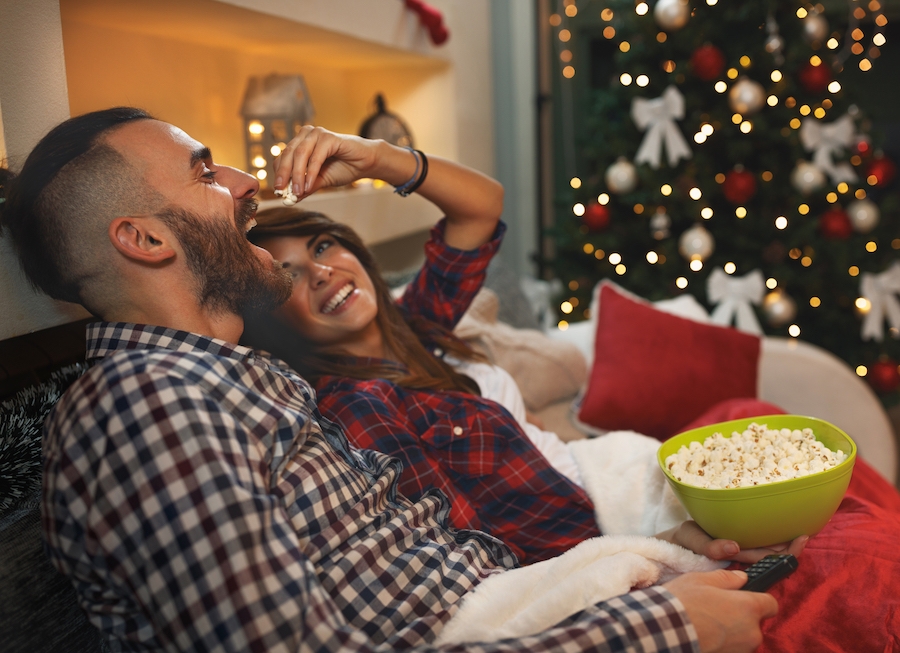 ---
2) Make Holiday Fondue Together
Chocolate fondue is without a doubt one of the most romantic foods, especially for sharing on date night. Choose from dark chocolate, milk chocolate, or white chocolate to put into your fondue pot; then, feel free to add a splash of peppermint extract or vanilla for a seasonal twist.
Choose seasonal treats for dipping, such as gingerbread cookies, candy canes, roasted chestnuts, or small slices of spice cake. You can incorporate these with other traditional dippers, such as fruit and marshmallows. You can make sure you each have your own dipping fork, and you can even have personal ramekins of fondue.

---
3) Bring the Dance Floor to Your Living Room
Christmas music instantly creates a warm feeling around the house. Make a playlist of all of your favourite holiday songs that you'd like to dance to with your partner. And, set up a beautiful makeshift dance floor. Clear the center of the living room, add some twinkle lights around the perimeter, dim the lights, spark up some candles, and set up the Christmas tree.
After a lovely dinner together, move from the kitchen into the living room and have a special ballroom dance session. You can even hook up dancing lessons to your television if you'd like to learn certain styles together, like the waltz or foxtrot. You can practice throughout the season and share ultra-romantic home dates together.

---
Amid all of the holiday fun, make some time for your beloved. At-home dates are some of the most special when you put in a little effort to do so just for your person. And, who knows? You may even discover a new favourite holiday date idea that can become an annual tradition to mark the season with.