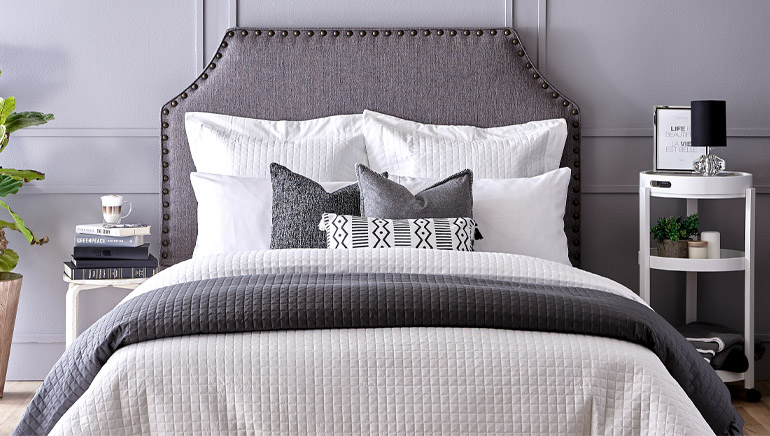 Interior design styles come and go and it feels nice to give your space a face lift. Is it time to upgrade the look of your bedroom? Get a stylish modern look with these on trend pieces that will have your bedroom feeling sleek and modern in no time.
---
Bedding
The best way to achieve a modern look for your bed is to have modern bed linens. Away with florals and in with sleek, stylish colours and clean lines. Shades of white, grey and black all fit nicely with a modern theme. 
One of my favorite ways to make a bed look modern without losing character is to start with the basics and then add colour and texture through accent pieces. Throw blankets, accent pillows and headboards are all great places to experiment a little. 
---
Colours
While more neutral tones like white, beige, grey and black are clearly modern, you don't have to avoid colour completely to have a modern look. Update your style by choosing carefully where the colour goes and selecting tones that compliment one another. Depending on your style the modern look can go well with everything from pops of pastel to deeper more rich jewel tones. 
Colour can be incorporated in a variety of ways including accent walls, colourful art pieces, bed accents, plants and tabletop decor. You should have some colour in the room to keep it from feeling dull or drab.
---
Decor
A modern look can be updated easily with small decor items. Consider adding pieces that are metallic or reflective for a really show stopping look. Gold accents are very popular right now and look great with just about any style. Other great ways to add a modern flair is modern art, mirrors, clocks and plants.
Modern decor is often timeless due to being filled with clean lines, abstract forms and neutral colours. These pieces can be loved and enjoyed for years to come so invest in pieces you really love. 
---
---
Shop This Look
Gravitate II

&

Gravitate III

Paintings

Gold Hanging Planter

Alto Ceramic Standing Planter

Energy Cushion
---