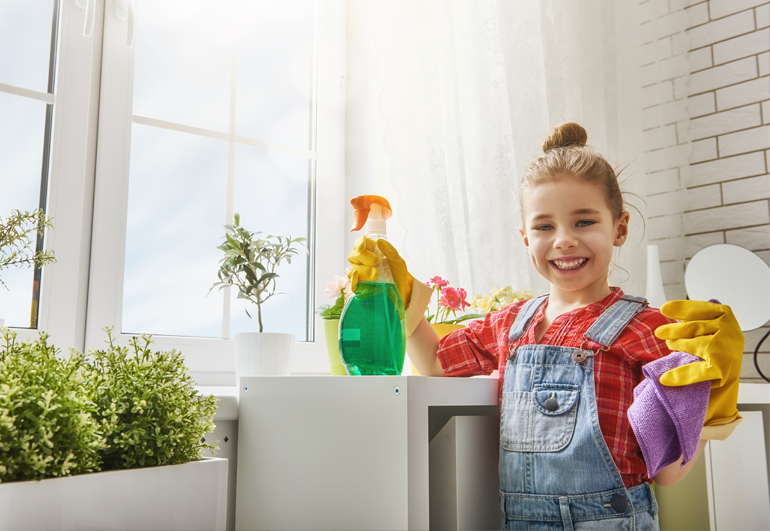 It can be tough for children and adults alike to feel motivated to do chores. But boring, repetitive and time-consuming chores can easily be transformed into exciting, dramatic games. By "gamifying" spring cleaning, your family can work competitively or cooperatively on your next big chore day.
These activities are mostly designed for young kids, but some get the whole family involved, including parents or older children.
---
1) Make it Competitive
Adding a competitive edge to chores is a great way to motivate kids. Give them a list of chores to tackle for the week, and award a sticker on a chart for each task they complete. At the end of the week, whoever has the most stickers gets a special treat!
If competition against one another leads to arguments, try a different idea: compete against the kids to see who can finish their tasks first (without compromising effort). For example, see if the kids can work together to declutter a room before you finish dishes. Make the prize a win-win, so the kids are rewarded for doing a chore no matter the outcome.
---
2) Time Attack!
Here's a great way to get the whole family working together. Set a time limit—say, 10 minutes—and assign each member of the family to a room to clean. Working together, can your family clean the entire house within the time limit? Who does the best job?
This is a fun activity where everyone's working together for a common goal. It teaches kids that keeping the home clean is the whole family's responsibility, and if done daily, the game helps instill a habit of cleaning.
---
3) Get Sporty
What kid doesn't have clothes strewn all over their floor? Some adults often do, too! To make cleaning the bedroom more fun, turn it into a game of basketball: how many articles of clothing can you toss into the hamper from a designated spot? Play against your child to make room-cleaning much more fun!
When it comes to sweeping, try a hockey-inspired game. Each player has a "goal" where they will sweep dust towards. Whoever's swept the most wins!
---
4) Be a Band
This chore game is a little wacky, but a lot of fun. Assign everyone in the family a different task for cleaning the same room (dust all surfaces, sweep/vacuum the floor, declutter, etc). Turn on music the whole family enjoys, and encourage everyone to dance as they work!
Cleaning is built on rhythmic motions, which makes chores the perfect opportunity for improvised dance. Have everyone jam together with their cleaning choreography—and feel free to sing along!
---
5) Share Stories
Tell a story when doing those boring, mindless chores (like folding clothes or doing dishes) with your child. If you'll be tackling multiple chores in the day, break the story up, telling a "chapter" per chore. This adds a sense of intrigue and excitement to finish the day's work!
---
6) Go on a Treasure Hunt
Here's a twist on giving allowance that can encourage your kids to clean more efficiently. Hide change throughout the house for the kids to find as they dust and clean. They can keep what the find only if they've cleaned that surface or area completely. While this is great for motivating kids to do their chores, some kids might get overly competitive about the amount of money they find—so this strategy is best for only children.
---