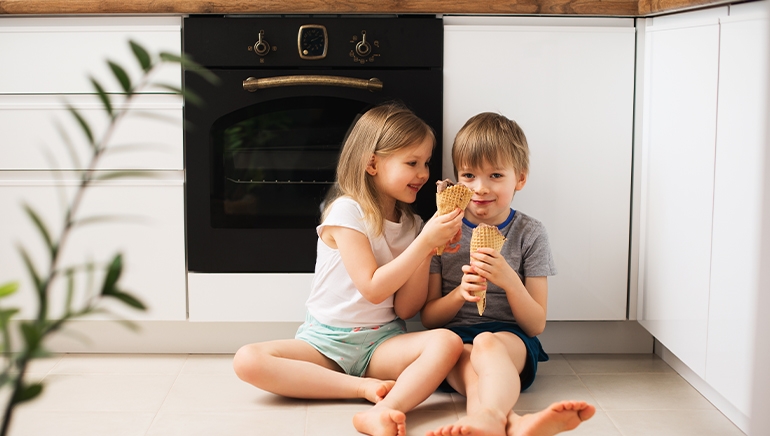 Summer is here and the kids are home from school, but what now? If you're looking for ways to entertain your kiddos this summer while still having some fun yourself, we've got you covered. Here are 20 activities to do at home this summer with the kids.
---
Have a picnic at home -

gather your supplies and have a fun picnic in the backyard with all their favourite foods.

Make ice cream -

get out your

ice cream maker

and whip up some yummy summer flavours.

Start learning a new language - kids can absorb language like crazy, try learning a new language with them. 
Draw on the sidewalk with chalk -

decorate your sidewalk for all the neighbours to see with sidewalk chalk.

Put on a puppet show -

make or buy puppets and put on a puppet show with the kids.

Make homemade popsicles -

Gather your favourite fruit juices for yummy

homemade popsicles

. 

Camp in the backyard -

Set up a tent and campout under the stars. Enjoy some s'mores!

Make a scrapbook -

make memories you can keep forever with a scrapbook.

Have a themed dinner and teach them to cook -

if your kids are old enough to learn how to cook, teach them with a fun themed dinner.

Do a puzzle together -

put your thinking caps on and try to complete a puzzle as a family. 

Have a movie night with homemade popcorn -

whip out the

popcorn maker

, grab the candy and have an at home movie night.

Do an arts and crafts project -

painting, drawing and paper crafts are all fun ways to get the kids creative juices flowing. 

Make or buy a bird feeder and birdwatch -

attract local birds with a bird feeder outside your window.

Connect with a pen pal and write letters -

ask a friend or family member to write your kiddo over the summer, or use an online pen pal service.

Have a water balloon fight -

embrace your inner child and have a water balloon fight in the yard.

Redecorate their room -

as kids get older, their style evolves. Redecorate their room by swapping out

bedding

, and

decor

or even painting the walls.

Fly a kite -

pick a windy day and head outdoors to fly a kite.

Play in the sprinklers -

summer heat got you down? Turn on the sprinkler and have a day of fun.

Plant a garden -

get your kids involved with planting a garden or some flowers. No room outdoors? Try an indoor planter box.

Paint rocks -

get creative and paint some small rocks with pretty pictures and inspirational sayings. Then hide them around town for others to find. 
---