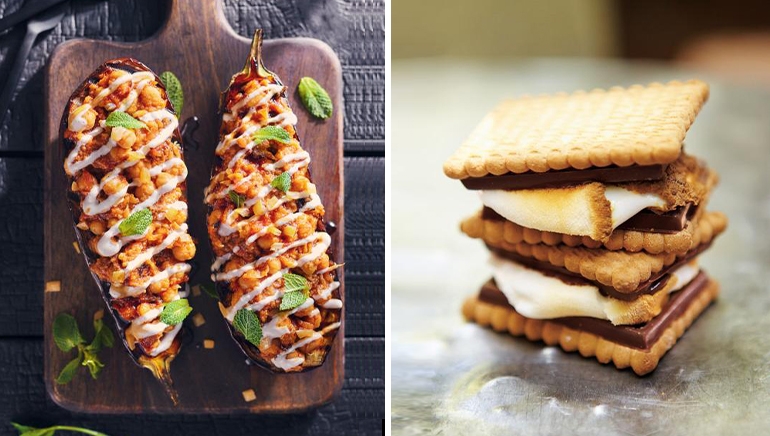 Get ready to be hungry! In honour of the warmer weather, we've rounded up some of the most delicious recipes for the BBQ. We've included enhanced summer classics, new fusion dishes, a couple of vegetarian options that will please the masses, and even a little something sweet as a treat.
If you haven't refilled your propane or cleaned the grill yet, it's time.
Here are 7 mouthwatering BBQ recipes for our sizzling summer roundup.
---
1.  Grilled Shrimp Tortillas with Mango-Avocado Salsa
If you're looking for a lighter meal, this BBQ recipe could not get any more refreshing. Filled with summery ingredients, this taco-style dish is bursting with flavour. Get the recipe.
---
2. Pork and Orange Skewers with Cilantro Yogurt Sauce
This is not just another skewer recipe because this unique combination of marinade and yogurt sauce will keep you coming back for more. Get the recipe.
---
3. Burgers with Bacon and Chipotle Cheese Sauce
Bring your burger game to the next level with this simple but decadent recipe. After this, you'll never want a plain burger again. Get the recipe.
---
4. Grilled Eggplant Stuffed with Chickpeas
This aromatic and hearty vegetarian dish is sure to fill you up! If you haven't tried BBQ eggplant, you're missing out. Get the recipe.
---
5. Tofu Satay Skewers with Peanut Sauce
A simple, yet delicious recipe for vegetarians to enjoy a good grilled protein. You'll even have the non-vegetarians wanting to try this savoury sauce. Get the recipe.
---
6. Mexican-Style Stuffed Potatoes
A BBQ baked potato like you've never experienced before. This gluten free recipe works as a main meal or as a side dish. Get the recipe.
---
7. BBQ S'mores
Did you know you can make S'mores on the BBQ? Following this recipe will end your night with the quintessential summer treat. Get the recipe.
---
Need to level up your BBQ set up for these tasty recipes? We can help.
---