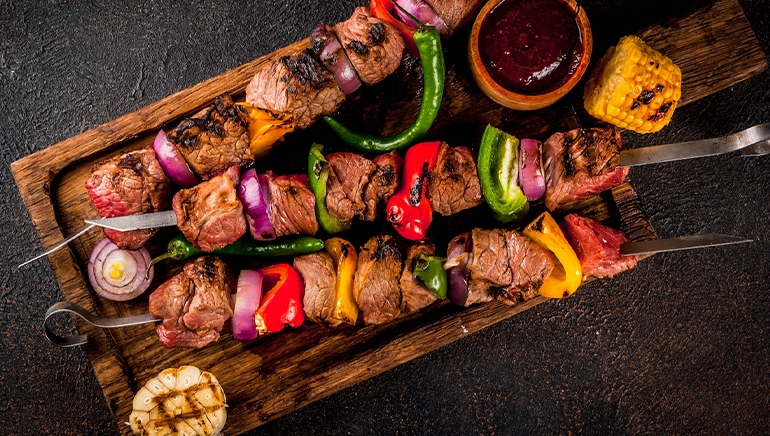 It's grilling season! Hit the patio and fire up the grill with these delicious summer recipes. These easy recipes are full of flavour and perfect for enjoying the warm summer days ahead.
---
Blackened Salmon with Mango Salsa and Cilantro Lime Rice
This deliciously fresh salmon dish is a must-try in the summertime. The sweet mango salsa combined with the crispy blackened salmon is absolute perfection. 
For this recipe you will need:
Salmon

Rice

Mango

Avocado

Tomato

Corn

Limes

Cilantro

Blackening seasoning or chili powder, paprika, cumin, and cayenne

Salt and pepper

Olive Oil
Lightly drizzle your salmon in olive oil and coat with blackening seasoning. If you are making your own, mix equal parts of each chili powder, paprika, and cumin with a dash of cayenne for heat and salt and pepper to taste. Cook thoroughly on the grill (or even in the oven or air fryer) until the internal temperature has reached 145 degrees F/63 degrees C. 
While your salmon is cooking prepare your rice as directed. Once finished mix in lime juice and freshly chopped cilantro to taste. Next chop up your mango, avocado, tomato, corn, and cilantro and mix in a bowl with lime juice, and salt and pepper to taste. Serve and enjoy!

---
Meat and Veggie Skewers 
Nothing shouts summertime like a juicy shish-kabob of meat and veggies. Mix and match your skewer toppings to create unique combinations for the whole family to enjoy. If you want a veggie option just skip the meat!
For this recipe you will need:
Meat (chicken, steak, shrimp, and even sausages work perfectly)

Veggies (bell pepper, pineapple, mushrooms, onion, cherry tomatoes, garlic, and zucchini are all great options)

Olive Oil

Seasonings of your choice

Skewer sticks
Cut your meat and veggies into pieces about 1 inch by 1 inch. Season meat to your preferences. Slide meat and veggie chunks onto your skewer sticks in an alternating fashion. Mix and match your flavours for more fun. 
Once your skewers are assembled, drizzle with olive oil to avoid sticking and place them on the grill. Turn frequently to keep them from burning and make sure your meat cooks to the proper temperature.