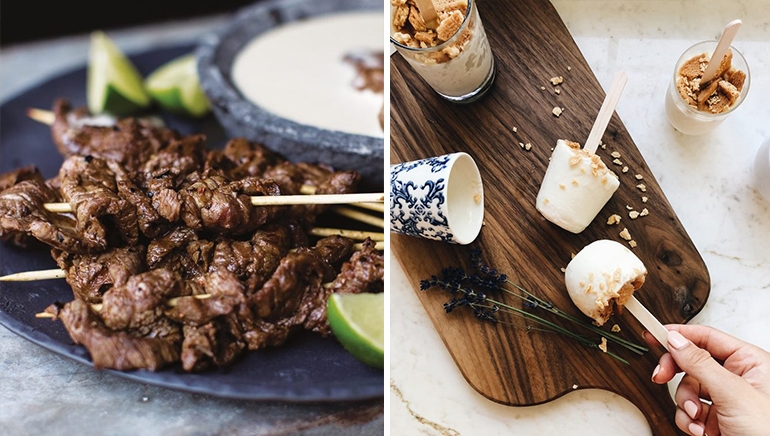 A great BBQ dinner incorporates crisp, light summery ingredients, with a balance of fresh, local, sizzling meat (or the best meat alternative one can buy).
We've put together what we think is the perfect summer BBQ meal. Simple to make, delicious to eat, and certain to make everyone at the table very, very happy. Enjoy!
---
1. The Appetizer: Cantaloupe Salsa and Chips
Your appetizer doesn't need to be anything too fancy or too time consuming. That's why we've opted to share this cantaloupe salsa recipe so you can put a fresh spin on the classic chips and dip most people seem to love.
Anything with melon as an ingredient screams "summer," and you don't have to wait for dessert to enjoy this sweet fruit. Bust this dish out for everyone to snack on while preparing the main course. Serve with corn chips or fried pita chips. Get the recipe >
---
2. The Main Event: Cajun Beef Skewers with White BBQ Sauce
These skewers will add a little zing to your meal while still being easy to cook. Twenty minutes of prep time mostly accounts for letting the skewers marinate in their deliciousness.
Cook time is also quick, so make sure to stay focused on the meat when it's grill time. Get the recipe > (Is anyone a vegetarian or vegan? Try this Grilled BBQ Tofu >

---
3. The Light Side Dish: Gazpacho Salad
Get two-for-one by turning the famous summer Gazpacho soup into a salad! It's light, fresh, and perfectly compliments the flavours of the meat dish. Get the recipe >
---
4. The Heartier Side Dish: Potatoes "en Papillote"
These might just be the easiest potatoes you've ever made. Peel, slice, add some flavour and then throw them on the grill. The rest of your dishes are filled with flavour so it can be nice to make sure one of your dishes is a success with simplicity. Bonus: It's faster and not as heavy as baked potatoes on the BBQ. Get the recipe >
---
5. The Grand Finale: Creamy Maple Popsicles
This sweet treat will round out the whole meal and end it with a unique dessert everyone is going to love. The texture and name say "popsicle" but it tastes more like ice cream. Better yet, you can prepare it way ahead of time so you'll have one less thing to do during the meal. Get the recipe >
---
Feel free to modify the recipes as you see fit!