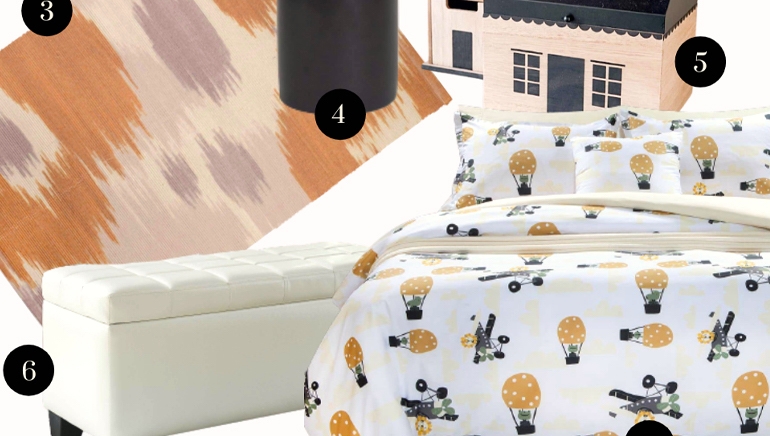 Decorating a kids space and keeping it looking stylish can be quite the task. Most kids toys, bedding and furniture are brightly coloured, plastic and covered in bold cartoon prints.
Kids rooms should reflect their passions and interests and feel kid friendly, but that does not mean they have to be a sore thumb when it comes to decor. Here's some tips and inspiration on how to decorate a stylish kids room that they will still enjoy.
---
Keep it Minimalistic -

Kids usually have a lot of stuff, and more often than not that stuff ends up everywhere. Chances are your child isn't using all of them. A great way to reduce clutter is to select a few toys and books of different types to keep out and put the rest away, then every couple of weeks you swap out their selection for ones you had stored. This way their toys and books feel brand new each time and there's less clutter. 

Create Storage Solutions -

For the toys and books they do have out it's good to have a place for everything. Storage ottomans, bookshelves and storage bins are all great ways to store their items. If your child is old enough to help clean up, get them in the habit of putting their toys away at the end of the day. With less toys out it will make cleaning up fast and easy for you and for them to learn.

Build a Neutral Base -

When it comes to decor, your child's room doesn't have to be bland, but it's good to build the basics with neutrals. Light or white wood as well as tufted fabric are great for furniture because it makes the room feel more youthful. Other neutral base colours to use are white, gray, navy blue and shades of beige. Having a neutral base will allow the accent colours you choose to really pop. 

Pick Accent Colors -

Bold colours help stimulate the imagination so it's good to have some accent pieces that really pop. Throw pillows, wall art, mobiles, and bookshelves are a great way to incorporate some colour into the room. Greenery and plants are also great in a kids room. When they are younger opt for fake plants in out of the way spaces, when they get a little older swap them for real easy to care for plants and help them learn to care for them.

Pick a Theme -

Sick of the old cars and Barbies and cartoon characters? Opt for something a little more unique like jungle animals or airplanes or under the sea! Want to incorporate lots of colour in a more stylish way? A rainbow theme can look super adorable in any kids room. 
---
Looking for some inspiration? Check out this mood board. Notice how the neutral colours really make the mustard yellow pop for a youthful look:
Shop The Look
Yarida Table Lamp 

Bea Wall Clock

Yana Rug

House Box

Massie Ottoman with Storage

Skyplay Bedding Collection