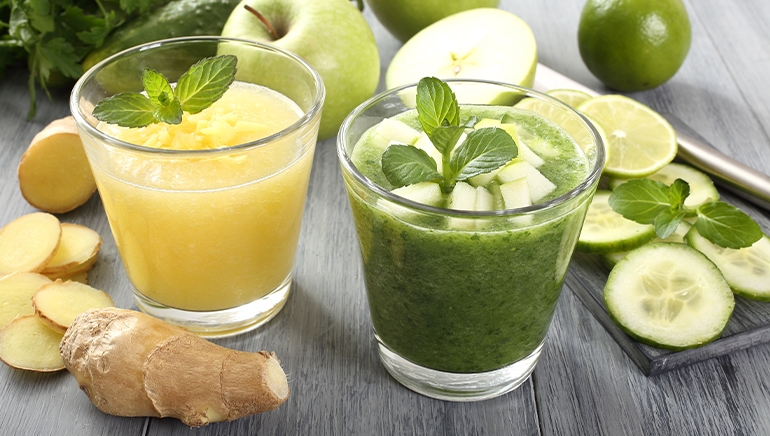 A juicer is a worthy investment if you're looking to prioritize your health this year. Fruits and vegetables are the best way to heal your body from the inside out. The results can include improved digestion, reduced bloating, weight loss, faster metabolism, clear skin, and so much more. So, if you're ready to kick off your day the right way, try any one of these wellness shots.
Shop Juicers >
Shop Juice Shot Glasses >

---
Immunity Shot
Winter is the time when colds and coughs can easily circulate, so protect yourself and your immune system with this fiery shot that's got a delicious fruity base. Combine a thumb of ginger as well as a thumb of turmeric; these are immunity heroes that also decrease inflammation in the body.
Next, for the delicious part, add a whole green apple and 2 pineapple spears. These acidic fruits expertly kill off germs and add a yummy taste that complements and covers up the spiciness of ginger and turmeric. These will make the perfect morning pick-me-up for the whole family to keep you healthy this winter.

---
Cleansing Shot
To reset the body's digestion and clear up your skin, try out this glowing green wellness shot. Start by combining a large handful of spinach and a handful of kale. Then, add in 3 or 4 celery stalks into the juicer, which is the ultimate cleanser for internal health and external beauty.
Finish off this juice with a green apple and half a lemon. Aside from the cleansing and beauty-boosting properties of this shot, you'll also help aid your bone health to keep yourself strong and supported so you can hit the gym and reach your goals.

---
Refresh Shot
This shot doesn't just get it's name from it's refreshing taste; it also gives your body a fresh start so you can cleanse yourself of any previous poor eating and kickstart a healthier lifestyle. Begin by adding a whole orange and tomato to your juicer – these give the refreshing zing that you'll mostly taste.
Next, add a large carrot and 2 celery. These are incredibly detoxifying and packed with nutrients that improve your hair, skin, and nails as well as your gut health. Finish off the juicer with some cayenne or a dash of hot sauce to jumpstart your metabolism.

---
Now that you know a few basic ingredients and how they can help your body, get creative with your juicer! Combine your favorite flavours and most helpful ingredients to make a wellness shot that's customized to your unique needs and preferences. You'll start seeing results and love the healthy life you're creating in the process.
---