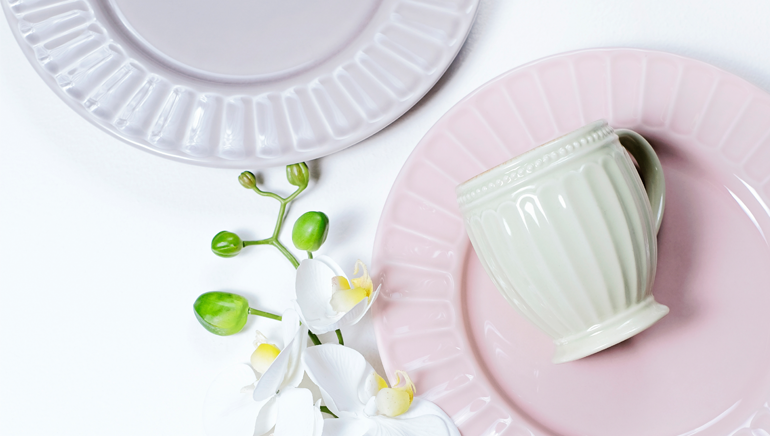 What better reason to redecorate than a holiday? Easter is a particularly design-friendly holiday because it's early in the spring, with bright colours, fresh scents and warmer temperatures. Take Easter as an opportunity to add some cheer and fun to your living space this year!
It doesn't take a design genius to make a room fit for an Easter bunny. In fact, you can do it in just a few simple steps—we've boiled things down into 5 areas to focus on when updating your space.
---
1) Set a Tableau
You can really put the season on display by designing an Easter tableau. This can sit on a sideboard, coffee table or mantel. To create an Easter display, we recommend some things like:
Easter eggs

Flowers or other greenery

Animal motifs (like rabbits or baby chicks)

Something vertical (like candlesticks or photo frames)
Need some ideas? Try a faux bird's nest filled with decorative eggs, surrounded by a beautiful springtime garland. Complete the look with a cute seasonal saying written on a framed chalkboard.
Consider adding some gold-tipped finches to your Easter menagerie. These cute egg cups aren't just for the kitchen—you can use them in your Easter display thanks to their whimsical design.
---
2) Adopt a Seasonal Style
There are two things we think of when it comes to Easter decor: a delicate, pampered look or a rustic, weathered style. Consider augmenting your living room or dining room's current theme with accents belonging to either of these styles.
We love the rustic look of these Berg candle holders, which go well with this taupe console. These decorative pink blossoms add a little bit of colour with a delicate, fragile shape. This flower clock shows how you can mix rustic and delicate accents into one beautiful design.
---
3) Contain Yourself
Vases, baskets and trunks are a must for Easter design. This is because you'll want to use them for beautiful bouquets and Easter baskets! Fill your home with cheerful nature, and don't be afraid to mix materials. For example, you might mix a weathered tin watering can with small wooden crates. 
While an Easter basket—or other container filled with eggs—makes a great coffee table centrepiece, while flowers look at home pretty much anywhere. Use them as accent pieces to add some extra touches of nature and colour around a given room.
Play with height and shape; a tall, slender arrangement of dogwood, for example, might work in one spot better than a large, vibrant bouquet. Meanwhile, candles can make a great size/height contrast to an Easter egg centerpiece.
This collection of bark-textured containers by Torre & Tagus is great for making a centrepiece. A set of decorative trunks like this adds charm. And don't forget the vases! These Lumby coloured glass vases are elegant and colourful—perfect for Easter design.
---
4) Brighten Up with Some Colour
Speaking of colour, feature bright and cheerful accents to make the space a little more fun and whimsical to celebrate the holiday. You can easily accent a space with pillows, throw blankets, tchotchkes or the already mentioned floral arrangements. It's time to clear away any remaining winter doldrums and welcome in the spring with a smile!
---
5) Decorate an Easter Tree
This old European Easter tradition is growing in popularity ever year. This isn't so different than decorating a tree for Christmas; in fact, you can break out your Christmas tree for decorating right now rather than use only once a year. Any tree can work, though, and many use decorative branch arrangements.
You'll mainly decorate a tree with hanging Easter eggs, but truly creative homemakers can add charms, ornaments and garland as well. Aim to really "wow" visitors with your Easter tree—it'll most likely serve as the anchor for your overall Easter design.
---