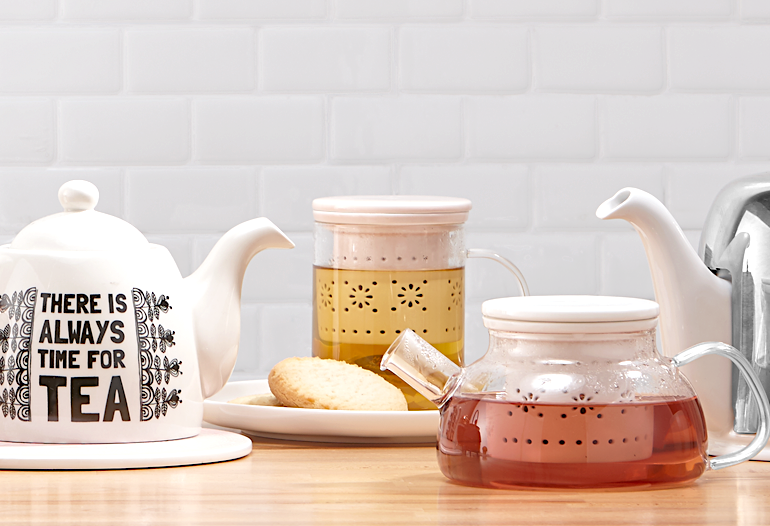 Easter is a holiday characterized by sunny days, bright flowers, cheerful colours and adorable animals. What better way to celebrate the day than to throw an adorably fashionable tea party? While tea time is a traditional meal across the world, those unaccustomed to the practice might find organizing a tea-soaked soiree to be an intimidating task.
But no worries: throwing the best tea party requires just a little bit of planning and preparation. From setting the table to choosing the food and tea, we're with you every step of the way!
---
1) Setting the Table
Begin by busting out a special tablecloth. You might want a pristine white cloth, or perhaps something bright and cheerful. The latter might suit Easter best, but pick whichever look you prefer. Once you've chosen the tablecloth, add some plates. Once again, you have a choice here: pick a single, cohesive set of matching serveware, or get adventurous with an eclectic mix.
If you want a lot of bold, cheery colour, try something like this Sun Bloom tablecloth. A simple tulip tablecloth is a bit more subdued while retaining a sense of fun. This Cotelé dinnerware collection lets you mix and match pastels, while this lace-inspired collection provides a delicate look.
As for drinkware, this tea set by Miranda Kerr is fit for royalty, offering a traditional, cute and springy tone to an Easter tea party.
A centrepiece is essential, and will set the visual tone for your tea party. Choose something vibrant and seasonal. We think a homemade Easter basket filled with decorative grass, dyed eggs and ribbon is a great way to celebrate the holiday. If you want something simpler, stick to an easy but attractive floral arrangement.
Of course, it isn't a tea party without tea accessories. This is where things get really fun, with cute teacups, teapots and trays. Coordinate these with your serveware and tablecloth. A tiered cake stand lets you fashionably show off the menu and keep your food easily accessible to everyone.
Finally, don't forget small touches and accents like napkins, placemats, napkin holders and (if you're up for it) doilies and lace. Place cards add a sense of formalism, turning afternoon teatime into a special occasion.
---
2) What's on the Menu?
There's no specific, hard-rule menu for a tea party, but we can recommend some teatime mainstays. Favorite foods include:
Scones

Muffins

Cupcakes

Cookies

Finger sandwiches
But don't feel too constrained, either. Be creative and consider new twists on old favorites, like cake pops instead of cupcakes or tiny wraps instead of sandwiches.
The only rule is to not offer just sweets. Choose whatever selection of pastry you want to offer, but be sure to include a savory treat.
---
3) Tips for Making the Food
If you make sandwiches, remember to make them tea sandwich-sized! This is simple: just prepare the sandwich as you always would, then cut off the crust and divide into four. Cut into rectangles or triangles—or cut into fun shapes!
Speaking of shapes, homemade cookies are best enjoyed in interesting designs. Make egg-shaped and bunny-shaped cookies to celebrate the holiday, and decorate them with icing! To embrace the season, we've got some flower-shaped cookie cutters that you can make use of.
If you're offering scones, don't forget to include a variety of jam for your guests. This way they can choose what kind they want.
---
4) Making the Tea
And now, the most important ingredient to a tea party: the tea! You might have a favorite kind of tea, but it's a good idea to offer a small selection to your guests. If you only have one teapot, don't despair—provide alternatives in teabags or (if using loose-leaf tea) with infusers that your guests can place in their cups. If the weather is especially warm, you might even offer iced tea!
These Lillie mugs and teapots each come with their own infuser, so everyone can prepare and drink exactly the variety of tea they wish.
Make a spread of milk, sugar, honey and other extra ingredients that you think your guests might enjoy. Part of being a good host is anticipating your guests needs; by placing these ingredients within reach, guests won't have to ask to blend their perfect cup. Cheers to that!
---