If you want to bring the beautiful blooms of the garden into your bathroom space we've got a mood board for you. We've compiled some of our favorite whimsical garden pieces to bring you some inspiration for your bathroom makeover. We've also got some styling tips to help you along the way. 
---
Add Pops of Colour
No whimsical garden theme is complete without some pops of colour. Start with your most colourful item, in this case it's our shower curtain, and pick a few accent colours from that colour palette. Our main colour in this mood board is pink. We've incorporated the pink in several areas without letting it be overwhelming. Keep a neutral base in things like towels and wall hangings so your colours really pop. Finish it off with a few metallics and you're set!
---
Decorate with Textures
A great way to make your decor jazz up the room without feeling overwhelming is to focus on textures instead of patterns. We've got a heavily patterned shower curtain, so we opted for textured towels, and textured candles. Our wall hangings have unique texture without being too patterned or large. 
---
Finish it With Some Flowers
You can't have a garden themed bathroom without some flowers and plants! Most bathrooms don't have much natural light and they often get humid so it's best to opt for low care plants or faux plants. We like the look of faux flowers to really tie in the garden theme.
---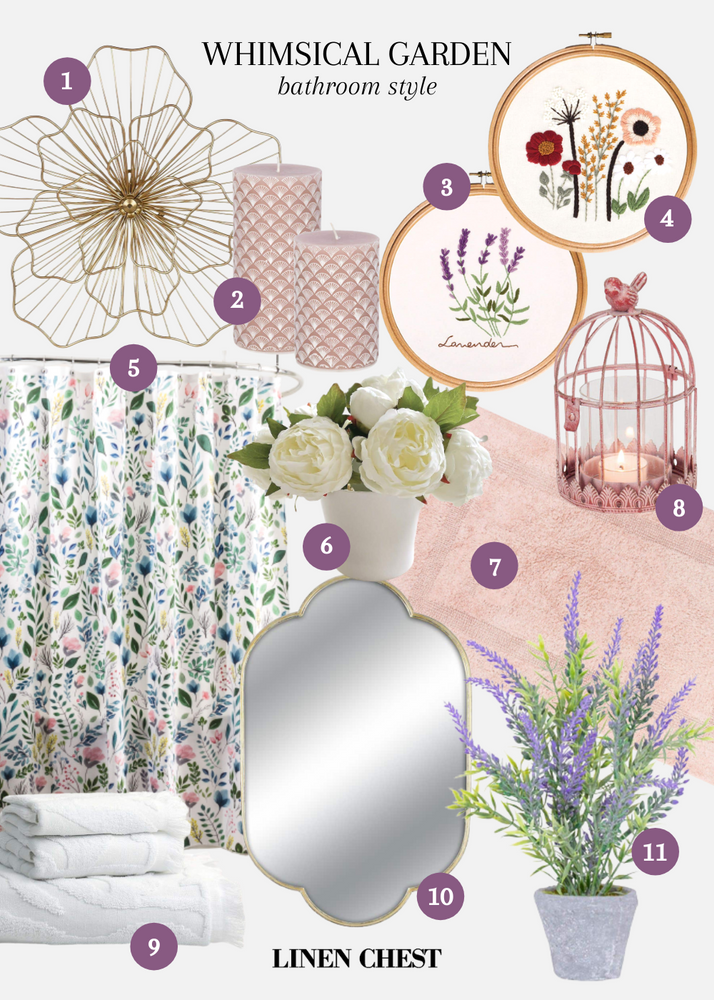 ---
SHOP THE LOOK