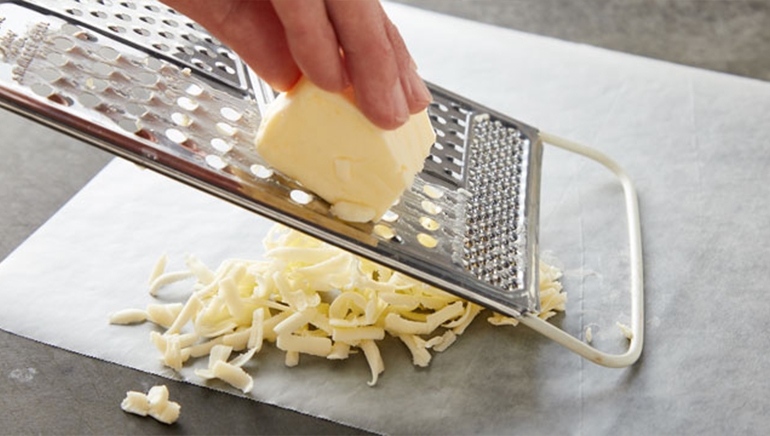 If you love cooking and spending time in the kitchen you've probably picked up a hack or two of your own. You can never have too many kitchen tricks so here's nine more you probably don't know about.
---
1) Get evenly sliced fruit and veggies
Cutting up small fruits and veggies like strawberries, kiwis and mushrooms can be such a hassle. Use an egg slicer to get even slices and save yourself some time.

---
2) Make homemade curly fries
Who doesn't love a curly fry? Use a spiralizer to make great homemade curly fries! Pop them in the oven or into a small deep fryer if you crave that crispness of a classic fry.

---
3) Ripen bananas quickly
There's nothing worse than wanting to make banana bread but none of your bananas are ripe enough. Thankfully there is a way to fix that. Put them on a baking tray in the oven at 300 degrees for about 30 mins or until the skins are brown and the bananas are soft.

---
4) Reheat cold pizza
If you're not a cold pizza fan you can easily reheat your pizza in a skillet. Simply put it on medium heat for about a minute, then add just a couple drops of water and cover it. The steam will warm the pizza right up but it won't get soggy.

---
5) Reheat french fries
French fries got cold on the drive home? Pop them in the toaster oven to get them warmed back up and add a little crisp.

---
6) Make small batches of whipped cream
Sometimes you just need a dollop of whipped cream for a single piece of pie or a cup of cocoa. Instead of dirtying up the while mixer and making a bunch you won't use, try using an immersion blender in a cup for a little serving.

---
7) Make the most out of your waffle iron
Make more than traditional waffles in your waffle iron. Waffle omelettes, hash brown patties, and cinnamon roll waffles are all tasty foods you can make with a waffle iron.

---
8) Soften butter quickly
We've all forgotten to take the butter out to soften. Next time this happens try chopping it up and putting it in your stand mixer with the paddle or bread hook attachment. It will be creamy in no time. Need butter to spread? Try using a cheese grater.

---
9) Get even portions when baking
When portioning out the batter for muffins or cookies, try using an ice cream scoop for less mess and even portions every single time. 
https://vimeo.com/497216369
---
We hope you learned a new trick or two to use in the kitchen. Happy Cooking!