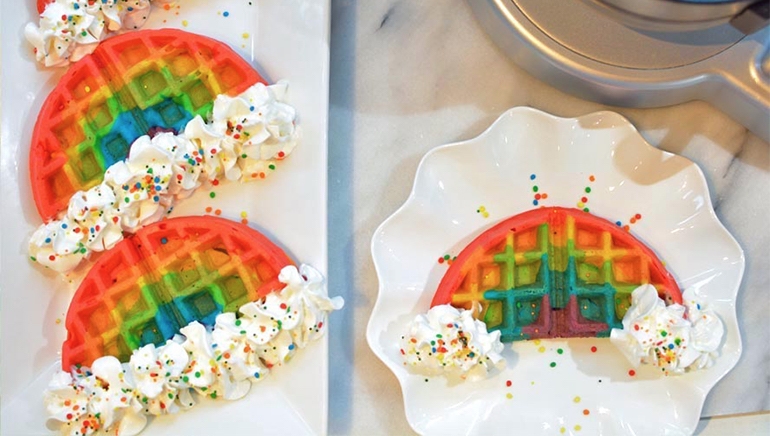 St. Patrick's Day is the perfect time to let loose and have a little fun, and what's more fun than themed treats? Here are four festive treats perfect for your St. Patrick's Day celebration that the whole family can enjoy. 
---
Rainbow Waffles
Add a pop of colour to the plate and a smile to little ones' faces with these rainbow waffles from Mommy's Fabulous Finds. 
Simply mix up your waffle batter as usual and separate it into 6 different containers. Add a little food colouring to each one to make your rainbow of red, orange, yellow, green, blue, and purple. 
Put your waffle mix into piping bags and pipe around the waffle iron. Start with red and work your way to purple piping one circle inside the next. Cook as normal. 
To serve the waffle split it in two (so you have two rainbows) and finish with whipped cream clouds and sprinkles.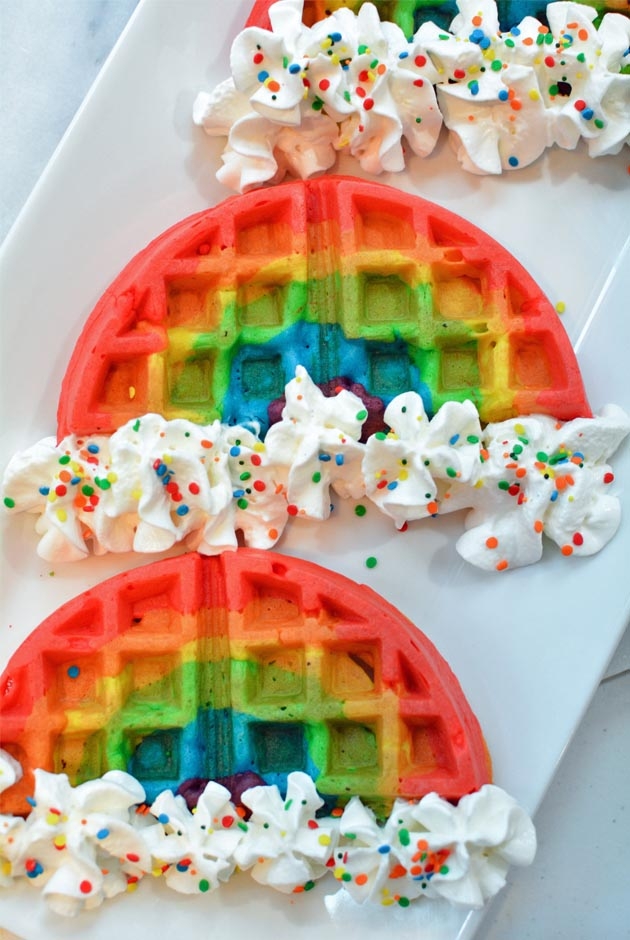 ---
Leprechaun Hats
Bring on the festivities with these adorable leprechaun hat treats from Betty Crocker.
For these sweet treats, all you will need is sugar cookie mix or pre-made sugar cookies, marshmallows, white frosting, green food colouring, and any hat decorations you want. 
Bake your cookies and while still warm add the marshmallow on top to create the hat shape. If your cookies are pre-made, add a little frosting to stick the marshmallow to the cookie. 
Warm your frosting up to a dippable consistency and add your food colours. Dip the cookie and marshmallow hat into the frosting or spoon frosting onto the cookie and let dry completely. Decorate with candies and sprinkles.

---
Lucky Charms Marshmallow Treats
Get the luck of the Irish with these tasty Lucky Charms marshmallow treats from Moms & Munchkins.
For this recipe, you will need 1/4 butter, 4 cups marshmallows, and 5 cups Lucky Charms cereal. 
Melt your butter in a microwave-safe bowl and mix in the marshmallows. Then return the marshmallows to the microwave to melt until fully combined with the butter. Stir in the cereal and press firmly into a greased 8x8 pan. Let sit for 1-2 hours before serving.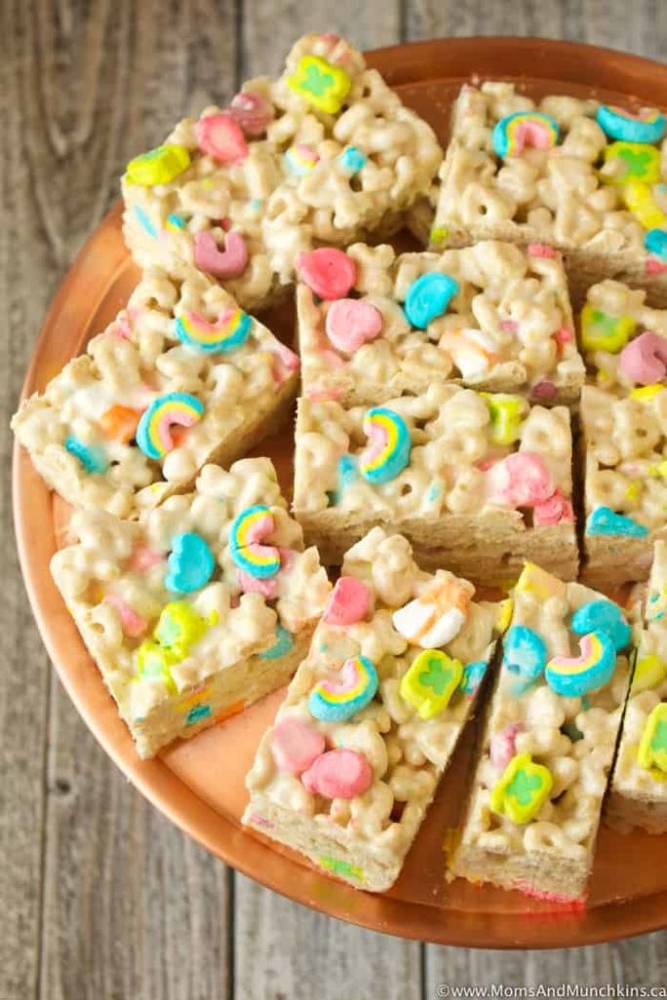 ---
Shamrock Shake
It's sweet, it's minty and it's ice cream. There's nothing not to love about this Shamrock Shake recipe from Dinner then Dessert.
For this recipe you will need: 
Vanilla Ice Cream

Milk

Mint Extract (not peppermint)

Green food colouring 

Whipped cream (optional)

Sprinkles (optional)

Maraschino cherry (optional) 
Blend your ice cream and milk with your mint extract and food colouring until you have the desired consistency, colour, and taste. Be mindful extract goes a long way so you will most likely only need a little bit. Top with whipped cream, sprinkles, and a cherry, and enjoy!

---
Happy St. Patrick's Day!