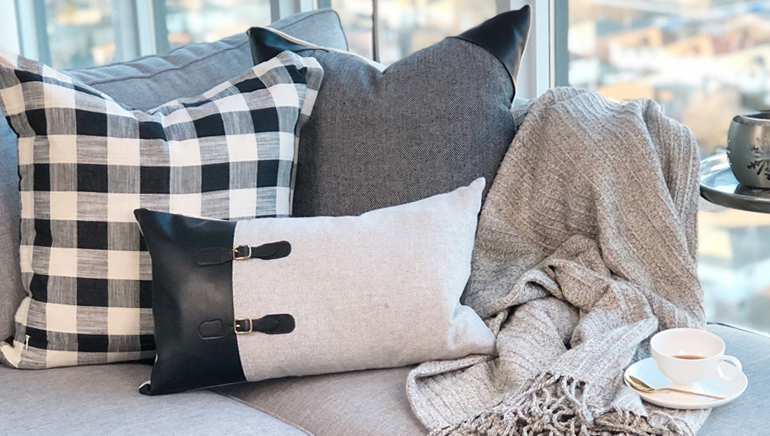 Is your living room decor beginning to feel a bit stale? Serving as a place for relaxation and entertaining, we spend a great deal of time in the living room, perhaps only second to the bedroom. This means it's easy to tire of the room's overall decor and atmosphere—but thankfully, you can drastically change the look and feel of the room by making a couple key changes. Looking for a fast living room makeover? Check our tips and tricks below.
---
Do a Decluttering Sweep
Revising your style and decluttering the living room is a great way to transform the room's vibe. This also provides an opportunity to take stock on what sort of look you want to go with moving forward. Stowe away clutter in decorative trunks or benches to immediately change the feel of the room. The Rhea Ottoman is a fashionable way to hide clutter, as is the Monique Storage Ottoman.
---
Get Seasonal
Once you've decluttered, re-accessorize with seasonal decor. Focusing on seasonal accents helps you keep accessories in rotation, which ensures your living room will never look stale. You don't have to go out and buy a ton of new accessories; staying seasonal can be as simple as replacing heavy curtains from the winter with sheer ones in spring. Some other great ideas for things you might change include area rugs, pots and plants or figurines. It's important not to go too crazy; keep things simple so you can make small, strategic changes in the future to dramatically shift the room's feel.
---
Pick a Colour Scheme; Neutrals or Colour?
Your living room colour palette has a big effect on the room's atmosphere. Switching colour palettes, then, is a fast and simple way to give it a good makeover. There are two areas where you'll want to focus on colour: your wall art, and the various textiles in the room. As far as textiles go, instantly switch the look of your sofa with a throw blanket and accent pillows. Coordinate those with a patterned rug.  Need some inspiration? Browse some of our throw blankets and decorative pillows.
After switching out the textiles, consider your wall art. You have two choices when reassessing your wall: should you switch in new pieces, or simply rearrange what you currently have hanging? The latter is certainly the more frugal option. If you'd like to introduce a new piece to your home, don't just stick to photos, posters and paintings. Consider something a bit bolder, like a Deer Head sculpture, available in three colours. Something so dramatic will certainly make a mark on the room's atmosphere.
---
Experiment with Light
Light makes a huge impression on how we experience a place. Harsh, fluorescent lights, for example, can lead to a sense of unease; the warm glow of a dim halogen bulb, on the other hand, can feel cosy and relaxing. Experimenting with new light sources (or different placements of existing ones) is therefore an easy way to make small changes with dramatic effect. Consider swapping out a light with a dimming one. You can also give the room a romantic and whimsical feel with stringed lights or candles. LED candles like these LED Aquaflame Candles are a great way to pull off the look without dealing with dripping wax and fire hazards.
---