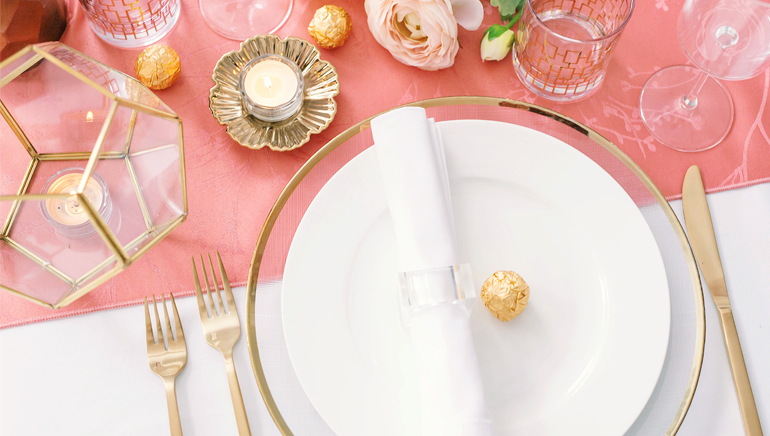 Alone on Valentine's Day, or looking for an opportunity to gossip with the gals? Aside from a date with a loved one, there's no better way to enjoy Valentine's Day than to gather the girlfriends for a Valentine's Day brunch. From setting everyone's place at the table to designing a functional buffet, we'll walk you through every step of throwing a great Valentine's Day brunch with your best friends.
---
Decide on the Atmosphere
Will your brunch be formal, or casual? Deciding on a tone for the occasion is a necessary first step, because it will affect the choices you make in setting the table. For example, hosting a formal brunch entails setting each guest's place at the table. If you'd prefer a casual brunch with the girls, you might forego table setting altogether and instead opt for a buffet-style brunch. We have tips for both styles of brunch below, so choose whichever captures your interest!
Second, you'll want to establish a colour palette. Since this will be a Valentine's Day brunch, we suggest blush pink or red with gold or silver accents. This palette compliments the holiday, and it should be easy to colour-coordinate Valentine's Day decorations when sticking to these colours.
---
Gather the Necessary Materials
Brunches of either style—formal sit-down or buffet—will need a few essentials. First, begin with a table linen that establishes the colour palette you've decided upon. Again, blush is a great colour to start with, but you might choose something else. From there, select coordinating placemats for each seat. Browse our tablecloths and napkins as well as placemats. Don't forget a good napkin ring!
When it comes to serveware, it's best to go with a fully coordinated set to keep the entire table uniform. Go with a collection, like the pearl white Loft Grange Dinnerware Collection or the Arezzo Brushed Gold 20-Piece Cutlery Set. Check out more of our dinnerware here for inspiration.
Brunch drinks are varied, so offer a variety of glassware appropriate to what you'll serve: mugs for tea or coffee, fluted glasses for mimosas or Bloody Marys, and standard glasses for water or juice. We love the Rona Cube Glassware Collection for stemmed glasses, and you can check out some of our favourite stemless glasses here. And don't forget to have a couple trays for candies and chocolates—an easy thing to forget, but absolutely essential for a Valentine's Day gathering.
Finally, don't forget a good centrepiece. A floral arrangement is a great option, but don't get one too big. Otherwise, it might block guests' view of one another. Instead, you might break it up into smaller arrangements, or opt for a low-lying centrepiece on a table runner, like this tangerine Hampton Table Runner. If you would like a central arrangement, browse our vases like this favourite Cylindre Silver Spun Wire Glass Vase.
---
Setting Up a Buffet
If you're setting up a brunch table, take special care to its composition—just placing trays full of food anywhere won't work. Begin with the basics: a stack of plates should be made available at one end of the table, with drinks, glasses and flatware (attractively rolled up in a napkin) should be on the other.
Food goes in the center of the table and should be arranged so guests can easily reach what they want. Keeping dishes at varying heights is a great way to ensure everything is reachable. For example, you might put a cake (or set of cupcakes) on an elevated cake tray. Playing with height also adds some visual interest to the table. Got empty space? This isn't a bad thing—it's good to keep the table uncluttered—but feel free to add a decorative tchotchke or two befitting the holiday to fill in awkward spaces.
---
All in the Details
Details and embellishments provide visual interest and whimsy, so pay special care to the little things. For example, you might fold napkins into attractive shapes like origami, make customized place cards or offer fun party favours. Once you've added the finishing touches, you're ready to party!
---
---