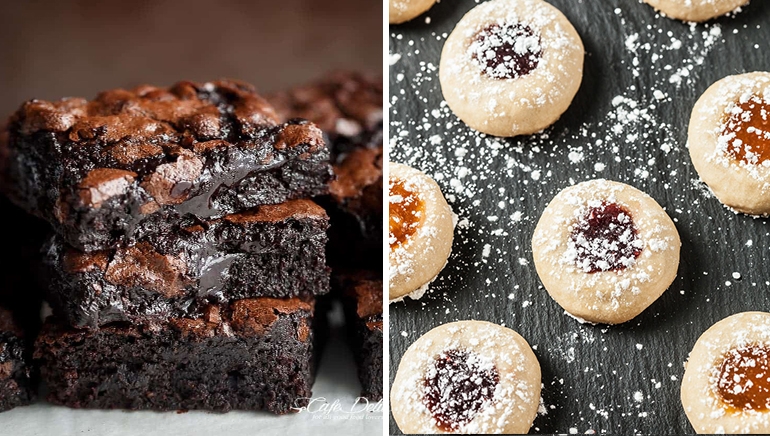 Sometimes you want a homemade sweet treat, and sometimes you don't have a lot of time, energy, or ingredients. Here are 3 delicious dessert recipes that are quick, easy, and take 10 ingredients or less that are perfect for a last-minute sweet tooth!
---
1) Buttery Jam Thumbprint Cookies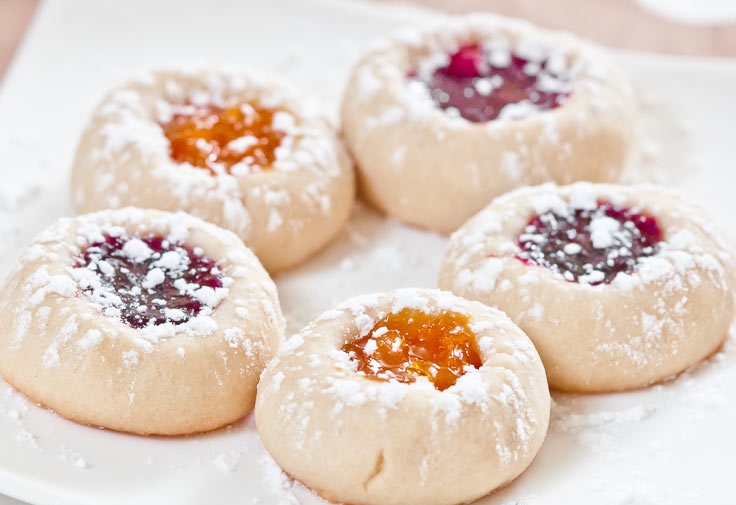 This recipe from Chew Out Loud is a huge hit with everyone in the family. This simple recipe takes just 6 ingredients and can be customized to your tastes with any flavour jam or preserves. 
1 cup softened butter (not melted)

1/2 cup powdered sugar + more for dusting

2 tsps pure vanilla extract

1/8 tsp salt

2 cups flour

½ cup jam or preserves (flavour of choice)
Use a stand mixer with the paddle attachment for about 2-3 minutes to combine butter and sugar until creamy. Add vanilla and salt and then lower speed and pour in flour just until combined. The dough should be a little sticky. Form a ball, cover, and chill for 30-60 mins. 
Preheat oven to 350°F (177°C) and line a baking sheet with parchment paper or a reusable silicone sheet. Roll tablespoons of dough into 1 inch balls and place on the prepared baking sheet. Press down the centre of each ball to create a well and fill it with a dollop of jam or preserves. Bake 20-25 minutes or until slightly golden and puffy. Let cool for 5 minutes on the baking sheet and then transfer to wire rack. Once completely cool, sprinkle with powdered sugar.

---
2) The Ultimate Chocolate Brownie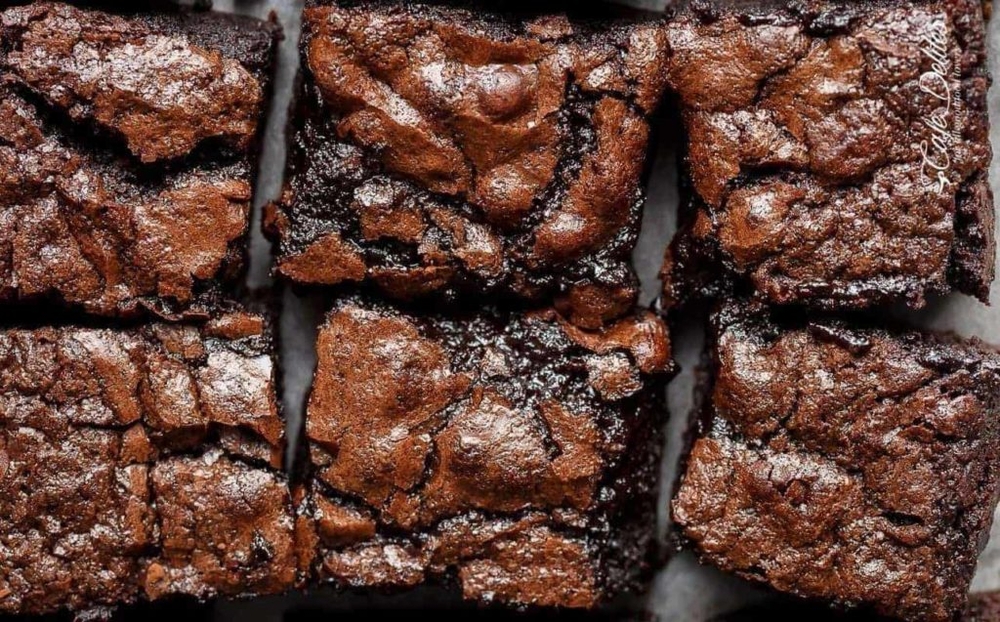 If you are a chocolate lover, these fudgy cocoa brownies from Cafe Delites are a must-try. They are truly one of the most scrumptious things you will ever eat and there are only 8 ingredients!
1/2 cup hot melted butter

1 tbsp cooking oil

1 1/8 cup white sugar

2 large eggs

2 teaspoons pure vanilla extract

1/2 cup flour

1/2 cup unsweetened cocoa powder 

1/4 teaspoon salt 
Preheat oven to 350°F (177°C) and lightly grease an 8-inch square baking pan. Line with parchment paper and set aside. 
After melting butter, while still hot combine with oil and sugar in a stand mixer bowl. Use the whisk attachment to combine well for about a minute. Add eggs and vanilla and beat until light in colour (about one minute). Sift in flour, cocoa powder, and salt. Use a wooden spoon or rubber spatula to gently fold in until just combined (do not overbeat). Pour into prepared pan and bake for 20-25 minutes or until the centre is set to touch. Remove from oven and allow to cool at room temperature before cutting.

---
3) Summer Berry Crisp

There's nothing like a fresh berry crisp topped with some vanilla ice cream and this recipe from Epicurious knocks it out of the park with just 8 ingredients. 
Filling 
6 cups mixed berries (fresh or frozen)

1/4 cup white sugar 

1/4 cup flour

1/4 tsp cinnamon
Topping
1 cup rolled oats

1/2 cup flour

1/2 cup brown sugar

1/2 cup white sugar

Pinch of salt

1/2 cup cold butter (cut into small pieces)

Ice cream or whipped topping

(optional)
Preheat oven to 350°F (177°C) and butter a 9 x 13 baking dish. Gently combine berries with sugar, flour, and cinnamon and place in the prepared dish. Combine oats, flour, both sugars, and salt in a bowl. Use a mixer or 2 knives to work in the butter until topping resembles coarse meal. Sprinkle evenly over berries.
Cook for about 1 hour or until the fruit is bubbling and the top is golden brown. Remove from oven and place on a wire rack to cool. Serve with whipped topping or ice cream.

---