Tired of the same old quick weeknight? Whether you are looking for a new vegetarian recipe idea, a gourmet meal or a healthy recipe, these five easy and original recipes will bring delicious diversity to your menu and delight the taste buds of your friends and family!
________________________________________________________________________________________________________________________
Spring Toast Three Ways
Source: The Original Dish
Bored with the classic avocado toast? Here's how to give it a little more personality or to transform the classic toast with two other deliciously simple and fresh options.
INGREDIENTS
12 pieces crusty fresh bread (sourdough, italian, etc.), sliced ¾" thick

olive oil

kosher salt

flaky sea salt, for finishing all toasts
Jam & Prosciutto
½ cup whole milk ricotta cheese

½ cup strawberry jam

2 oz thinly sliced prosciutto

½ tsp lemon zest

olive oil
Avocado & Sesame
3 tbsp butter

2 tbsp toasted sesame seeds

¼ tsp crushed red pepper

1 tbsp minced chives

1 large ripe avocado, pitted

½ lemon

2 tbsp fresh herbs (dill, chervil, etc.)
Burrata & Pesto
1 ball burrata cheese

freshly cracked black pepper

2 radishes, thinly sliced on a mandolin

½ batch arugula pesto
INSTRUCTIONS
Heat a large skillet over medium-high heat. Add enough olive oil to generously coat the bottom. Once hot, work in batches to toast the bread, about 1 minute per side, adding more olive oil as needed. Watch the heat and adjust between medium-low and medium-high as needed. Transfer the bread to a sheet pan and season with a pinch of salt.
Jam & Prosciutto
Spread the ricotta onto the toast. Dollop the strawberry jam and arrange the prosciutto over top. Top with the lemon zest and a drizzle of olive oil.
Avocado & Sesame
Heat a small skillet over medium heat. Add the butter and let melt. Continue to cook until the butter is browned and fragrant. Turn off the heat and stir in the sesame seeds, crushed red pepper, and chives. Smash the avocado onto the toast. Top with spoonfuls of the sesame seed butter, a squeeze of lemon, and the fresh herbs.
Burrata & Pesto
Break the burrata and arrange it on the toast. Season with freshly cracked black pepper. Top with the radishes and generous spoonfuls of arugula pesto.

Finish all toasts with a sprinkle of flaky sea salt.
________________________________________________________________________________________________________________________
Quilt Pie with Asparagus, Eggs and Ham
Source: Ricardo
We love the unique presentation of this savoury pie that can be served at brunch or as a delicious dinner with a salad. For a quick recipe, blanch your asparagus and prepare the filling the day before. This recipe is sure to be a hit!
INGREDIENTS
14 oz (400 g) store-brought puff pastry dough, thawed

2 onions, thinly sliced

2 tbsp (30 ml) olive oil

1/2 lb (225 g) sliced Black Forest ham, chopped

1/2 cup (125 ml) sour cream

1/4 cup (60 ml) whole-grain mustard

24 to 36 small green asparagus spears, trimmed and cut into 5-inch (12 cm) long pieces

24 to 36 small white asparagus spears, trimmed and cut into 5-inch (12 cm) long pieces

6 eggs
INSTRUCTIONS
Line a 12 x 17-inch (30 x 43 cm) baking sheet with parchment paper.

On a floured surface, roll the dough out to a 12 x 17-inch (30 x 43 cm) rectangle. Transfer to the baking sheet. Fold the edges of the dough inward, making a ½-inch (1 cm) border all around. Refrigerate for 30 minutes.

In a skillet, brown the onions in the oil. Season with salt and pepper. Let cool.

In a bowl, combine the onions, ham, sour cream and mustard. Refrigerate.

In a pot of salted boiling water, blanch the asparagus for 1 to 2 minutes or until tender. Transfer the asparagus to a bowl of ice water. Drain and set aside.

With the rack in the middle position, preheat the oven to 400°F (200°C).

Spread the ham mixture evenly over the dough. Place the baking sheet with one of the long sides parallel to the edge of the work surface.
ASSEMBLY
Mentally divide the pie into six 5-inch (12 cm) squares. Working from left to right, lay about 8 green asparagus pieces vertically in the first square. In the next square, lay about 8 white asparagus pieces horizontally. Repeat with the remaining squares, alternating colours and directions to create a quilt effect.

Bake for 25 minutes. Remove from the oven. Crack an egg at the centre of each square. Bake for 10 more minutes or until the eggs are cooked. Cut into 6 squares and serve.
________________________________________________________________________________________________________________________
Cauliflower Cheese Pasta
Source: Jamie Oliver
It's hard to decide what is the best part of this dish: is it the creamy texture of the sauce, the discreet presence of vegetables (kids will love it!), or the crispy topping that makes this simple recipe a meal worthy of a five-star restaurant? A real favourite with foodies!
INGREDIENTS
100 g stale sourdough bread

2 cloves of garlic

½ a head of cauliflower (400g)

olive oil

1 onion

400 ml semi-skimmed milk

300 g dried spaghetti

70 g Cheddar cheese
INSTRUCTIONS
Tear the bread into a food processor. Peel and add the garlic, then tear in any nice leaves from your cauliflower. Add ½ a tablespoon of olive oil, blitz into fairly fine crumbs, then tip into a large non-stick frying pan on a medium heat. Cook for 15 minutes, or until golden and crisp, stirring occasionally.

Meanwhile, peel the onion, then roughly chop with the cauliflower, stalk and all.

Tip the crispy crumbs into a bowl, returning the pan to the heat. Pour in the milk and add the chopped veg, bring just to the boil, then reduce the heat to low, cover and simmer.

Alongside, cook the pasta in a pan of boiling salted water according to the packet instructions. Just before the pasta is ready, carefully pour the cauliflower mixture into the processor (there's no need to wash it), grate in the cheese, blitz until super smooth, then season to perfection, and return to the pan. Drain the pasta, reserving a mugful of starchy cooking water.

Toss the pasta through the sauce, loosening with a splash of reserved cooking water, if needed, then serve with the crispy crumbs, for sprinkling.
________________________________________________________________________________________________________________________
Salmon Tartare with Strawberries & Spicy Mayonnaise
Source: Trois fois par jour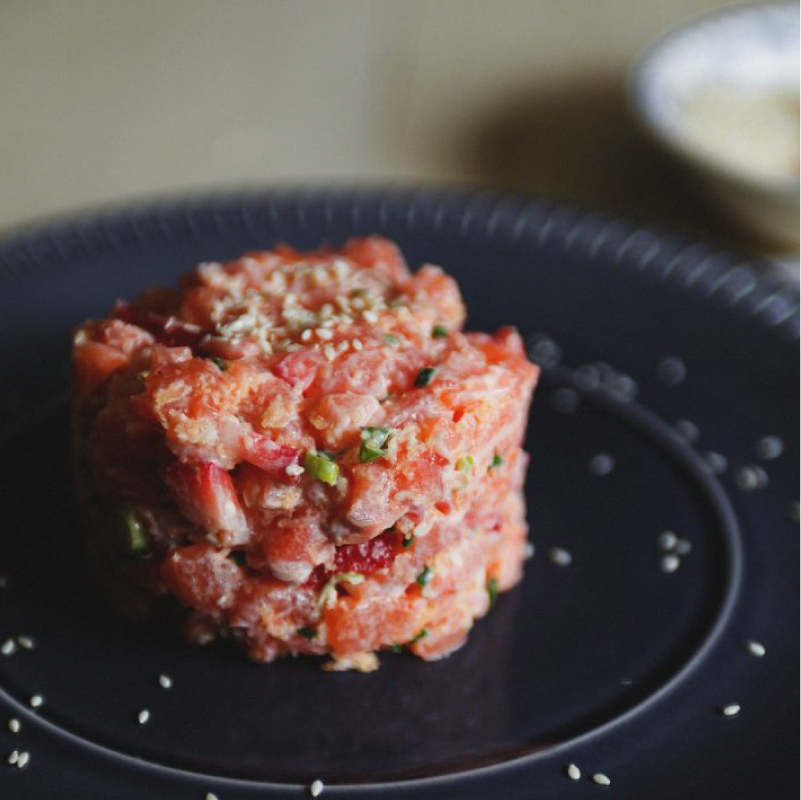 An unusual but effective combination of ingredients. This fresh, summery version of salmon tartar is original and yet so simple. The recipe suggests serving it rolled in a sheet of rice; after the spring roll, could this be the beginning of a new food trend, the summer roll?
INGREDIENTS
Tartare
14 oz freshly caught salmon

1 green onion, chopped

1 tablespoon chives, minced

1-2 large strawberries, diced

1 tablespoon Japanese mayonnaise (*see tip)

1 tablespoon panko breadcrumbs

1 teaspoon sesame seeds

1 teaspoon sriracha (hot sauce)

Dash of lemon juice

Salt and pepper, to taste
Wraps
2 rice paper sheets

A few lettuce leaves
INSTRUCTIONS
To ensure the salmon stays fresh, take out two bowls (one small, one large). Put several ice cubes in the larger bowl. Place the smaller bowl on the ice cubes, so it stays cold. This gives you time to make the tartare without worrying about keeping everything fresh.

Dice the salmon and transfer to the smaller, chilled bowl.

Add the rest of the tartare ingredients without stirring. Once all the ingredients have been added, mix well. By only stirring once and handling the mixture minimally, the diced salmon will keep its shape and texture.

Adjust the seasoning. Follow the final steps if making the wrap version and serve.
To assemble the wraps:
Soak a rice paper wrap in water until it softens. Transfer onto a plate and place a few lettuce leaves and half the salmon tartare in the centre. Roll. Repeat for the second wrap.
________________________________________________________________________________________________________________________
April Fool's Fish Chowder
Source: Ricardo
Goldfish soup? Yes! Super velvety, bursting with flavour and ready in about 30 minutes, it's the perfect meal to keep the whole family fed and smiling. Sometimes all it takes to cheer us up is a comforting soup with some funny fish swimming around!
INGREDIENTS
1 onion, chopped

2 tablespoons (30 ml) butter

5 cups (1.25 litres) chicken broth

5 cups (1.25 litres) cauliflower, cut into large florets

1 small potato, peeled and cubed

2 cups (500 ml) cauliflower, cut into small florets

1 bunch asparagus, trimmed and cut into small 1-inch (2.5-cm) pieces

2 cups (500 ml) frozen corn kernels

1 lb (454 g) fresh cod, cut into cubes

1/4 cup (60 ml) 35% cream

Salt and pepper

Cheese crackers
INSTRUCTIONS
In a large pot, soften onion in butter. Add broth, large cauliflower florets, and potato. Bring to a boil and simmer, uncovered, for about 20 minutes or until vegetables are tender.

In a blender, purée soup until smooth and return to the pot. Add broth, if needed. Season with salt and pepper.

Bring cream of cauliflower to a boil. Add small cauliflower florets and bring to a boil. Simmer for about 3 minutes. Add asparagus, corn, cod, and cream and continue cooking for about 4 minutes, stirring gently, or until fish is cooked. Adjust seasoning. Serve and garnish with cheese crackers.