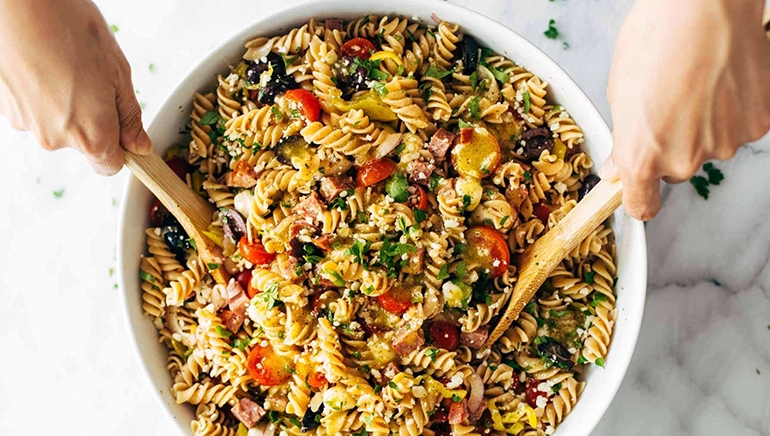 With the summer heat beating down on us, cooking is the last thing you want to do. Summer meals should be refreshing and chalked full of flavour. Here are three simple summer recipes to enjoy that won't heat up the house. 
---
Italian Style Pasta Salad 
This recipe is courtesy of Pinch of Yum
Pasta Salad Ingredients
1 lb pasta (farfalle, fusilli and rigatoni are best)

3 cups cherry tomatoes, cut in half

8 oz fresh mozzarella balls, cut in half

1 lb salami or summer sausage, cut into bite size pieces

¾ cup kalamata olives, sliced

¾ cup pepperoncini

½ cup red onion, sliced or diced

½ cup fresh parsley, chopped
Dressing Ingredients
1 ½ cups olive oil

¼ cup vinegar (white or red)

2 cloves garlic or 1 tsp garlic powder

1 tbsp sugar

2 tsp dry oregano

2 tsp dry basil

Black pepper, to taste

Sea salt, to taste
Instructions
Cook the pasta according to the package and allow it to cool slightly. Mix your dressing ingredients to taste. Add more herbs if you wish. Toss all ingredients together with the pasta and the dressing. Enjoy!

---
Shrimp Ceviche
This recipe is courtesy of Jessica Gavin - Culinary Scientist 
Ingredients
1 lb raw or cooked shrimp

1 cup tomatoes, diced and seeds removed

1 cup cucumber, diced 

½ cup red onion, minced 

2 tbsp cilantro, chopped

1 tbsp jalapeno, minced and seeds removed

1 tsp lime zest

½ cup lime juice

¼ cup lemon juice

1 cup avocado, diced
Instructions
If you are using raw shrimp: Bring 2 quarts water with 1½ teaspoons of salt to a boil. Turn off the heat and add your shrimp. Allow to cook until opaque, about 2-3 mins. Transfer to a colander and rise with cold water until cool. 
Chop cooked shrimp into ½ inch pieces, place in a large non-metal bowl. Add tomatoes, cucumber, onion, cilantro, jalapeño, lime zest, lemon and lime juice and ½ tsp salt. Stir to combine. Cover and refrigerate for 30 mins, stirring halfway. Before serving add avocado and more salt and pepper if desired. Serve with chips.

---
Vietnamese Noodle Salad
This recipe is courtesy of FoodieCrush
Ingredients 
12 oz vermicelli noodles

2 carrots, shredded

2 cucumbers, seeded and shredded

4 green onions, chopped

1 ½ cups fresh bean sprouts

⅓ cup cilantro, chopped

½ cup fish sauce

½ cup seasoned rice vinegar

3 tbs sugar

2 cloves garlic, minced

¼ tsp crushed red pepper

Lime

Grilled pork, chicken or shrimp (optional)
Instructions
Soften noodles in a large bowl by covering with boiling water and soaking until tender. Rinse under cold water and drain. Add to a large bowl with carrots, cucumber, bean sprouts and chopped cilantro. 
Mix together fish sauce, rice vinegar, sugar, garlic and crushed red pepper. Pour over noodles and toss to coat. Sprinkle with more cilantro, green onion and lime. Serve with meat if desired.