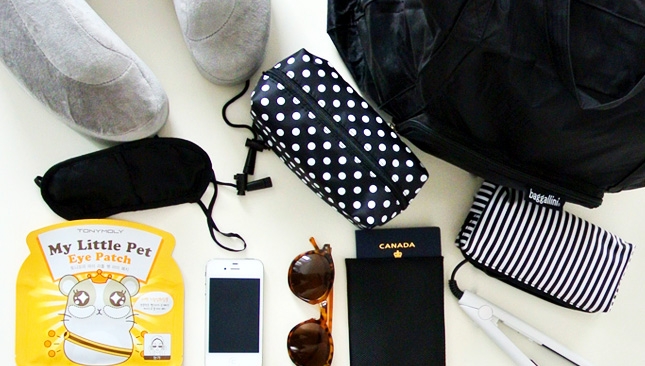 Linen Chest Travel Kit. Four little words to ensure you don't waste a minute of your next getaway. We speak from experience. Last weekend, we hit the Big Apple, Linen Chest travel kit in hand. It made for painless (and stylish!) travel. All we had to do? Enjoy the escape. With each trip, we've honed our packing skills. Check out some of our must-have travel items below:

SHOP ALL THE ITEMS >
1) This sleek, black carry-on is more than just a pretty face. It also conveniently folds into the front pocket of the bag. Available in Linen Chest stores.
2) To stay organized, compartmentalize. These chic make-up bags ensure quick access to your flat iron, make-up and liquids. Available, here.
3) Our latest secret weapon? The mini straightener. Small enough to fit in a make-up bag. How great is that? Available, here.
4) An eye mask is essential for shut-eye on the plane to ensure you arrive looking fresh. You never know what might delay take-off or landing. Available, here. 
5) A neck pillow on a flight or drive is no luxury, although this memory foam pillow may feel like one! So comfortable you'll be in dreamland in no time. And, it shrinks to fit any spare crevice in your luggage. Available, here. 
6) This slick passport case doubles as a handy place to tuck away a bit of local currency ready for a much needed latte on arrival. Available, here. 
Bon voyage!
---