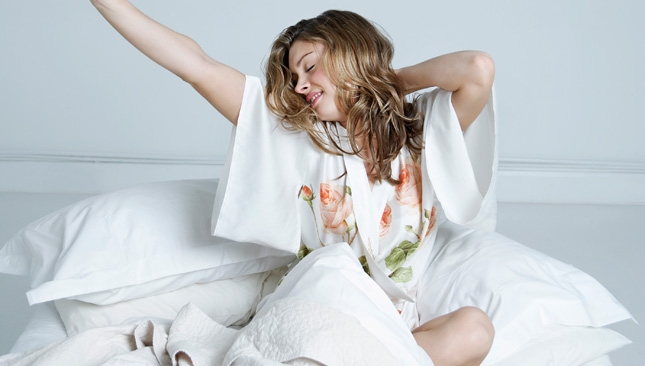 Getting a good night's sleep can be difficult formany. Between running around for yourself, your family, and your work, you can end up neglecting a lot of necessary sleep time. What's worse is when you do have the time to get a good night's sleep, but just can't settle into your bed comfortably. To increase your chances of a good nights sleep, we've rounded up a couple of bed accessories to get you counting those Z's.
---
Perfect Pillows
Finding the right pillow can be a tricky thing to do, and oftentimes, you can feel as flustered as Goldilocks until you get the one that's juuuust right! There are different pillows for every type of sleeper—ranging from gel pillows that help keep you cool while sleeping, to down filled pillows, and Tempur-Pedic pillows designed to support your neck. Oftentimes, it's a matter of testing out a few different types until you find the perfect fit for the way you sleep. Learn more about pillows with our Buying Guide.


Bed-Top Accessories
Sometimes all you want to do is enhance the mattress you already own. With a new topper, warming pad or cooling pad, you can get the perfect feel without having to splurge on a brand new mattress. Don't forget to always keep a blanket near-by just for extra coziness!


Sheets and Covers
If you are typically colder in the night, a flannel sheet set may be the way to go. Alternatively, if you have trouble sleeping because you are too warm try our bamboo sheet set. Did you know that bamboo breathes 3 times better than cotton? Plus, they're super soft. The same idea applies to choosing the right bed covers— pick something heavier (down-fill) if you need a bit more warmth, and something lighter (like a quilt) if you prefer a cooler sleep.


Black Out Curtains
Although during the day extra light is much appreciated, during the night it can create havoc with your sleep. Getting black-out curtains not only help to moderate the temperature in the room, but they also block out extra light that can cause you to stay awake. Need help with your window coverings? Our free Shop at Home decorators can help! Learn more.

Shut Eye, Quiet Mind
Even with the right pillows, mattresses, and bedding, it can still be difficult to fall asleep. If you are easily disturbed by light and not ready to switch your curtains for blackouts, try a sleeping mask. Even a soothing sound machine can help you fall asleep. Natural and relaxing sounds will have you waking up well rested the next day.