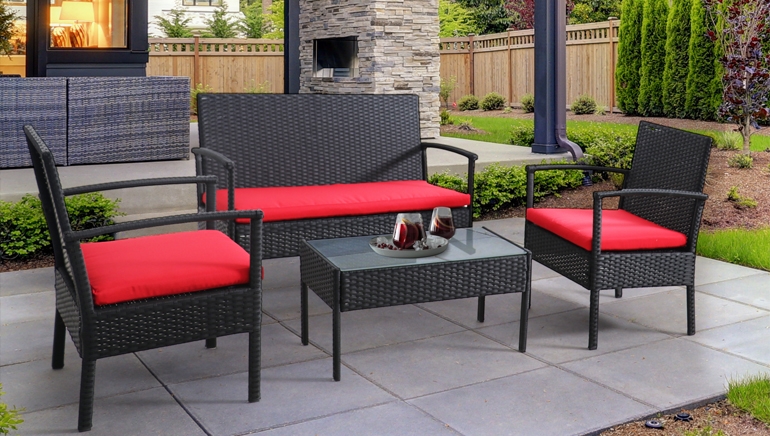 It's time to get your patio or outdoor space in tip-top shape for summer! Wondering how to style your existing space, or looking for a brand new look? We've got a few outdoor styling tips as well as a brilliantly vibrant mood board complete with everything you will need for your bold outdoor space.
---
Tip #1 - Don't Be Afraid To Go BOLD! Even if your indoor style tends to be a little more subdued and neutral, it's okay to have a fun, bold outdoor look. Red, bright blue, yellow, and orange are all amazing colours for summer that will really pop. Feeling extra bold? Why not mix and match for a bright fiesta-inspired feeling. 
Tip #2 - Remember Your Neutrals. Bold colours are great, and they look even better when paired with a few neutrals to balance them out. Consider colours like white, black, and grey to pull the look together. The neutrals will make the colours pop more and it will be easier to make your look cohesive. 
Tip #3 - Green(ery) Goes With Everything! Regardless of your colour scheme, greenery and plants go nicely with everything so don't feel like you need to leave them out or pick ones that perfectly match your colour palette. Greenery also brings more life and vibrance to your space, so don't be shy with the plants. 
Tip #4 - Mix & Match. Outdoor style is often very different from indoor style, but that doesn't mean the two can't tango. Find items like rugs and cushions that work both indoors and outdoors for more options. If you can't find something in the style you want for outdoors, that's okay use an indoor item and bring it inside when you're not using it.
---

SHOP THE LOOK:
Bayia 4-Piece Patio Furniture Set - Black/Red

Alfresco Solid Corded Cushion

Parker Throw

Gibson Ripple Glass Lantern