The long winter months can drag on and on. Whether you're a snow enthusiast, or can't wait until spring comes, the chilly weather provides the perfect opportunity to create your own cozy nest. Snuggle down with your loved ones with soft blankets and enjoy a cup of hot cocoa beside a crackling fire. Here are some of our favourite items to help stay cozy during winter.
---
1) Warm Up
Soft and cozy fabrics are a winter essential — whether it's a thick cotton bathrobe or a luxurious duvet. Textiles add texture, warmth and colour, so stock up on these cold-weather items.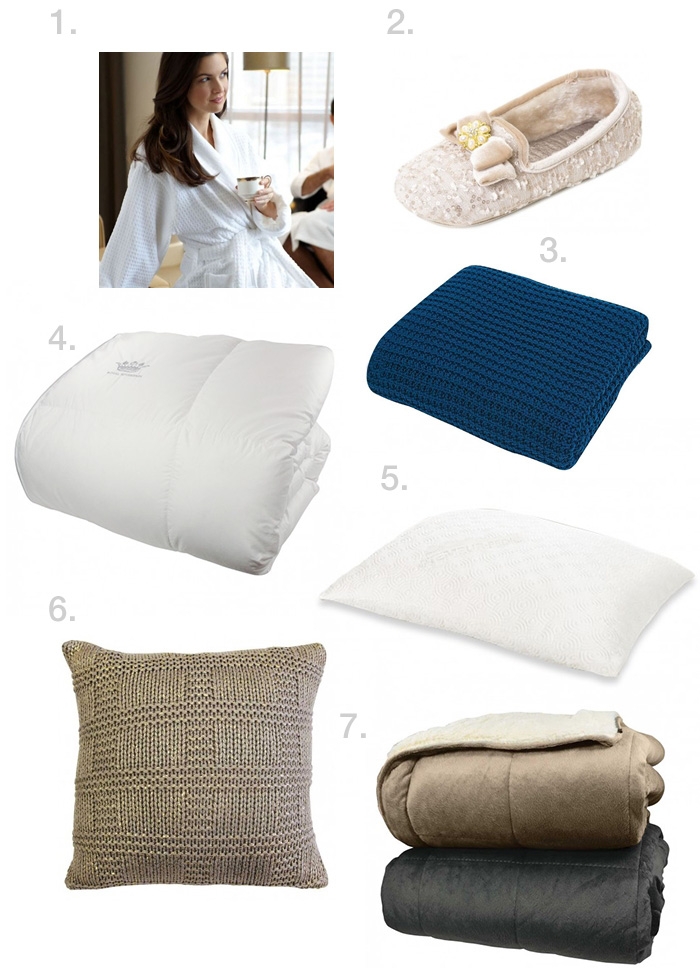 SHOP THE ITEMS:
1) Jacquard Bathrobe Collection
Stay cocooned inside this luxurious 100% cotton bathrobe with unisex design.
Available, here.
2) Imogene Soft Sequin Ballerina Slipper
Keep your toes looking pretty and warm. Details such as a velvet bow and an elegant trim sets this slipper apart from the pack.
Available, here.

3) Chunky Throw
This 100% cotton throw adds texture and a splash of colour to your décor. Available in blue and orange.
Available, here.

4) Royal Sovereign Duvet Collection
Our #1 best selling duvet! With this highest-grade white goose down, say goodbye to your bad nights and add comfort to your bed. It will last for years to come.
Available, here.
5) Tempur-Pedic Cloud Pillow
The Cloud Pillow combines the softness you want in a pillow along with the comforting head and neck support you need to rest.
Available, here.
6) Midas Metallic Throw Cushion
Add a touch of gold to warm up your décor in the chilly winter months. We love this textured cushion's subtle glamour.
Available, here.

7) 3-in-1 Cozy Wrap
Fully wrap this blanket around you with the 2-way zipper closure. The cozy wrap is reversible and can also be used as a throw or a blanket. Perfect for watching TV, napping or reading your favorite book!
Available, here.
---
2) Candles and Lighting
Lighting plays an important part in a home, especially with the shorter daylight hours of winter. Flickering candlelight provides comfort and ambience, while lamps enhance your décor and ensure adequate lighting when snuggling up with your favourite book.


SHOP THE ITEMS:
8) Paddywax Candles
We love these soy-based candles with its cute re-usable container. Available in scented cucumber-melon, meyer-lemon and rosemary-fennel.
Available, here.
9) Assorted Candles
Pillar candles are always in style and are a perfect tabletop accessory. Available in varying heights and three neutral shades to complement any décor.
Available, here.
10) Scissor Cut Hurricanes
Simple, yet elegant, these hurricanes are sure to brighten up a winter evening.
Available, here.
11) Radiance Large Tealight Holder
Add some bling to your tabletop with these beautiful cut-glass tealight holders.
Available, here.
12) Onyx Cylinder Tower Lamp
Add a touch of nature with this soothing onyx lamp. Each item is unique due to the nature of the stone.
Available, here.
13) Arc Floor Lamp
Add a mid-century look to your interior with this floor lamp — a perfect reading light.
Available, here.
14) Star Hanging Lantern & Assembly Cord
See the stars every night with these colourful hanging lanterns. Go monochromatic or mix-and-match for a punch of colour.
Available, here.
15) Crackled Mirror Sphere Vase/Candle Holder
A versatile and artsy decorative item; it can serve as a centerpiece, a vase, a candle holder or anything that needs a modern and crisp support.
Available, here.
---
3) Art and Accessories
If the cold weather is keeping you indoors, liven up your walls with beautiful art and fun accessories to keep your spirits up.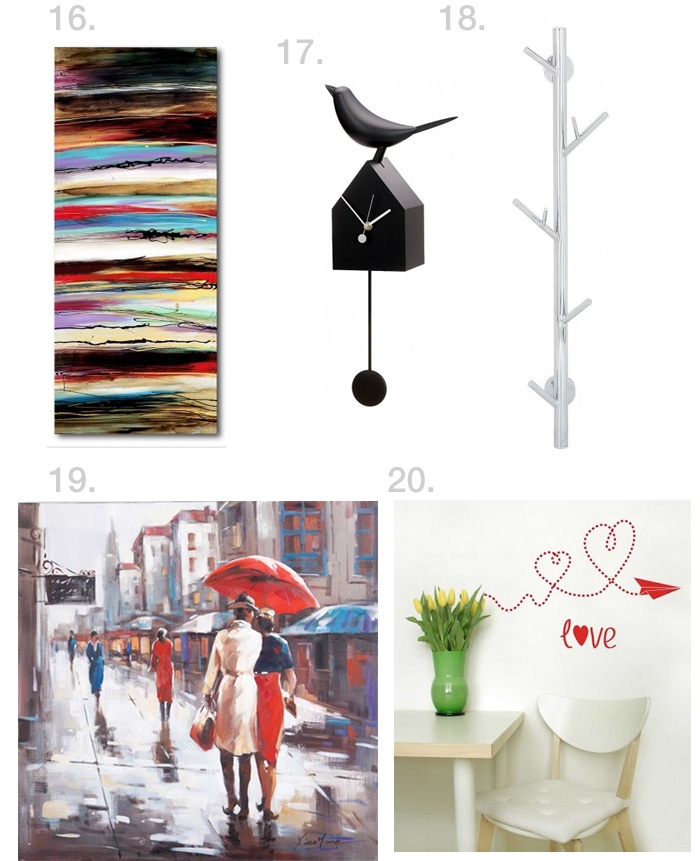 SHOP THE ITEMS:
16) Endless Painting 30''x70''
These earthy colours are sure to spruce up your décor. Hang vertically to add visual height.
Available, here.
17) Motion Birdhouse Clock
We love this modern take on the classic pendulum clock. The bird's beak and tail move along with the pendulum for a fun wall-piece.
Available, here.
18) Floating Wall Mounted Coat Rack
Hang your scarves and outerwear on this tree stand. The wall-mounted coat rack is space-efficient — great for small entrances.
Available, here.
19) Romantic Couple Print Canvas
This beautiful canvas print of a romantic couple will be a perfect addition for your home.
Available, here.
20) Wall Decal
For a quick update, add a fun decal to your room. We love this whimsical paper-airplane design.
Available, here.
---
4) Kitchen Gadgets
The frosty winter months would be unbearable without a few kitchen delights – indulge yourself!


SHOP THE ITEMS:
21) Trudeau 12 piece fondue set
This fondue set has everything you need to melt chocolate, cheese, or any other topping you can think of.
Available, here.
22) Mug Warmer
Perfect for home, office or shop. Keeps a full mug or cup of coffee, tea, soup or any other beverage at the ideal drinking temperature.
Available, here.
23) Le Creuset Whistling Kettle 1.7L Marseille
This traditional tea kettle comes with all the bells and whistles (pun intended) – ergonomic handles and knobs make boiling water a pleasure.
Available, here.
24) Danesco Cheese Board
This round board swivels open to store four stainless steel cheese tools. Perfect to serve different types of cheese during your get togethers.
Available, here.
25) Smiley Face Pancake Pan
Start breakfast with a smile with this easy-peasy pancake pan.
Available, here.
26) Danesco Cappuccino Duster
Add a little personality and pizzazz to the top of frothed beverages with Danesco's Cappuccino Duster. Make fun shapes out of chocolate or cinnamon in the froth for more presentable serving.
Available, here.
27) Duetto Double Wall Glasses
Serve piping-hot drinks that are cool-to-the-touch with these classic glasses.
Available, here.
28) Ricardo 5 Piece Cookie Stamp Set
These 4 bilingual reversible silicone cookie stamps are fun to have in your kitchen while baking cookies. Seal each cookie with a stamp to add a personal touch.
Available, here.