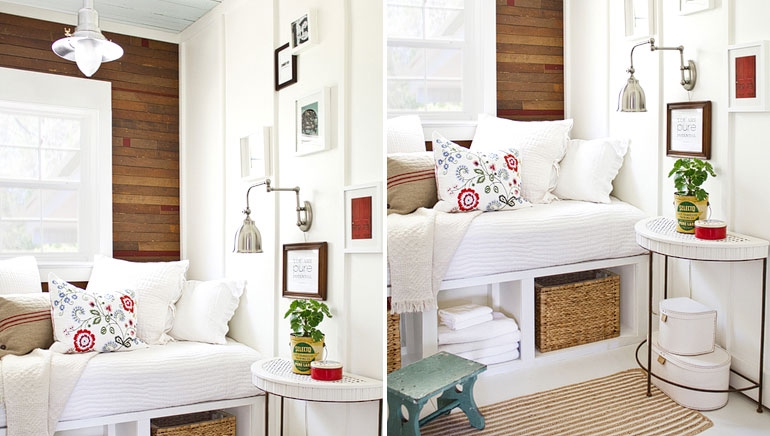 With so many great products on the market today, all it takes is a little creativity and resolve to turn a nook (under the stairs, in a hallway or an unused closet) into a pretty, functional space (a reading, vanity or office nook). Here are some ideas to get you started:
---
1) Candle Whitewater Premium
These candles create a warm glow that bring about a sense of calm and serenity. Clean burning, made in Canada and available in gorgeous scents like Clothesline and Front Porch, they ameliorate ambiance in a big way. Available, here.
---
2) Eco Styles Bamboo Baskets
Keep things tidy with these practical, fashion-forward bamboo baskets. Made of nature's most sustainable resource (and one that's very visually pleasing too), use them to store blankets, toys, scarves and mitts and more. Available, here.
---
3) Mirrored Vanity Tray
Add a touch of elegance and make your newly designated space appear bigger with this mirror tray. Featuring beveled edges and silver plated corners, use it to display small framed photos or underneath jars of grouped items. Available, here.
---
4) Ikat Chindi Rug
Add a small rug to your nook to define it and add warmth. An excellent option: one of our Ikat Chindi rugs, which are hand crafted with care in India using the ancestral techniques of Chindi weaving (using recycled cotton strips) and Ikat dyeing (characterized by its unique dye-resist process). Available, here.
---
5) Expensia Hook by Umbra
As gorgeous and practical a small space storage solution as they come. The accordion design of these hooks expand and contract to fit your hanging needs. Great for scarves, purses and jewellery. Available, here.
---
More Inspiration:
(click the images to see more)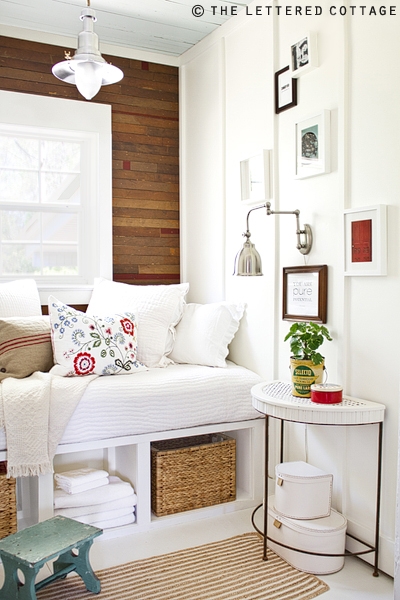 image via