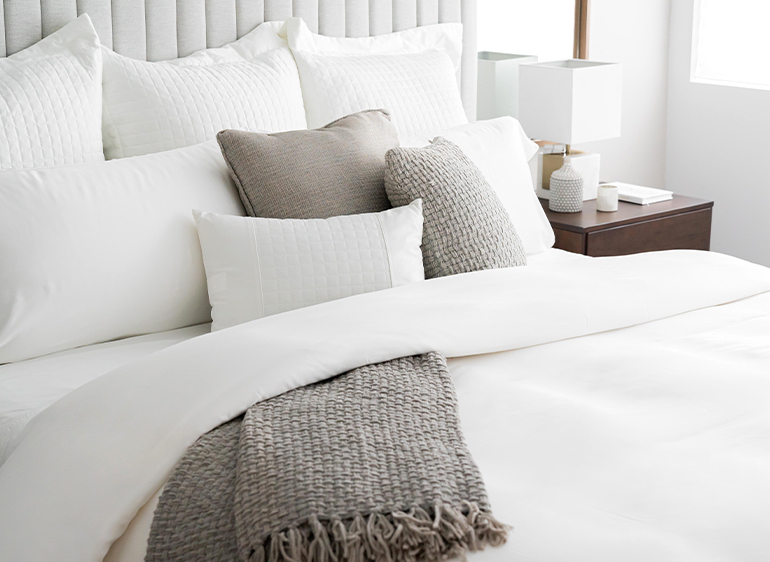 Think of your bed as the heart of your bedroom; it sets the tone for the rest of your decor. To create a relaxing ambiance, simple and modern bedding is always the winning choice. One of the key advantages of a neutral colour scheme is that the look of your decor can be easily customized. By opting for a white duvet cover, for example, you can use decorative accents such as cushions, throws or textured quilts to quickly transform the room seasonally. This option also allows you to introduce pops of colour while maintaining a versatile base.

---
Chic Neutral Bedding Collections
Pure Egyptian Cotton in Soothing Colours
The Swiss Dot duvet cover and sheets are among our bestselling bedding collections. They are made of 100% Egyptian cotton, making them one of our softest and silkiest bedding. The available colours in this collection, such as cream, stone grey and ivory, are perfect for achieving a neutral bedroom decor theme. Subtle tone-on-tone swiss dots add delicate detail to the fabric, giving it a refined modern texture.
---
The Classic Simplicity of a Real French Linen Duvet Cover
Made from 100% high-quality, pre-washed French linen, the Pure Linen duvet cover creates a natural, organic and, most importantly, timeless look. Linen is a raw, breathable and surprisingly durable material that gets increasingly comfortable with each wash, making it one of our top bedding staples.
---
A High-end, Affordable Look
Recreating a bed worthy of the finest hotels is easier than you might think. The Hotel Five Star Luxury bedding collection is a must-have for chic bedroom decor. The quilted duvet cover is finished with a wide border for a clean, sumptuous look. Complete the ensemble with this collection's high-quality 400 thread count cotton sheets, instantly upgrading your bed to the height of luxury and comfort.
---
Minimalistic & Comfortable, Yet Luxurious
Bamboo rayon is notoriously silky, naturally hypoallergenic and moisture-wicking. It is, without a doubt, the #1 fibre choice for bedding. The bamboo duvet cover set has a satin look and a velvety texture, perfect for a modern bedroom with a clean, chic look! Add our bamboo sheets to the mix to achieve the silkiest bedtime feel. The duvet cover and sheets are available in various colours, including timeless white, ivory and grey.
---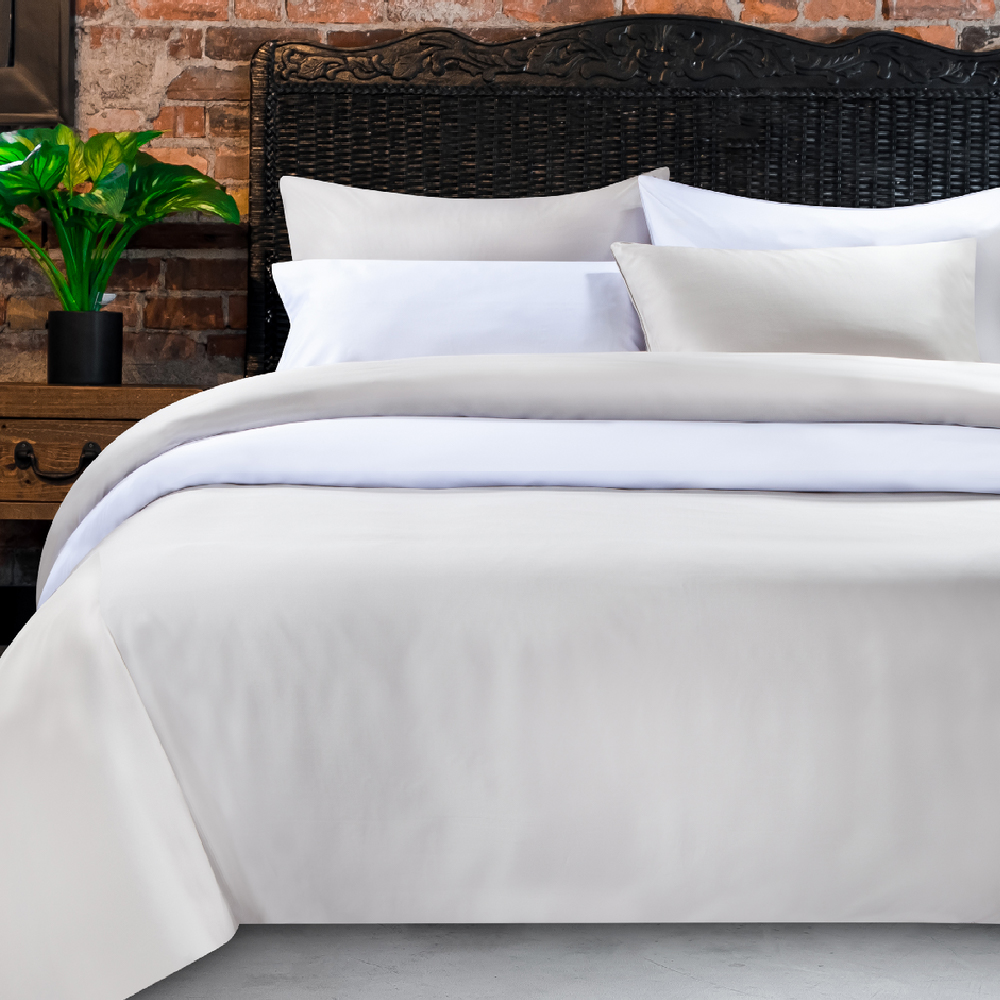 Our Favourite for Softness
The World's Softest bedding collection certainly lives up to its name: the 100% Tencel fibres offer breathability and incredible softness. Its plain colour and smooth finish allow you to mix and match pillows and textured throws to personalize your bedroom decor easily. Opt for a tone-on-tone look with the same colour sheets, or create a gorgeous neutral palette by combining colours. 
---
More Calming Bedroom Decor Ideas
From ultra-cozy quilted bedspreads to textured blankets and pillows, there's no shortage of ideas to make your dream bedroom a reality. 
Here are a few ways to upgrade your bed's comfort level and achieve a modern bedding look:
---