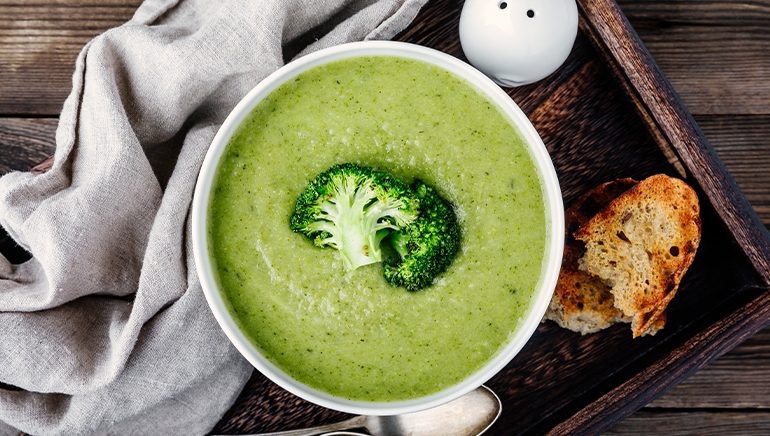 The best way to give your body a reset and set it up for success is to focus on improving your digestion and gut health. Consuming wholesome vegetables is the best way to do this since they are packed with nutrients, vitamins, and fibre. Best of all, by blending up this soup, you can share this with family members and they won't even suspect it's vegetable based – just a decadent soup.
---
Ingredients (makes approximately 10 bowls)
4 garlic cloves
1 large onion
1 large carrot
4 celery stalks
3 cups of broccoli florets
2 cups cauliflower florets
6 cups vegetable broth
2 bay leaves
2 sprigs of thyme
2 tablespoons parsley
1 cup raw cashews
1 cup water
1 cup cooked red lentils
1 cup kale
Salt and pepper to taste
---
Directions
Drizzle some olive oil into a large

dutch oven

, and let it heat up.
Roughly chop your garlic, onion, celery, and carrot before adding it into the pan. Let these soften for 5 minutes.
Add in your broccoli and cauliflower, then pour in the vegetable stock and bring it to a boil.
Once it reaches a boil, bring the heat down to a simmer, add your herbs, and cover the pot to let it cook down for 20 minutes.
While the vegetables soften and flavours combine in the post, put the water and cashews into a food processor or

blender

. Blend this into a cream for about 1 minute. Add this into the pot once the 20 minutes of cooking is complete.
After the cashew cream is thoroughly stirred in, add your lentils and beans.
Once those are stirred in, add your kale, and let it wilt into the soup.
With an

emulsion blender

, blend up the soup inside the pot until you have created a smooth mixture.
Add salt and pepper to taste, and enjoy!