Aiming to eat more vegetables in the new year? This soup allows you to add almost any vegetables you have leftover your fridge. Adding the lemony vegan pesto adds bright flavour and will give you a jumpstart into healthy eating!
---
Vegetable and White Bean Soup with Lemony Pesto
Serves 8-10
SOUP INGREDIENTS:
• 2 carrots (diced)
• 3 stalks of celery (diced)
• 1 cup potatoes (chopped)
• 1 medium yellow onion (finely chopped)
• 1 leek (chopped)
• 1 tbsp paprika
• 3 cloves garlic (minced)
• 3 tbsp olive oil
• 1 cup cannellini beans (cooked)
• 1 cup cauliflower (chopped small)
• 1 cup broccoli (chopped small)
• 2 tbsp tomato paste
• 1 zucchini(chopped)
• 2 large quart of vegetable stock
• Salt and pepper

PESTO INGREDIENTS:
• 3 cups fresh basil leaves
• 3 tbsp toasted pine nuts
• 1 garlic clove
• 4 tbsp extra virgin olive oil
• Zest of 1 lemon
• Juice of 1 lemon
• Salt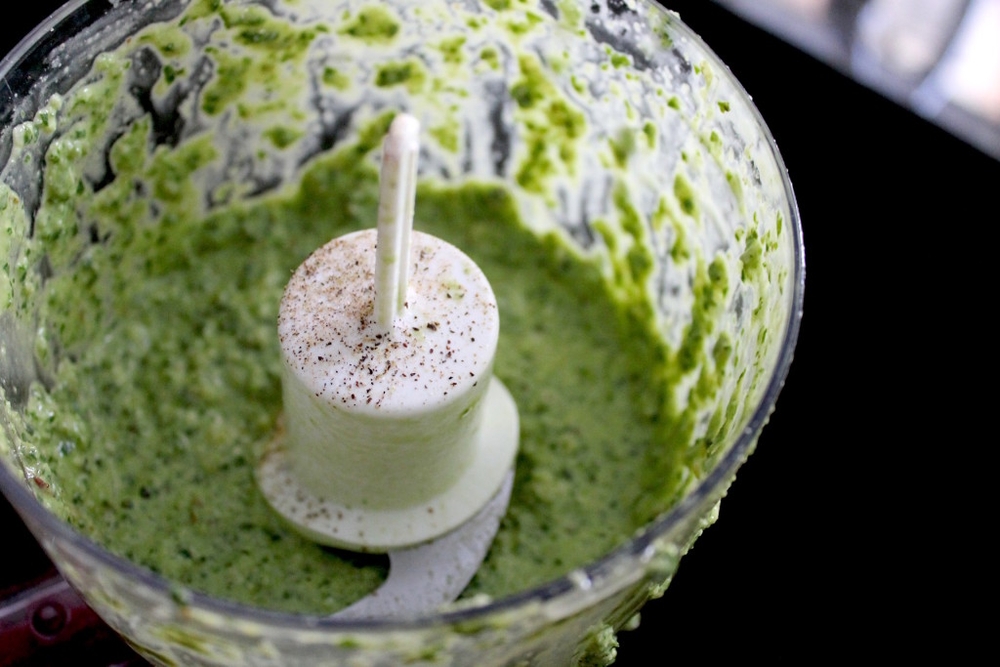 DIRECTIONS:
1. Heat olive oil to a stockpot on medium heat. Add your onions, minced garlic and leeks. Season with a good pinch of salt. Sautée for 5 minutes or until onions soften.
2. Add your carrots, celery, potato, zucchini, paprika and tomato paste. Sautée for another 5-7 minutes.
3. Add your beans and sautée for another 2 minutes. Add your veggie stock and bring to a boil.
4. Bring the soup from a boil to simmer and begin preparing your pesto. Lightly toast the pine nuts in a skillet over medium heat for 5 minutes. Place all ingredients except for oil in a food processor. Slowly incorporate the oil while the machine is running, until a smooth paste has formed. Continue blending for 15 seconds to thin out.
5. Once your carrots and potatoes are cooked through add the broccoli and cauliflower and cook for another 5-7 minutes or until soft. Season with more salt if needed and add freshly ground pepper.
6. Serve soup with a tablespoon of pesto over top.