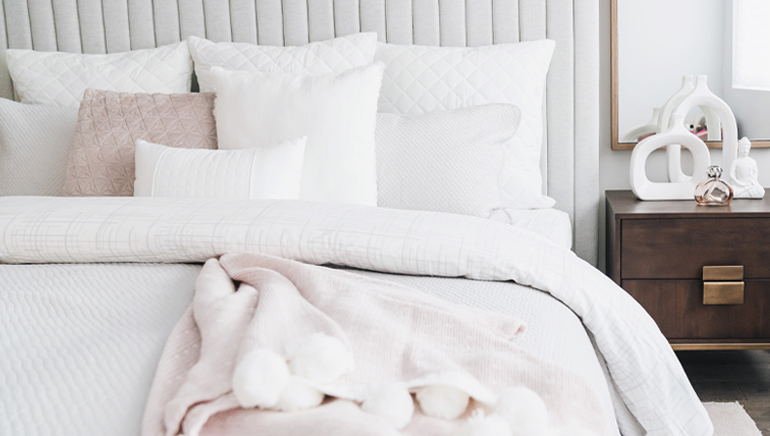 Not every room needs to be bold, and this soft, feminine look is proof. Using layers of simple, pale colours, creates a room that is inviting, peaceful, and downright gorgeous. Shop the items >
---
Here are a few tips to achieve this textured but refined look:
1. Use Simple Colours: Simple does not mean boring. Simple means elegant, whimsical, and filled with potential. Choosing light colours helps create a bright, refreshing room. After a long, busy day, this light and airy room will feel like an oasis. Choose textured versions of white, pale grey, and blush pink to get a dynamic room without using bright colours.
2. The More Pillows the Better: To achieve this layered look, you need even more pillows: ones for sleeping and ones purely for decoration. Choose pillows of all shapes and sizes, without the need for it to be symmetrical because a little bit of planned chaos helps bring this look to life. This is a great opportunity to find simple but textured pillows. Choose a complementary throw blanket while you're at it!
3. Duvets Rule the Room: One of the most important items in a bedroom is the duvet cover. Not only do you want it to be perfectly cozy, but it is also one of the largest blocks of colour in your decor. Your duvet matters! In this soft look, we used a combination of our bamboo rayon duvet cover and bubble quilt set to get the ultimate textured layers and silky softness. It should be noted that bamboo breathes three times better than cotton, has natural thermal regulating abilities, and is a more sustainable material option.
4. Mirror, Mirror on the Wall: Not to be forgotten, mirrors are both functional and stylish. By placing mirrors alongside your nightstands, you create useful nooks, on top of adding another facet to the layers of the room. Using mirrors as decoration will make your room look bigger, brighter, and more beautiful.
5. Choose Accents that Accent: Accents are the final touches of the room that personalize the space. They turn a room into your room. Pick accent pieces that reflect your personality, while still flowing with the rest of the decor. With this room style, aim for similar colours, contrasting textures, and items that can be layered.
See something you like? Discover the elements of this soft, feminine room below and shop the items, here >
---