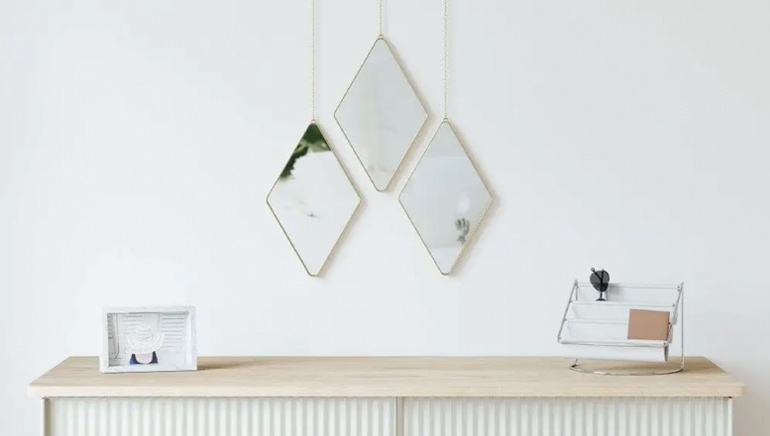 If you want to brighten up your home and add a little flair, try an accent mirror. Accent mirrors are chic and can be styled with just about every style of home decor. They are also versatile and can transition well from season to season. Check out some of the newest trending accent mirrors for your home as well as some styling tips.
---
Use Mirrors to Enlarge a Room
Mirrors are great for bouncing light and making a room feel brighter and larger than it really is. Utilize mirrors as decor in parts of your home you want to feel more open and inviting. Hallways, small rooms and low light rooms are all great places to add mirrors. 
---
Not All Mirrors Need to be Functional
While mirrors are functional tools, they are also pieces of decor. Not all the mirrors in your home need to be functional. Placing mirrors not at eye level can help reflect light and enhance the look of the room. Just make sure you do have some functional mirrors in places like bedrooms and bathrooms. 
---
Add Mirrors to Your Gallery Wall
Mirrors are a great addition to gallery walls. Choose something in a unique shape or style to add a pop of flair, or opt for something sleek and modern to break up a busy collection of photos and art.
---
Be Mindful of Multiple Mirrors in a Room
Less is more when it comes to mirrors, but that's not to say you can't have more than one in the same room. Just be mindful of where they reflect and avoid reflecting them into one another. If you have a large standing mirror, opt for a smaller wall mirror in a different part of the room, or place mirrors across from windows to reflect more light. 
---
---
SHOP THE LOOK
Rippled Mirror

Floor Mirror

Isabelle Round Mirror

Curvy Mirror

Kazzy Mirror

Sonya Black Mirror