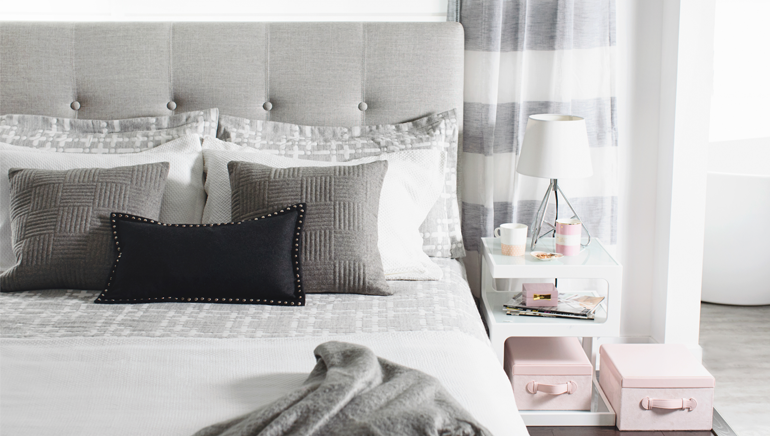 There is something so simple and calming about pale colours. When you walk into your room after a long day, you want your room to be relaxing. Pink and grey is the perfect mix of serenity and femininity, which also allows you to have a few pops of colour if that is what your mind craves.
At Linen Chest, we have so many decorating options for the perfect bedroom, but we thought we'd give you a start. Here is how to create the mix of grey and pink that sets your mind at easy for a peaceful evening of reading or lazy morning browsing your phone.
---
Headboard
First, you can find yourself a beautiful new headboard or complete bed in the colour of your choosing. We have over 30 models and 20 fabrics/colours to choose from!

Bedding


Pair your headboard with a set of sheets that has similar tones of grey. Picking softer colours or adding white will allow you to be creative with your other bed decorations such as pillows and blankets.

Decorative Pillows
Pillows make great bold accents. These are the perfect place to have a pop of colour, or a bolder tone of grey. The best part about pillows is that you have the luxury of removing them depending on your mood. Adding in a bold choice like an accented black can be the polishing factor.
Blankets


Don't forget the blankets! With the cold weather on its way, you absolutely must have a gorgeous throw to wrap yourself or your toes in. If you've chosen a bold pillow, try a toned-down blanket colour. You're in luck, because many of the best blankets will go with your grey and pink look.

Decor
Now that the bed is created, you have the fun part of organizing your nightstand. The practical part requires a few cute storage boxes to keep your room looking clean and your items easy to access. The less practical part includes matching your favourite candles and accessories to the storage boxes! By matching the two together, it looks like the storage was well thought out and not just randomly dumped in the room. As you build up your room, you can search for items all in the same colour scheme.
---
SHOP THE LOOK:
(Click the + to shop the items)