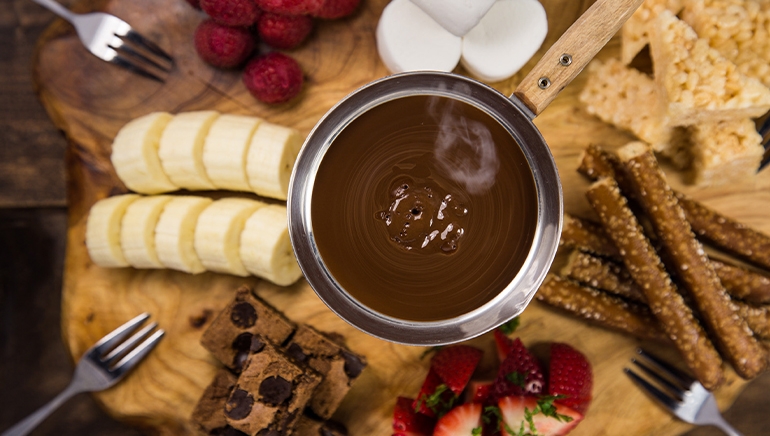 Fondue gained a lot of its popularity as party food in the 1960s and 1970s. From broth to cheese and chocolate, fondue is a fun experience to have with friends and family. 
Chocolate fondue is a great way to have a customized, DIY dessert experience the whole family can enjoy. Here a few fun ways you enjoy chocolate fondue on your next game night, date night, or just a weeknight.
---
Things to Dip
Part of the fun of fondue is picking and dipping your items. You can dip anything you want in chocolate fondue but here are a few of the tastiest options:
---
1) Fruit
One of the most delicious things to dip in chocolate fondue is fruit. Strawberries, bananas, apples, and raspberries all make wonderful chocolate vessels.
---
2) Cakes and Cookies
Want to up the sweet factor? Try bite-size pieces of your favorite cookies or cakes like angel food or cheesecake. Don't be afraid to try chocolate cookies or cake if you're a big-time chocolate lover.
---
3) Salty Foods
We all know sweet and salty are a great pair, so try dipping a few of your favorite salty foods like pretzels or even plain potato chips.
---
4) Other Tasty Treats
Rice crispy treats, marshmallows, gingerbread, graham crackers, peanut butter balls, and peanut brittle also make great dippers.
---
5) Chocolates to Try
Chocolate fondue doesn't come in just one flavour or richness. Try different types of chocolates for an even more delicious experience

Milk Chocolate - Light, sweet and creamy, milk chocolate is a fan favorite for fondue.
Dark Chocolate -If you're a dark chocolate lover give rich dark chocolate a try.
White Chocolate - It's sweet and tasty, white chocolate and goes well with everything.
---
6) Chocolate with Peanut Butter
Big lover of peanut butter? Try mixing some into your chocolate.
---
7) Top it all Off!
Don't forget your toppings! You can eat fondue with just the chocolate, but for an added element of fun try having some toppings like chopped nuts, caramel drizzle, sprinkles, or whipped cream.
---
Did you know? National Chocolate Fondue Day is Friday, February 5th! It's the perfect time to try some of these yummy chocolate treats!