Many nutritionists believe that breakfast is the most important meal of the day. As we head back to school, keep your energy up by trying our easy and nutritious breakfast recipes.
---
1) Chia Seed Breakfast Bowl
There's nothing like a good hearty breakfast to start your day. To make this one, simply soak chia seeds in milk overnight and it will be ready to enjoy the next morning. Chia seeds are packed with fibre, omega-3s, protein and a host of other nutrients, plus they contain tryptophan, an amino acid that helps regulate your appetite and keep you feeling full! Get the recipe here.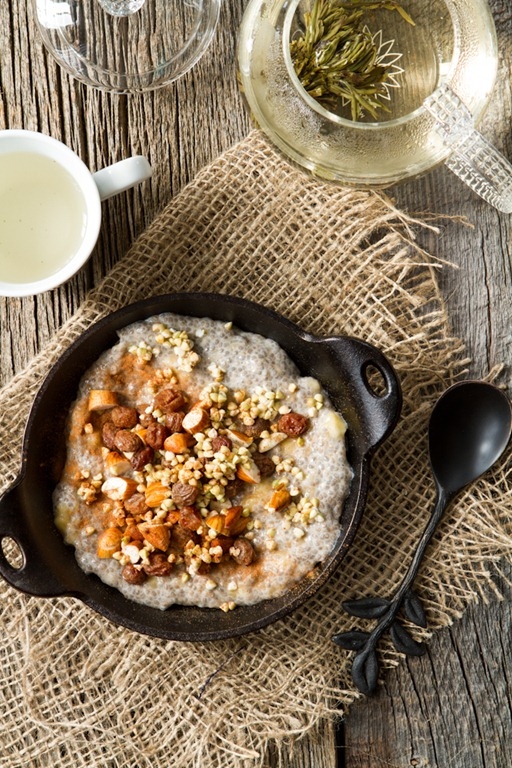 Ingredients (2 portions)
Chia mix
-4 tablespoons of chia seeds
-1 ¼ cups of almond milk (great with homemade almond milk)
-2 small bananas, sliced into rounds
-½ teaspoon pure vanilla extract
-2 pinches of cinnamon
Toppings
-2 tablespoons of raw buckwheat groats, soaked
-2 tablespoons of raisins, soaked
-2 tablespoons of raw whole almonds, chopped and soaked
-2 pinches of cinnamon
-2 tablespoons of hemp seeds
Preparation:
1. Mash bananas in a medium size bowl. Stir in chia seeds. Whisk in almond milk, vanilla and cinnamon until smooth. Place in refrigerator overnight to thicken.
2. Add buckwheat groats, raisins and chopped almonds to another bowl. Cover with water and let soak overnight in the refrigerator or on the counter.
3. In the morning, put the desired amount of chia pudding in a bowl. Drain and rinse buckwheat/almond/raisin mixture. Sprinkle over chia mixture with a pinch of cinnamon and a tablespoon of hemp seeds. Serve with a drizzle of maple syrup, if desired. Store leftovers in the refrigerator for 1 to 2 days.
Just before serving, you can add more almond milk to thin the pudding or add more chia seeds to thicken it and mix well. 
---
2) Chia Seed Pudding with Star Anise Cherries
You can make everything at night before bed: pour almond milk over chia seeds in a container and leave it in the fridge. You can even prepare the cherry reduction in advance. The subtle taste of star anise adds to the sweetness of the cherries and gives the pudding a surprising aroma. Get the recipe here.

Ingredients (The quantities are per person)
-¼ cup of chia seeds
-1½ cups of unsweetened almond milk
-2 tablespoons of pure maple syrup (vegan)
-1½ teaspoons of vanilla extract
-½ cup or about 8 frozen or fresh pitted cherries.
-¾ cup of water
-1 star anise pod
-2 tablespoons of slivered almonds
Preparation:
In a bowl or airtight container such as a glass jar, combine chia seeds, almond milk, 1 tablespoon of maple syrup and vanilla. Stir, cover and refrigerate overnight.
In a saucepan, combine cherries, water, 1 tablespoon of maple syrup and star anise. Bring to a boil, then lower heat. Simmer until water is reduced by ¾ and slightly thickened (about 15 to 20 minutes). Remove the star anise. This step can be done ahead of time and refrigerated until ready to serve.
In a dry skillet, toast almonds over medium heat until golden brown, about 5 minutes.
Just before serving, pour the cherry compote over the chia seed pudding and top with the toasted almonds.
---
3) Peanut Butter and Banana Overnight Oats
Change up your routine with this delicious oat breakfast. It needs to be made ahead of time so that all the flavour and textures really come together. Peanut butter and banana is always a winning combination but feel free to be creative by adding chocolate chips, coconut or cinnamon. Get the recipe here.
Ingredients (2 portions)
-1 large ripe banana, mashed (about ½ cup)
-¼ cup of creamy peanut butter
-1 cup of gluten-free rolled oats
-1 cup of unsweetened almond milk
-1 tablespoon of chia seeds (optional)
-½ teaspoon of vanilla extract
-½ teaspoon of ground cinnamon
-1 teaspoon of light agave or honey (you can use more if you like sweeter oatmeal)
Optional toppings:
-Sliced bananas
-Drizzle with agave maple syrup or honey
-Cinnamon
-Dark chocolate chips or sprinkles
-Coconut shavings
Preparation:
In a medium bowl, mash the banana with a fork. Add remaining ingredients and mix until well combined.
Pour mixture into two airtight containers and refrigerate for at least 3 hours or overnight.
When ready to serve, stir oats well, add toppings of your choice and enjoy!
---
4) Flax Blueberry Vanilla Overnight Oats
Here's another type of oatmeal that needs to be made ahead of time. You can even use products other than milk (for example, this recipe uses vanilla yogurt!)! Your stomach will thank you after this breakfast: flaxseeds are full of fibre and omega-3, which is great for digestion. And your sweet tooth isn't left out: blueberries, pecans and pinches of brown sugar give this breakfast a sweet twist. Get the recipe here.

Ingredients (1 portion)
-1/2 cup of rolled oats or quick cooking oats
-2/3 cup of water
-1/2 cup of low-fat vanilla yogurt
-1 tablespoon of flax meal
-1 small pinch of salt
-blueberries, pecans, brown sugar and other toppings of your choice
Preparation:
In a food container, add ingredients in the order listed (except toppings). Do not stir. Refrigerate overnight. In the morning, stir the mixture; it should be thick and the oats should be completely softened. Add toppings of your choice. Repeat as many times as you like.
---
5) Green Breakfast Smoothie
Don't let the colour of this smoothie scare you; it tastes delicious! It is packed with immune-boosting ingredients like spinach, ginger, pears and lemon. Put the ingredients out at night before bed and just throw everything in a blender in the morning! Get the recipe here.

Ingredients (1 portion)
-1 1/2 cups of water (can be replaced with coconut water or milk of your choice)
-2 cups of spinach, washed and dried
-1 ripe pear, seeded and chopped
-1 tablespoon of fresh lemon juice
-1 teaspoon of freshly grated ginger
-1 tablespoon of ground flaxseed
-Honey to taste (optional)
-Mint for garnish (optional)
Preparation:
Place all ingredients in a blender and blend until smooth.
---
6) Cheese, Vegetable & Egg Muffins
You can use literally any vegetable to make these eggs in a muffin that will give you a good dose of protein. Plus, just heat them up in the microwave in the morning! You can even add cheese for an extra kick. And why not make a dozen on Sunday night? You won't have to worry about your lunches for the whole week! Get the recipe here.
Ingredients (12 portions)
-1 1/2 cups of shredded carrots (about 4 medium carrots, peeled and trimmed)
-1/2 cup of diced small orange peppers
-1/2 cup of frozen peas
-1/2 cup of frozen corn
-8 large eggs
-salt and pepper to taste
-12 tablespoons grated mozzarella cheese, divided
Preparation:
Preheat oven to 375°F. Generously spray a 12-cup non-stick muffin pan with cooking spray. Spray the base and the sides, then run your finger along the sides so that every inch is generously coated with spray, otherwise you will have to remove the stuck-on food. Set pan aside.
In a large bowl, add the carrots, peppers, peas and corn and mix.
Spoon about 3 tablespoons of the vegetable mixture into each muffin tin in small piles, or enough to fill each one 2/3 to ¾ full. Divide the mixture evenly among the molds until there is none left. Set pan aside.
In a 2-cup glass measuring cup (the measuring cup makes it easy to pour), crack the eggs and beat lightly with a whisk.
Add salt and pepper, to taste, and whisk to combine.
Pour about 2-3 tablespoons of egg into each pan, dividing them evenly. They will be about three-quarters full after being topped with egg.
Top each mold with a generous sprinkling of cheese, about 1 tablespoon per mold.
Bake for about 18-20 minutes, or until the muffins are cooked through and lightly browned. They will puff up in the oven, but collapse as they cool.
Let the muffins cool in the pan on a wire rack for about 10 minutes before removing.