Not all pillows are made equal. With different outer casings, layers, and fillings available, what works for me won't necessarily work for you. We all have different preferences and needs when it comes to our sleeping habits, and a variety of pillows are available to accommodate them.
Whether you're have allergies, have sensitive skin, or prefer one firmness over another, rest assured that there's a perfect pillow for you. This guide will help you discover the best pillow for your sleeping preferences and needs. Get ready to sleep better than ever!
---
Finding the Best Support for You
We all have our preferences for comfort, and the way you sleep will likely dictate the type of pillow you should use. For example, those sleeping on their stomach should seek soft support that doesn't push their heads up and tilt the neck. Back sleepers, meanwhile, need a medium support that naturally supports the spine, and side sleepers need the firmest support contouring to the head and neck.
Down pillows are softest, providing luxurious comfort while conforming to the shape of the head. Great down pillows include the Double Comfort Pillow—which has a layer of down above a layer of feathers—and the Three Layer Gusset Pillow.
If a medium firmness is what you're after, stick to synthetic fills. These are soft like downs, but are just a bit firmer, providing a bit of resistance and support. The Empire Silk White Basics collection features soft, 100% cotton pillows with a silk and polyester blend.
For best support, invest in a memory foam pillow. While these may feel tough and firm at first, memory foam pillows will soften and conform to your head and neck. The Bio Aloe Pillow is a wonderful example of memory foam fill; featuring an aloe vera blend and ventilation technology, the pillow is antibacterial and naturally soothes the skin. The Memory Fiber Pillow is another great option.
---
Got Allergies? Start Here
If you're worried about allergens in your pillows, don't despair. Those with allergies should seek out polyester and other synthetic fills. That said, some down pillows are leaned to be hypoallergenic. So don't avoid down pillows completely, but do take care to check product specifications to see if they're hypoallergenic before purchasing.
One great example of a hypoallergenic pillow is the Hotel Five Star Luxury Pillow, which provides superior comfort with a polyester fill. 
---
Go the Extra Mile with Patterns and Texture
Pillows aren't just necessary for providing comfort while you sleep. A well-made bed should include decorative pillows that provide texture and colourful accents. Because the bed is a likely focal piece for the bedroom, adding accent pillows is a great way to bring the room to life with a colour palette. 
---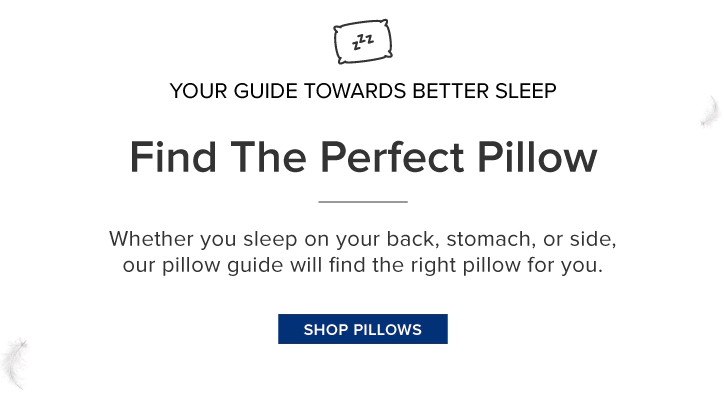 ---
---
---