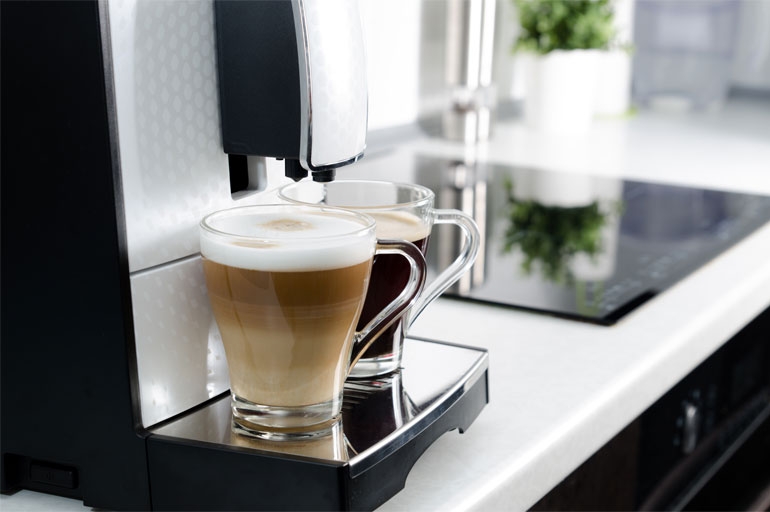 There's no better way to begin the day than with a delicious cup of coffee. In fact, there's tons of health benefits with every cup you drink, so what's not to love? With different methods of brewing, coffee is a versatile drink that can be prepared to suit the brewer's individual taste. If you're confused about all the different ways to brew, we've got the skinny.
---
Brewing Espresso
Espresso is often used as an ingredient in popular coffee drinks, featuring a strong flavour that coffee purists appreciate. It's well-known for having more caffeine, but is often consumed in a smaller serving than a cup of coffee. If you enjoy mixing mochas, lattes and americanos, espresso is the right brewing method for you.
Brewing espresso involves forcing water through finely ground beans once it's about to boil. You can brew a nice cup of espresso without sacrificing counter space with this Delonghi Dedica espresso machine.
---
French Press
Brewing coffee with a French press is a bit like steeping a pot of loose-leaf tea. This method is performed by placing coarsely ground beans at the bottom of the press, then adding water on the verge of boiling. Allow it to steep, then press to separate the water from the grounds. This provides a delicious full-coffee flavour.
You can brew eight cups of espresso with this beautiful copper French Press by Bodum.
---
Drip Coffee
Drip coffee is the popular, traditional and common method to household brewing. There are two types: auto-drip and pour-over. Auto-drip is the kind of brewing done automatically by machines: you just pour hot water and let it drip through the grounds and filter. People love this method because it's fast and easy, but you do sacrifice some flavour using this method. Brew up a batch for the whole family with this coffee maker by Braun.
With pour-over, you manually pour a stream of water over the coffee grounds—no machine necessary. Some find manually pouring the water to be a distinctly meditative experience Brewing pour-over coffee does require some special equipment, though, including a special carafe. Start with this attractive pour-over coffee maker by Bodum.
---
Cold Brew
Cold brew has gained a lot of popularity for being strong in flavour and easy to make in big batches. It's exactly what it sounds like: coffee grounds that are steeped in cold water, then strained and served. You'll need 12-36 hours to steep a batch, but this shouldn't be an issue if you begin the day before consuming or steep over a weekend. People typically brew large batches to last them a while, sometimes mixing with hot or cold water to last even longer.
You can just steep the coffee in something as simple as a jar, then use cheesecloth and a funnel for straining. 
---
Capsules
Capsules, also known as single-up coffee pods, are the ultimate brewing method when it comes to convenience. All you have to do is load a capsule into a machine, which then brews the perfect cup in about a minute. It's ideal for those who don't want to make a whole pot of coffee, or those who are in a hurry on their way out the door. Because you make a single cup at a time, you can brew a different kind of coffee with each cup.
Make a fast, great cup with this Cuisinart single-serve brewer. There's little need to be concerned about the environmental impact of single-serve capsules when you use reusable stainless steel ones, like this one from Ekobrew.
Eager for more coffee love and accessories? Shop the look with our attractive collection of coffee-serving essentials here!