Are you throwing a bridal shower or engagement party this summer? Summer is definitely the season for marshmallows, so why not use them in a fun new way? In this tutorial, we'll show you how to make adorable marshmallow wedding cakes that can be used in three different ways: a cupcake topper, on a stick, or simply as a stand alone treat.
Completely customizable to fit the colour scheme of your event, try using a variety of sprinkles, chocolate wafers, or even coloured marshmallows! Who knew wedding cakes could be so easy?
Supplies: three sizes of marshmallows, chocolate wafers, various sprinkles, knife, wooden skewers (optional)


Let's get started!
Step 1: Cut the large and medium and large marshmallows in half.
Step 2: Continue cutting marshmallows until you have as many as you need. The tallest cake pictured uses one marshmallow of each size while the cupcake toppers use one mini marshmallow and half of a medium and large marshmallow.
Step 3: Melt the chocolate wafers in the microwave. Spread an even layer onto the cut edge of the large marshmallow.
Step 4: Place the other half of the large marshmallow onto the melted chocolate.
Step 5: Spread more melted chocolate on top of the large marshmallow.
Step 6: Place the first half of the medium marshmallow on top.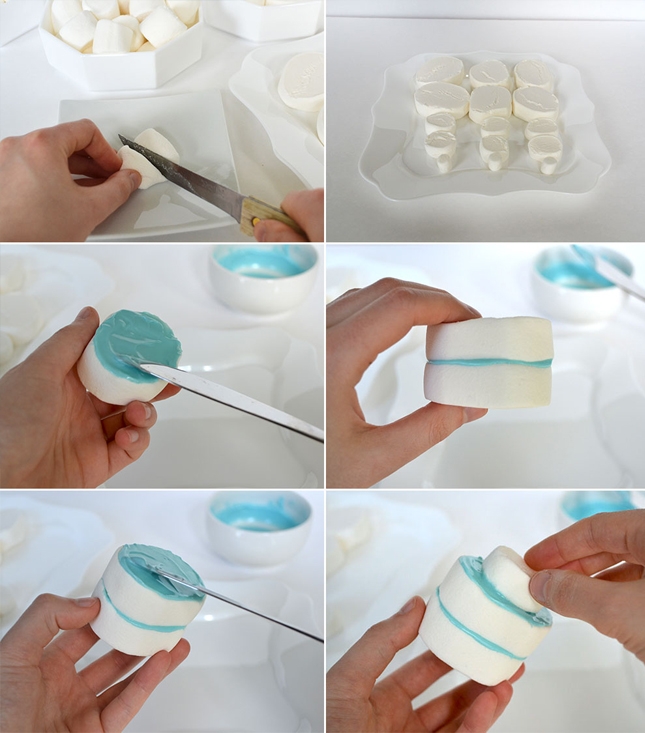 Step 7: Shake sprinkles onto the melted chocolate.
Step 8: As before, spread melted chocolate on the medium marshmallow, attach the other half, and apply sprinkles.
Step 9: Apply more melted chocolate to the top of the marshmallow and place the mini marshmallow.
Step 10: Carefully spread melted chocolate onto the mini marshmallow and apply sprinkles.
Step 11: Top the mini marshmallow with a larger pearl sprinkle or dragée.
Step 12: If desired, carefully poke the wooden skewer through the marshmallow and let the chocolate harden. Note: If using the marshmallow cakes as cupcake toppers, you may choose to shorten the cake by using only one half of both the large and medium marshmallows.