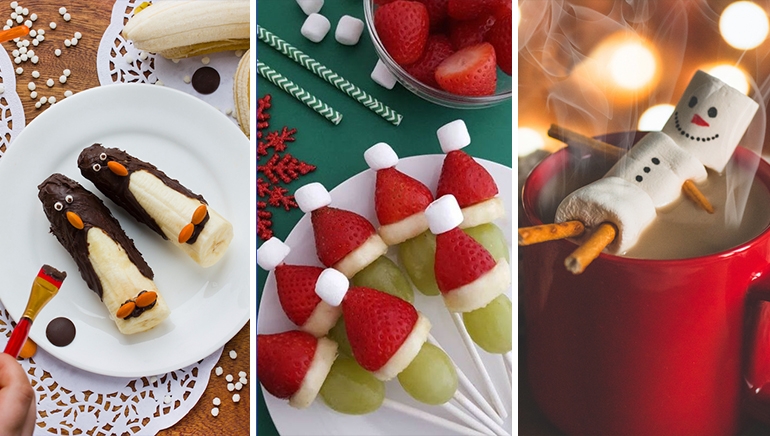 This is the time of year that kids wait for, and they look for any chance they can get to celebrate it in fun, new ways. To put that smile on their face this holiday season, try out one of these adorable festive treats. They'll have a blast making them, and they'll enjoy eating them even more.
---
1) Marshmallow Snowman
Nothing tops off a piping mug of hot cocoa better than some marshmallows. But, why not make them festive? To put a fun twist on this classic topping, all you need are some regular-sized marshmallow, pretzel sticks, and some melted chocolate or icing.
First, take 2 marshmallows and slide them down to the bottom of the pretzel stick. With what little is left on the top, place the third marshmallow at a slight angle; this will be the snowman's head, which will be propped on the edge of the mug. Then, break a pretzel stick in half and stick them into the bottom marshmallow to act as legs to prop on the opposite end of your mug. You can also give them an arm on either side using this same technique. For decoration, use some melted chocolate in a plastic bag with the tip snipped off to draw on some eyes and a smile; if you can make a small batch of orange icing, go ahead and pipe on a small carrot nose, and enjoy!

---
2) Grinch Fruit Kabobs
This simple treat is healthy, delicious, and perfect for the season. All you need are green grapes, bananas, strawberries, mini marshmallows, and skewers. To prep, slice the stems off your strawberries, and slice your bananas in to disc-like pieces.
Once your ingredients are ready, all you have to do is slice a green grape onto the skewer to be Santa's head, followed by a banana slice to start off his hat. Next, slide the strawberry on with the pointed end facing away from the banana to make the hat. Finish it off with a mini marshmallow to act as the fluff at the end of the Grinch's furry cap. The kids will love this jolly snack.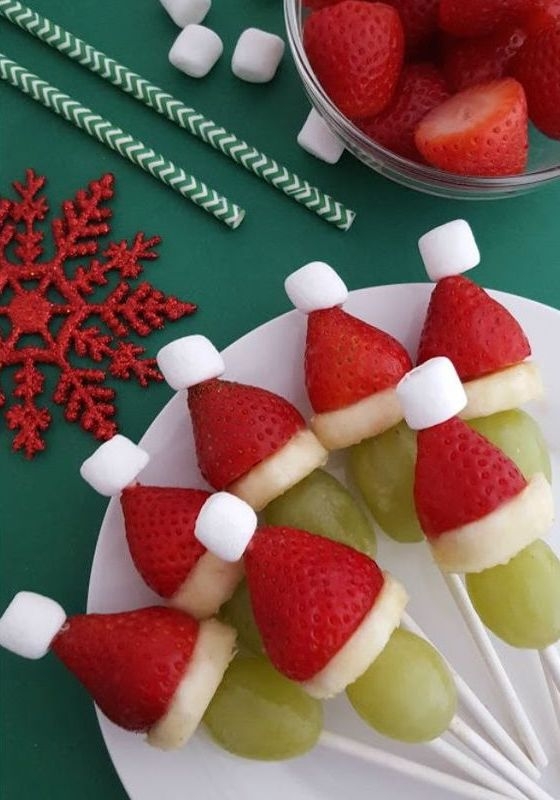 image via Centsable Momma
---
3) Penguin Pops
Penguins are adorable wintertime figures that kids wish they could cuddle up to. This treat will put an instant smile on their face when they see their favorite animal of the season in snack-form. All you need is some bananas, melted chocolate, candy eyes, and orange M&M's.
To start, cut your bananas in half. Then, dunk the pointed tip into some melted chocolate and let the excess run down one side to make the penguin's "back." Before the chocolate finishes setting, stick on some candy eyes and half of an orange M&M for its beak. Grab two more orange M&M's, and dip the edge into some chocolate; stick those to the base of the banana for their feet. They're almost too cute to eat.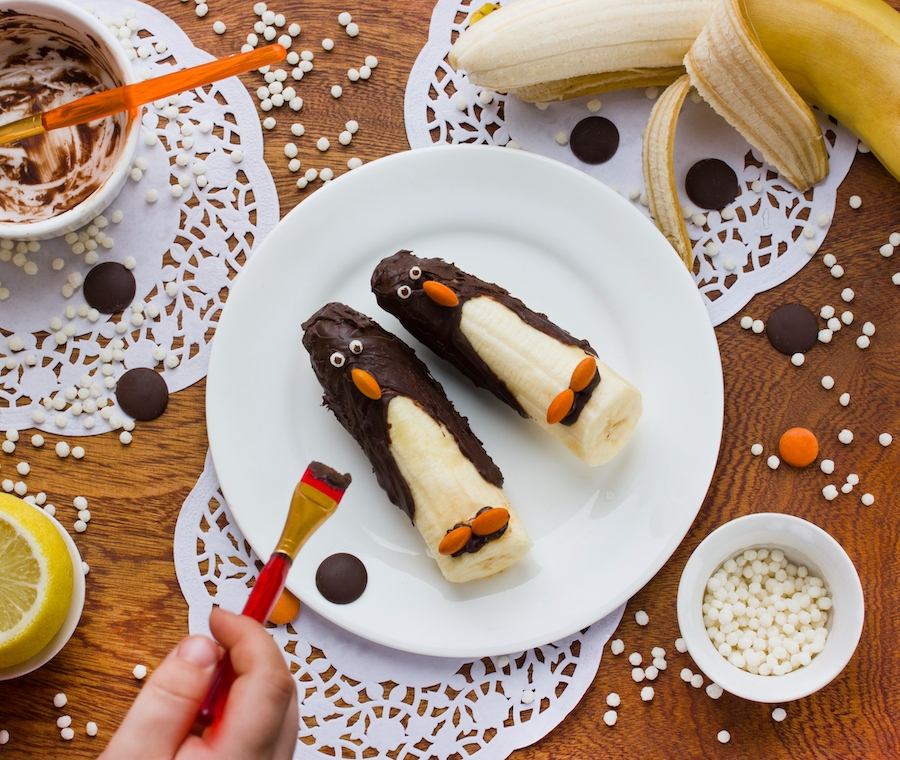 ---
Any of these easy, cute snacks could become your childrens' new holiday favourite, so don't forget to give them all a try to see which they love most. And, this time of year is all about appreciating and spending time with our loved ones, so don't be afraid to get your kids involved in assembling the treats. You'll get to bond and enjoy some festive treats together.