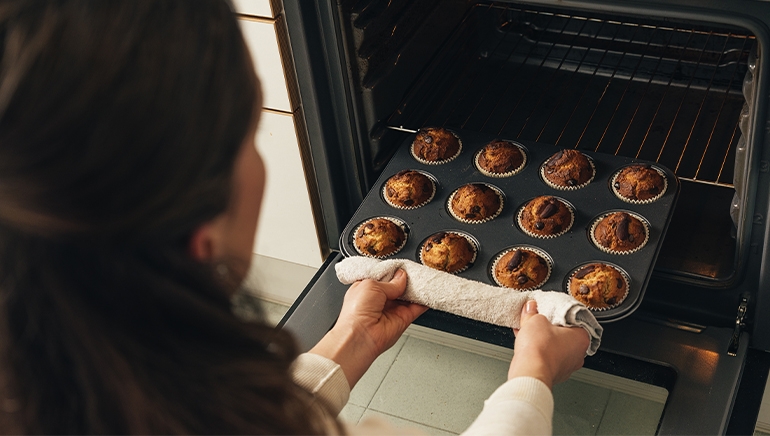 Who doesn't love a warm homemade muffin? Next time you get the urge to whip up a tasty treat, try one of these three delicious homemade muffin recipes. 
Use this classic muffin recipe from Baked by an Introvert to get your base and add designated mix-ins and topping for these three delicious muffin recipes. 
---
Ingredients
2 cups flour

1/2 cup sugar

2 teaspoons baking powder

1/2 teaspoon salt

3/4 cup milk, room temperature (any kind)

1/2 cup unsalted butter, melted and cooled

2 large eggs, room temperature

Instructions
Line a muffin pan with silicone liners, or spray with nonstick spray and set aside. Preheat oven to 350F (176C). 
In a small bowl, which together flour, sugar, baking powder, and salt and set aside. In a medium bowl using a whisk, hand mixer, or electric mixer, combine milk, butter, and eggs until combined. Fold in dry ingredients until fully combined. 
Divide batter evenly and bake for 20-25 minutes or until a toothpick comes out clean. Transfer to a wire rack for cooling.
---
Orange Cranberry Muffins
Mix-ins
2 tablespoons orange juice*

1 and 1/2 cups fresh dried cranberries
Glaze
1 cup confectioners' sugar

3 tablespoons orange juice
Add your orange juice in with your wet ingredients, and once you've combined your batter, mix your cranberries. After baking, let your muffins cool a bit before combining your sugar and orange juice and drizzling on top. 
*you may need to add 2 tablespoons less milk to get the proper consistency. Orange zest can be used as well if you do not wish to omit any milk.

---
Sugar Cinnamon Muffins
Mix-ins 
1/2 tablespoon cinnamon

1/4 tablespoon nutmeg
Topping
1/3 cup sugar

2 teaspoons cinnamon

5 tablespoons melted butter
Add the cinnamon and nutmeg in with your dry ingredients. Once your muffins have cooled and cooled for about 5 minutes, combine your cinnamon and sugar in one bowl and put your melted butter in another. Dip the muffins in the butter and then roll in the cinnamon-sugar mixture.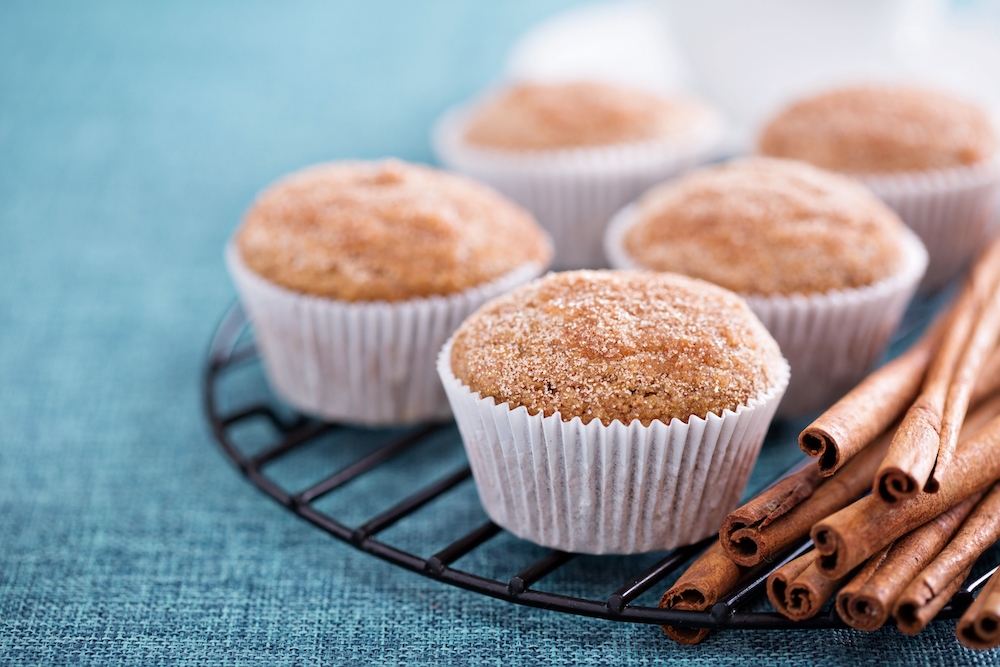 ---
Chocolate Chai Muffins
Mix-ins
1/4 teaspoon nutmeg and 1/4 teaspoon ginger
or
2 tablespoons chai tea*

1 cup chocolate chips or chocolate shavings

1/2 teaspoon cinnamon
If adding the nutmeg and ginger, mix them in with your dry ingredients. If adding the chai tea, mix it in with your wet ingredients. Add the cinnamon in with your wet ingredients and fold the chocolate in once all other ingredients are combined. 
 *you may need to omit 2 tablespoons of milk to get the proper consistency.

---
Psst! National Muffin Day is Saturday, February 20. Try some of these homemade muffins to celebrate!