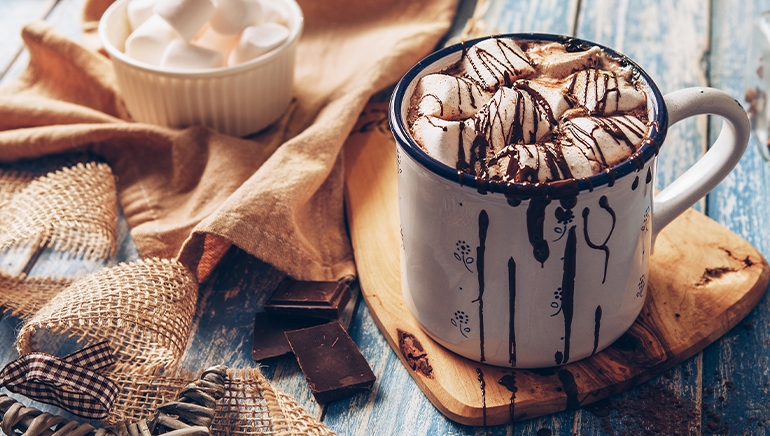 There's no better time than now to curl up by the fire or in front of the TV for a marathon with a warm cup of cocoa. To avoid getting sick of the same old hot chocolate you're used to, try these three seasonal flavours that don't disappoint. Start out with this base recipe, then we'll break down the easy add-ons that make each special.
---
Hot Chocolate Base
INGREDIENTS
(makes 2 drinks)
1 ½ cup milk of choice (we suggest something creamy like whole or oat milk)

2 teaspoon cocoa powder
DIRECTIONS
Heat up your milk in a small-sized

pot

on medium until it comes to a simmer.
Add in your cocoa powder using a

sifter

, since it is prone to clumping.

Whisk the mixture together continuously until it becomes homogeneous and there are no chucks of cocoa.

Add your fun, seasonal flavourings! See below for details.
---
1) Pumpkin Spice Hot Cocoa
Once you have your base mixture prepared and smoothed out, add 1 tablespoon of brown sugar and 2 teaspoons of pumpkin puree. After thoroughly blending this in, add ¼ teaspoon of pumpkin pie spice. If you don't have this on hand, simply add a pinch of cinnamon and a pinch of nutmeg to mimic the flavour.
For garnish, add some whipped cream and a sprinkle of cinnamon sugar, which you can make by combining equal parts brown sugar and ground cinnamon in a ramekin and stirring them with a spoon.

---
2) Peppermint Hot Chocolate
If you've already enjoyed the pumpkin spice, amp up our original cocoa recipe by adding in 1 tablespoon of white sugar. Stir this in to ensure it blends into the mixture rather than sinking to the bottom of the pan. Then, add in ¼ teaspoon vanilla, ? teaspoon of peppermint extract, and a small pinch of salt.
Top this delicious holiday drink off with some mini marshmallows and some crushed candy canes. You can even use a full-sized candy cane to stir your drink and simultaneously add more peppermint flavour as it melts into the cocoa.

---
3) Cinnamon Swirl Cocoa
Once you've tried our other hot chocolate creations, it's time to test out the ultimate cinnamon swirl treat. Start by stirring 1 tablespoon of brown sugar into our signature cocoa recipe. Then add 1 teaspoon of cinnamon, 1 teaspoon of vanilla, and 1 teaspoon of maple syrup.
Cut the heat, then garnish it with some whipped cream and a cinnamon stick. You can also add a caramel or honey drizzle onto your whipped cream for a beautiful presentation!