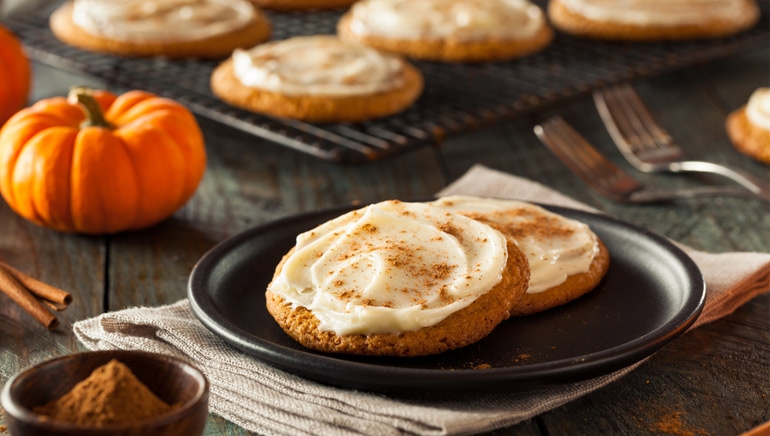 We're knee-deep into pumpkin spice season, and if you haven't jumped on the bandwagon yet, it's time! This time of year, the ubiquitous fall flavour invades nearly every baked good or hot drink. But if you're already tiring of pumpkin spiced lattes, try some new, novel ways of using the famous spice mixture.
We've got a handful of ideas on how you can use pumpkin spice that go beyond the cliché latte. Be a little daring and try a couple out… but first, let's learn how to make pumpkin spice of our own.
---
DIY Pumpkin Spice:
Pumpkin spice is super easy to make yourself, and you'll enjoy mixing together the beautifully aromatic ingredients to make it. Begin by collecting the following:
3 tablespoons ground cinnamon

2 teaspoons ground ginger

2 teaspoons ground nutmeg

1 1/2 teaspoons ground allspice

1 1/2 teaspoons ground cloves
Just mix them all together in a bowl, and you're ready to make some delicious pumpkin spice treats! Store the leftover spice in an airtight container like this one.
---
Now that you have your very own pumpkin spice, what will you make? A glance at the pumpkin spice-saturated supermarket aisles in the fall suggest the possibilities are endless!
1) Wake Up
Pumpkin spice isn't just for coffee and desserts; you can enjoy a flavourful autumnal breakfast with it as well. Just whisk it into your pancake mix for delicious, fluffy pumpkin pancakes. A half teaspoon per cup of batter is a good ratio to stick to.

---
2) Eat Your Veggies
Pumpkin spice is a great seasoning for roasting sweet vegetables. Try roasting up some pumpkin spiced sweet potatoes or carrots for your next fall or winter gathering.

---
3) Go Nuts
Whip an egg white in a bowl until frothy, then add 2 tbsp pumpkin spice, 1 tsp sea salt, 1/4 tsp cayenne pepper and 1/4 cup coconut palm sugar. Coat the mixture onto 3 cups of unsalted nuts or pecans on a baking pan lined with parchment paper. Bake at 250 degrees for an hour, and you'll have an incredibly easy, nutty treat!

---
4) Spread It
Yes, you can even add pumpkin spice to cream cheese for a perfectly in-season bagel or baked good. Here's how to do it: take 1/4 canned pumpkin, 2 tbsp brown sugar and 2tsp pumpkin spice. Beat together with 8 ounces of whipped cream cheese until it's all blended together, then stir in 1/4 cup finely chopped pecans.

---
5) Dip It
Enjoy pumpkin spice in a whole new way by making a pumpkin spice dip. It's gooey and creamy with a sweet caramel base. To make it, throw a bag of chewy caramels, 4 tbsp butter and 14 oz sweetened condensed milk in a pan. Heat on low, stirring until the caramels have melted. Add in 3/4 tsp pumpkin spice and stir. Now get some apple wedges and dive in!

---