After a whirlwind 2020, we know that there's nothing more important than sitting down with friends and family (albeit might be virtually) and giving thanks. A stunning and festive tablescape doesn't have to cost a fortune; pair family heirlooms with a few new items to weave together old and new traditions. Follow our easy tips and recommendations to make a table setting you'll have fun creating and your guests will love enjoying.
---
Start with a Focal Point
Thanksgiving dinner is traditionally enjoyed around a long rectangular or oblong dining table. This means, a few smaller, special centrepieces are a great choice to place down the middle of your table. (If your table is on the smaller size, keep it in the center). Our Gold Taper Candle Holders are perfect for this arrangement. Place the largest in the center and the two smaller on the center-right and center-left of your table. Centrepieces descending in size are a great way to draw the eye along the entirety of your table and spread focal points for all guests to admire. Try vases of different sizes or centrepieces filled with decor of different heights.

You Might Like:
Mesa Vase by Torre & Tagus
Gold Planter by LC Maison
Tropical Leaf  Centerpiece
---
Create a Clean Foundation with White Tableware
Sticking with white dinnerware creates a clean and uniform base to layer with different colours and textures in accent pieces. Beautiful white dinnerware screams holiday and is special enough for Thanksgiving, while being versatile enough to use for dinner parties throughout the year. White dinnerware also doesn't have to cost a fortune, choose from any of our classic white options without having to break the bank.
You Might Like:
Pompeia Dinnerware Collection
Vendome Dinnerware Collection by LC Maison
Loft Strand Dinnerware Collection
---
Accent with Statement Serveware
Statement serving dishes is where you can let your creativity run wild! When passing around the side dishes your guests will "ooh" and "ahh" at your unique choices for serving bowls and platters. Pull in different textures and colours that are sure to complement your classic tableware. We love gold or darker tones for a festive holiday flare that will make your serving dishes pop on the tablescape. Try experimenting with different materials that speak to your personal style.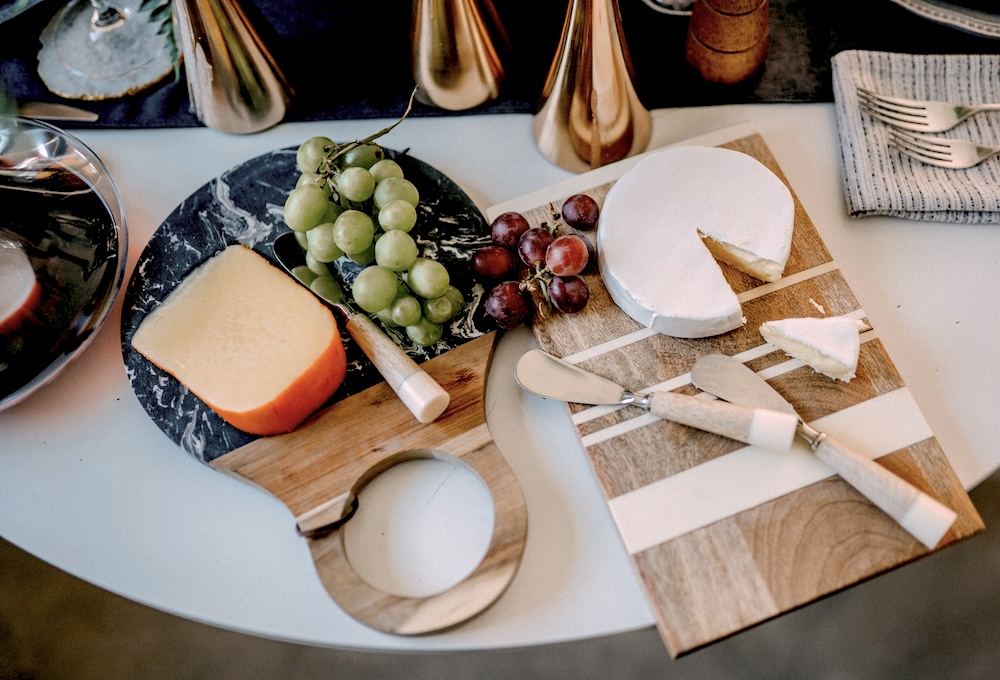 You Might Like:
Ivory Accent Serveware
Bamboo Walnut Coffee Bowls by Brilliant
Caviar Granite Serveware Collection by Maxwell & Williams
Wheat Serveware Collection by Michael Aram
Heritage Serveware Collection
---
Linen Love
Thanksgiving is not time for the paper stuff, indulge your guests in beautiful linen napkins and tablecloths. This is your time to choose a style that works for you and your family's personal aesthetic. Whether your style is rustic, modern, or simple, you'll find something that makes everything on your tabletop shine. Not only are tablecloth's great for appearance, but they also serve a functional purpose in keeping your table free from scratches and spills. This is also a great way to play with mattes and metallics!


You Might Like:
Linen Slub Fabric Table Linens
Milton Table Linens Collection
Malta Fabric Table Linens
Medina Fabric Table Linens
Harmony Fabric Table Linens
---
This Thanksgiving amp up your tablescape with our simple and easy-to-follow decor tips. Lead with your personal style and own creativity. The food and company are the real showstoppers of the day, so build your table around the love and gratitude to be celebrated together.