Whether it's coffee or tea, there's nothing like starting the day with your favourite mug filled with your go-to morning drink. With our large selection of mugs, you're sure to find one that you love! Here are some of our favourites, let us know which ones you're loving in the comments below :)
1) DOUBLE WALLED
We're huge fans of double walled glasses. The extra layer of insulation keeps hot drinks warmer and cold drinks cooler. Plus with the cool exterior, your fingers will stay dry and comfortable.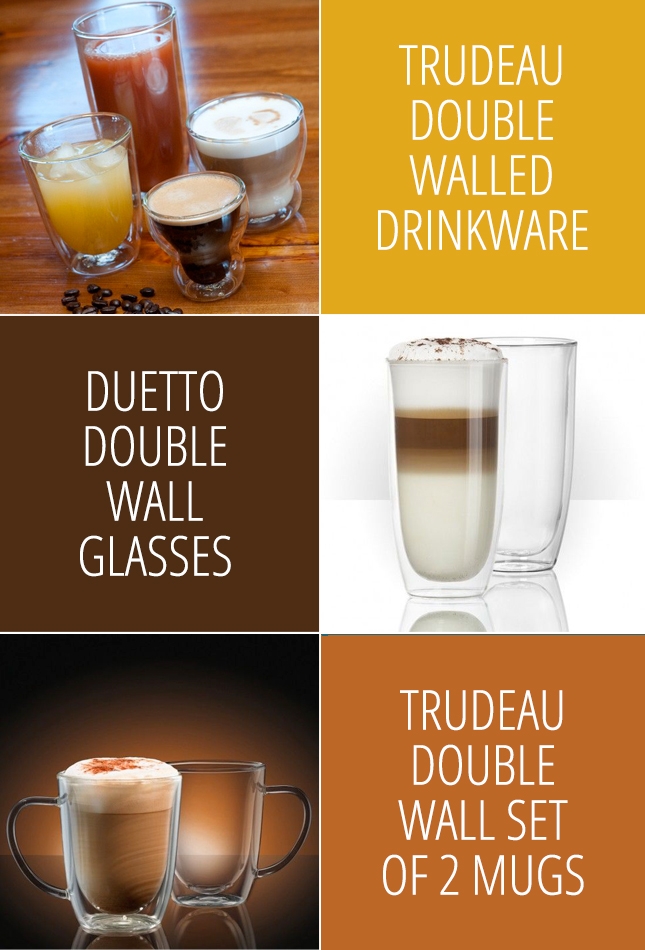 SHOP THE ITEMS:
1) Trudeau Double Walled Drinkware
2) Duetto Double Wall Glasses
3) Trudeau Double Wall Set of 2 Mugs
---
2) COLOURFUL
Brighten up the day with these cheerful and colourful mugs.



SHOP THE ITEMS:
1) BIA Motif Mug
2) Kate Spade Things We Love Cha Cha Cha Mug
3) Kate Spade City & Park Mug
4) Tutti Frutti by Maxwell & Willams
5) "Lolly Pop" Set of 4 Coffee Mugs
6) Colourful Stacked Mugs
---
3) Dark Designs
Instead of bright colours, go for some darker shades.


SHOP THE ITEMS:
1) Set of 4 Coffee Mugs
2) Geometric Set of 4 by Maxwell & Williams
3) Set of 4 Coffee Mugs
---
4) Playful Pets
These mug sets are dedicated to all the animal lovers out there!


SHOP THE ITEMS:
1) Set of 4 Coffee Mugs
2) Danesco Dogs & Cats Set of 4 Mugs
---
5) Coffee Style
Always using your mug for a hot cup of coffee? You'll love these styles!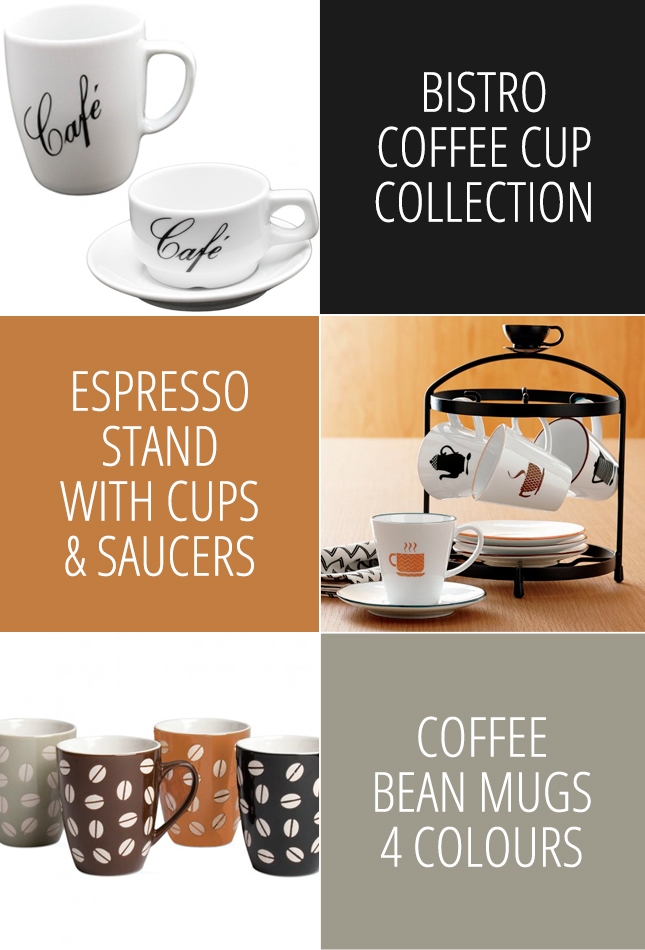 SHOP THE ITEMS:
1) Bistro Coffee Cup Collection
2) Espresso Stand with Cups & Saucers
3) Coffee Bean Mugs
---
6) Black & White
Stick to the basics with these black and white mug sets.


SHOP THE ITEMS:
1) Torre & Tagus Vintage Chair Serverware Collection
2) Kate Spade Things We Love Spots Mug
3) I LOVE YOU Mugs Collection by Formenton
4) New Wave Dinnerware by Villeroy & Boch
---

Euro Mug Holder
Free up cupboard space with the handy Euro Mug Holder. Stores up to six of your favorite mugs or tea cups in style. Made of sturdy steel, it will add a modern touch to your kitchen.
$19.95 - Available, here.

---