A refreshing twist on traditional cinnamon rolls, these lemon breakfast rolls are the perfect addition to any Spring brunch. Not only are they sweet, sticky and drizzled with lemon icing, they are also surprisingly easy to make. Using store bought bread dough and lemon curd helps cut down on prep time so you have time to do more important things… like sip a mimosa!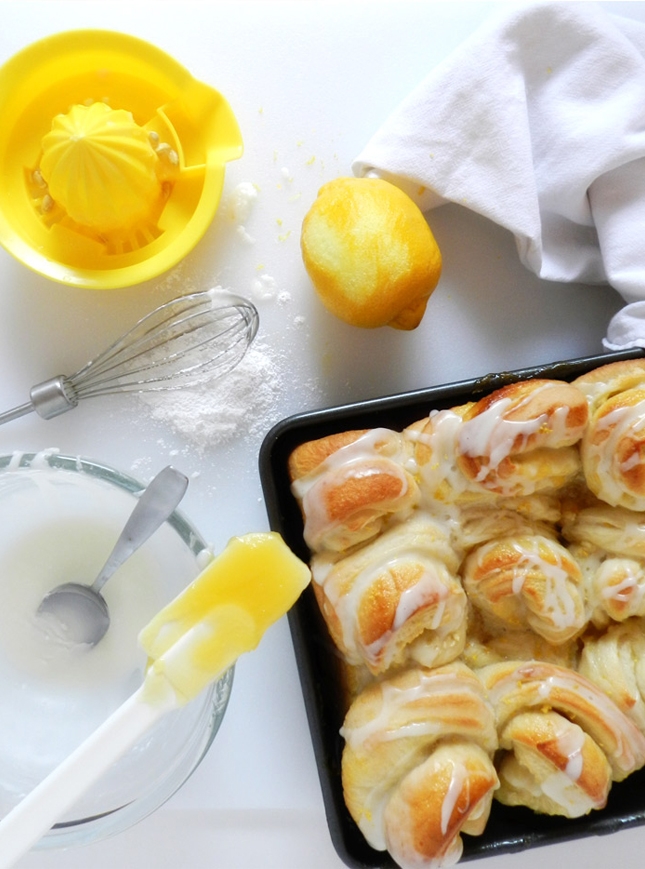 Ingredients
1/4 cup granulated sugar
Zest of 1 lemon
Two 1-pound loaves frozen white bread dough, thawed and allowed to come to room temperature
1/2 cup lemon curd
2 tablespoons lemon juice
1 1/4 cups powdered sugar
Directions (Servings: 15)
Line a baking sheet with kitchen parchment.
In a small bowl, stir together the granulated sugar and lemon zest. Sprinkle half of it on a clean counter.
Place 1 loaf of the dough on the sprinkled counter, then roll it out to form an 8-by-16-inch rectangle (with one of the long sides facing you). Sprinkle the dough with the remaining sugar, then gently run the roller over the dough to ensure the sugar mixture sticks. Roll out the second loaf to the same size, then set it on top of the first.
Spread the lemon curd over the dough, leaving a 1-inch strip bare along the long edge farther from you. Starting at the edge closest to you, roll the dough up into a log. Pinch the dough along the seam to seal it.
Using a sharp knife, slice the roll into 1-inch-wide rounds. Arrange the rounds on the prepared baking sheet, then cover loosely with plastic wrap. Allow to rise for 30 minutes, or until puffy. After 15 minutes, heat the oven to 350 F.
When the buns have risen, uncover and bake for 20 to 25 minutes, or until golden brown and cooked through. The internal temperature of the buns should read 185 F. Allow to cool slightly before icing.
To make the icing, in a small bowl whisk together the lemon juice and powdered sugar. Drizzle over the tops of the buns. Serve warm or at room temperature.
---

---